(Cover Photo: Company of National Tour, Jimmy Buffett's "Escape to Margaritaville" playing at The Hanover Theatre in October. Photo Credit: Matthew Murphy)
Kevin T. Baldwin
METRMag Reviewer
# 774-242-6724
The Hanover Theatre for the Performing Arts
will present the Broadway Musical
"Escape to Margaritaville"
Book by Greg Garcia and Mike O'Malley.
Music and Lyrics by Jimmy Buffett.
Original Broadway Direction By Christopher Ashley. Director Amy Anders Corcoran. Music Supervisor Christopher Jahnke (Also Vocal & Incidental Music Arranger/Additional Orchestrations). Music Director Wendell Vaughn. Orchestrator Michael Utley. Choreographer Kelly Devine.
Cast Includes: Chris Clark, Sarah Hinrichsen, Emily Qualmann, Peter Michael Jordan, Rachel Lyn Fobbs, Patrick Cogan, Matthew James Sherrod, DeVon Buchanan, Anthony Cataldo, Lauren Celentano, Fabi Gallmeister, Julia Grondin, Rachel Kay, Ruby McCann, Georgia Monroe, Gabriela E. Moreno, Ernesto Olivas, Jake Pedersen, Kyle Southern, Trent Soyster, Emma Stricker, Jade Turner, Bryce Colby Vaewsorn, Chad Vaught (NOTE: Cast subject to change)
Additional Creative Team:
Associate Choreographer - Andrew Turteltaub; Scenic Designer - Walt Spangler; Costume Designer - Paul Tazewell; Lighting Design - Howell Binkley & Amanda Zieve; Sound Design - Brian Ronan & Craig Cassidy; Wigs, Hair & Makeup Designer - Leah J. Loukas; Dance Music Arranger - Gary Adler; Music Consultant - Mac McAnally; Music Coordinator - Talitha Fehr; Production Stage Manager - Emma Iacometta; Company Manager - Mark Johnson; Assistant Stage Manager & Assistant Company Manager - Desireé Applewhite; Binder Casting/Chad Eric Murnane, CSA; Marketing & Publicity Direction - Bond Theatrical; Tour Booking Agency - The Booking Group; Producer, Tour Management - Troika Entertainment. (NOTE: Information from tour web site and subject to change)
Presented at the Hanover Theatre for the Performing Arts, 2 Southbridge St., Worcester.
Performances:
October 21, 2021 at 7:30pm
October 22 & 23, 2021 at 8:00pm
October 23, 2021 at 2:00pm
October 24, 2021 at 1:00pm
October 24, 2021 at 6:30pm
For More Information:
Phone # 877-571-SHOW (7469)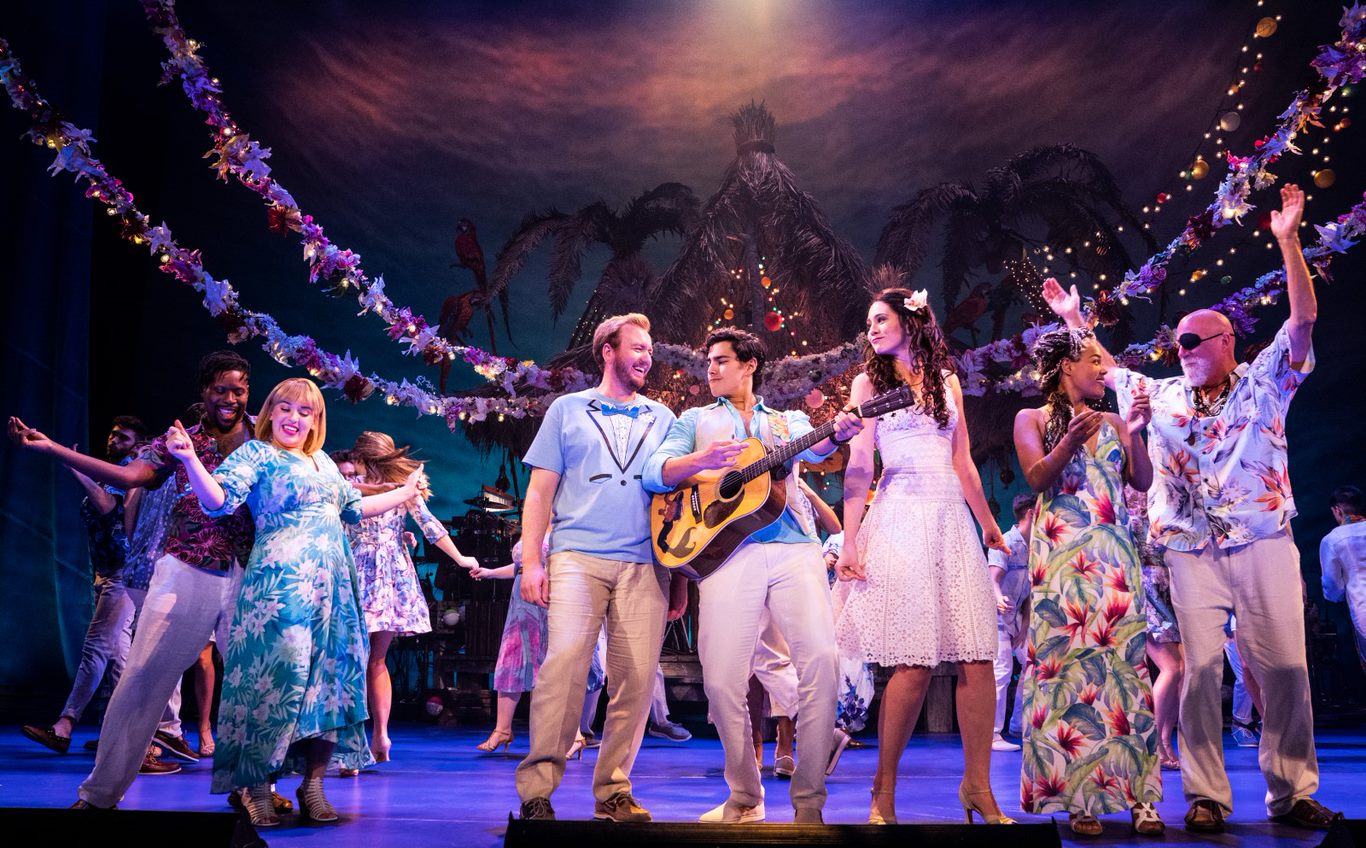 (Company of National Tour, Jimmy Buffett's "Escape to Margaritaville" playing at The Hanover Theatre in October. Photo Credit: Matthew Murphy)
METRMAG Spotlight On: "Escape to Margaritaville" Interview with Sarah Hinrichsen ("Rachel")
There seems to be a pattern emerging in the types of shows for which actress Sarah Hinrichsen is getting cast.
Before her time now touring with the Jimmy Buffett musical, "Escape to Margaritaville," she was featured in the Off Broadway show entitled "The Imbible: Day Drinking."
Yep - Another play with alcohol at it's core.
However, Hinrichsen maintains that while "Embible" was more about the history of drinking, "Margaritaville" is actually LESS about drinking than one might assume (given the history of the show's title) and more about tourists having experiences during a remote island vacation.
"But," Hinrichsen says, "Since the shows are both based in alcohol, it has become a bit of a running joke in my family."
Originally from Southern California, Hinrichsen states that she grew up in a "theatre-dependent family." That is wonderful terminology and she makes the claim because she says her parents have always been supportive of her.
Never did they discourage their young Sarah from her chosen profession, accepting that there was nothing they could say nor do that was going to stop their determined daughter. Now, the Hinrichsen family gets to see Sarah realize her dreams of being on stage.
"I got really lucky with my parents," Hinrichsen says. "They created a life in the theatre. My dad's a director and my mom's an actress. They know better than anyone that there is a life to be had in the theatre. They were really super supportive and encouraged me, always saying that, 'You can do this.'"
On Hinrichsen's website (sarahhinrichsen.com) she indicates how her family "owns and operates the largest theatrical costume rental business on the West Coast". Yet, a few bullet points down, she also mentions how they "make award-winning dill pickles".
Well...those are obviously two quite divergent interests, aren't they?
Do they ever, perhaps, confuse the two interests by renting pickles to a theatre company or throwing a tiara on a dill? How do they balance their time and, does this mean, for Sarah, that if the acting thing didn't work out, would she return to see what the relished world of pickles had to offer?
"The pickles were always more of a hobby for my parents," Hinrichsen says. "They always won blue ribbons. But the main business was the Theatre Company of Upland, CA. (www.theatreco.com)."
Hinrichsen went to an open call for "Escape to Margaritaville" in Manhattan, but she says she had seen the show on Broadway.
"I loved the show," Hinrichsen recalls. "I went through five months of auditions and was finally offered the role of 'Rachel' for the tour just prior to pandemic. Then, after six months on the road doing the show, the pandemic hits."
The show went on hiatus and remained on COVID-19 shutdown for over 525 days.
Now, back underway, how has the tour gone thus far and have there been any COVID-19 incidents? Is everyone involved staying safe and taking all necessary precautions?
"We have been so, so super lucky," Hinrichsen says. "No issues with COVID. We (the cast) are all tested twice a week. We tend to stay in our little tour 'bubble' and will mask up as needed up to and just prior to hitting the stage."
Hinrichsen conveys her appreciation as to just how wonderfully receptive audiences have been since the tour resumed in August.
"Audiences are so ready to have a good time and that is what this show is about," Hinrichsen says. "It is like a two hour vacation. Like a gift."
"Escape to Margaritaville" falls into the category of a "jukebox musical" which tends to be used in a more derogatory context as reviewers have not always been kind to this genre of shows.
But Hinrichsen maintains that it is the Greg Garcia/Mike O'Malley story (about a part-time bartender and singer who falls for a career-minded tourist) that has immersed itself well within the blending of songs by legendary singer-songwriter Jimmy Buffett.
"Mike and Greg have outdone themselves with how they have woven the Buffett songs into the story," Hinrichsen says, emphasizing, "And there is a long term payoff at the end of each show. Without giving too much of the plot away, 'Cheeseburger in Paradise' is an eleven o'clock number that is built up really well during the show and, just as it begins, the people in the audience cheer because they want to hear it. The applause when it starts is just amazing."
The tour director for "Escape to Margaritaville" is Amy Anders Corcoran who worked with Christopher Ashley on the original production. Also on board is Tony Award nominated Musical Director Christopher Jahnke ("Porgy and Bess") and Choreographer Kelly Devine (Tony nominee for "Come From Away").
Hinrichsen beams with pride at her time working with the heavily credentialed production team and her fellow members of the ensemble for this tour.
"I have to pinch myself sometimes because our team is so incredible," Hinrichsen says. "Amy has been brilliant. She is an 'actor's director' and has a beautiful vision for the show. She really understands being a working professional and the importance of personal balance and has a beautiful take on that. Everyone just has the right approach for this show. Jahnke's arrangements are really special. He was with us for the first round of rehearsals. Amy's worked on it now for four years. It is a real treat to be a part of this experience."
Rachel, Hinrichsen's character in "Escape to Margaritaville" is described as an ambitious scientist and "really smart."
"She and her best friend, Tammy (Emily Qualmann), go down to Margaritaville," Hinrichsen explains. "Rachel is trying to balance her life and her work. She falls fully in love with Tully (Chris Clark) and is not sure how to handle that relationship and balancing it with her work."
Hinrichsen claims the story provides a realistic approach to the Jimmy Buffett song-encapsulated score as it relates to a modern day world.
"As 'Rachel,' at one point, I have to check my emails on this remote island with no WiFi," Hinrichsen laughs. "I think there will be some people who will really relate and maybe see themselves in Rachel's character on stage. I mean, NO WiFi ? How can anybody possibly live without WiFi? Right?"
The Jimmy Buffett "parrot head" (or "parrothead") culture is devout, almost as passionate as Broadway devotees (and, of course, there may also be those who 'balance' between the two). However, does Hinrichsen see more positive reaction from "parrot heads" or from the ardent theatre patrons attending "Escape to Margaritaville?"
Hinrichsen claims it tends to be both factions that tend to sing along in harmony with Buffett's iconic tunes.
"I definitely think it's both. I mean my parents are decidedly NOT 'parrot heads' but (Chris Clark) Tully's parents are," Hinrichsen says. "Both sets of parents just love the show."
"But I think that, if you are a 'parrot head,' maybe you've never seen a Broadway show and, after, you find you like what Christopher Jahnke has done with Jimmy's songs in the score. Or, if you love Broadway shows and have never heard a Jimmy Buffett song, maybe you walk away from the show with a new appreciation. I think the two go beautifully together."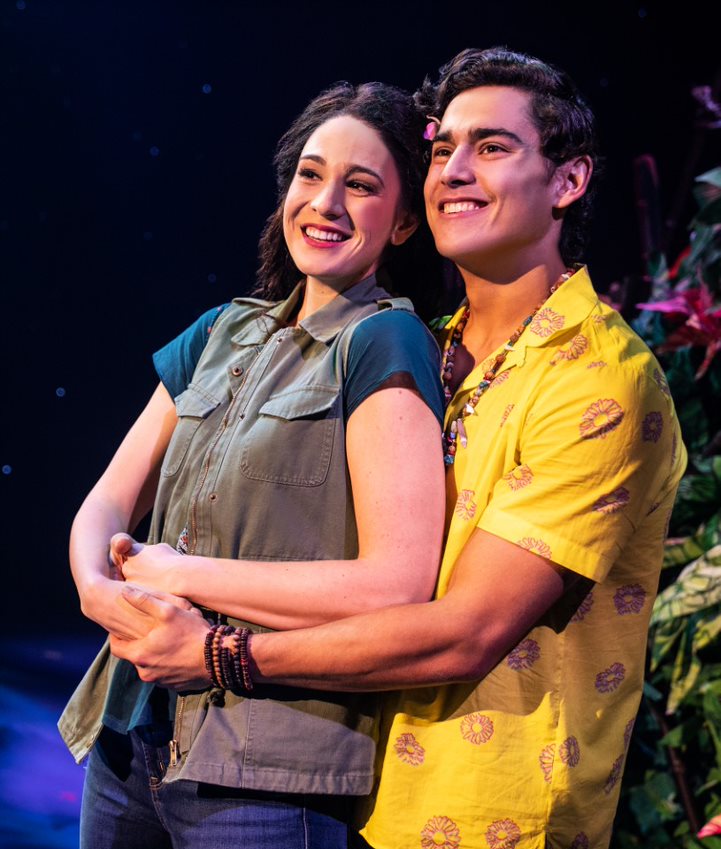 (Sarah Hinrichsen as "Rachel" and Chris Clark as "Tully" in the Jimmy Buffett musical "Escape to Margaritaville". Photo Credit: Matthew Murphy)
Hinrichsen gets to share singing the Buffett standards "Come Monday" and "Son of a Son of a Sailor" and other duets and songs with co-star Clark.
But, solo, Hinrichsen also gets to sing an interesting…albeit lesser-known…1980 Buffett song, the thoughtful ballad "It's My Job," originally sung by Buffett on his album "Coconut Telegraph" and later, during the original Broadway run of the show, by Alison Luff, who originated the character of "Rachel."
While some might find it a little intimidating to assume a role almost immediately after Luff's departure, Hinrichsen felt nothing but warmth from her predecessor as they met and discussed the role of "Rachel."
"I actually got to meet her (Luff) and talk to her about the role," Hinrichsen says. "She (Alison) is just a gift. A truly wonderful person. The song ("It's My Job") is great, a breakthrough for Rachel because she is talking with Tully about why she cares about her 'potato project' (an experiment to use potatoes as an alternative energy) and she (in turn) learns more about him. Relationships are formed on two people both being passionate for what they do and, as she (Rachel) sees that same passion in someone else, that is what brings about a moment of clarity."
The "Margaritaville" tour has hit 12 states since resuming in late August. Several stops have stood out for Hinrichsen.
"It has been fascinating," she says. "We have performed at so many venues. I mean L.A., Fayetteville, Arkansas, Sioux Falls, South Dakota - just on and on - Visiting all these amazing theatres and enjoying the experience of the locals who come to see our shows."
While the cast is mostly far too young to recall the iconic Buffett's early pre-Broadway career (which, if some readers wish to feel even older, began some 51 years ago in 1970), Hinrichsen said she did find a new favorite Jimmy Buffett tune since the tour began
"My all time favorite is now 'Coast Of Marseilles,'" says Hinrichsen. "It is one of the 'deeper cuts' from one of Jimmy's albums (specifically it is from Buffett's eighth album, "Son of a Son of a Sailor" which went platinum). But it is one of the most beautiful songs that didn't make it onto the (original Broadway) cast recording. Every song is wonderful but that one to me is truly inspiring."
And what does she hope audiences will come away with after seeing "Escape to Margaritaville?"
"I just hope they leave with a smile and enjoy that two hour vacation," Hinrichsen says. "The last two years has been so hard on people and here we get to bring them this joyous show. People walk away feeling they enjoyed meeting these characters and maybe they also learned a little more about achieving the balance or that silver lining in life by enjoying times with loved ones."
So, "when the volcano blows," what comes AFTER "Escape to Margaritaville" for Sarah Hinrichsen? Any future tour plans or is it just time to rest and then, perhaps, return to the West Coast to get more involved in either of the family costuming or pickling interests?
"This is what is so interesting about this career," Hinrichsen says. "When one world ends you tie it up with a bow and see what's next. And we'll see if I revisit Rachel another time. I've got some shows lined up for next year but, for now, though, I'll just go back to Manhattan for the holidays...and maybe enjoy a margarita."
Show runs approximately two hours and 10 minutes with one intermission.
Recommended for ages 12+ Contains mature content
Kevin T. Baldwin is a member of the American Theatre Critics Association (ATCA)
@MetrmagReviews
@Theatre_Critics

Event Description
Welcome to Margaritaville, where people come to get away from it all, and stay to find something they never expected. With a book by Emmy® Award winner Greg Garcia ("My Name is Earl," "Raising Hope") and Emmy® Award nominee Mike O'Malley ("Survivors Remorse," "Shameless"), Escape to Margaritaville is a musical comedy featuring both original songs and your most-loved Jimmy Buffett classics, including "Fins," "Volcano," "Cheeseburger in Paradise" and many more.
USA Today calls it "A little slice of paradise!" and Entertainment Weekly raves, "It will knock your flip-flops off!" So don't let the party start without you.

Worcester Center for Performing Arts is a registered not-for-profit 501(c)(3) organization, which owns and operates The Hanover Theatre and Conservatory for the Performing Arts. All donations are tax deductible to the fullest extent allowed by law.