(Cover Photo: COLIN MOCHRIE. Photo courtesy of Jonas Public Relations)
By Kevin T. Baldwin
METRMAG Reviewer
# 774-242-6724
The Hanover Theatre for the Performing Arts
Presents
One Night Only!
Performance:
October 14, 2023 at 7:30pm
Presented at the Hanover Theatre for the Performing Arts, 2 Southbridge St., Worcester.
Tickets start at $28. Dates and pricing subject to change without notice. Contact the box office at 877-571-7469 or email info@thehanovertheatre.org for more information.
COVID 19 PROTOCOLS
Contact Venue for Most Updated COVID-19 Safety Protocols and Information.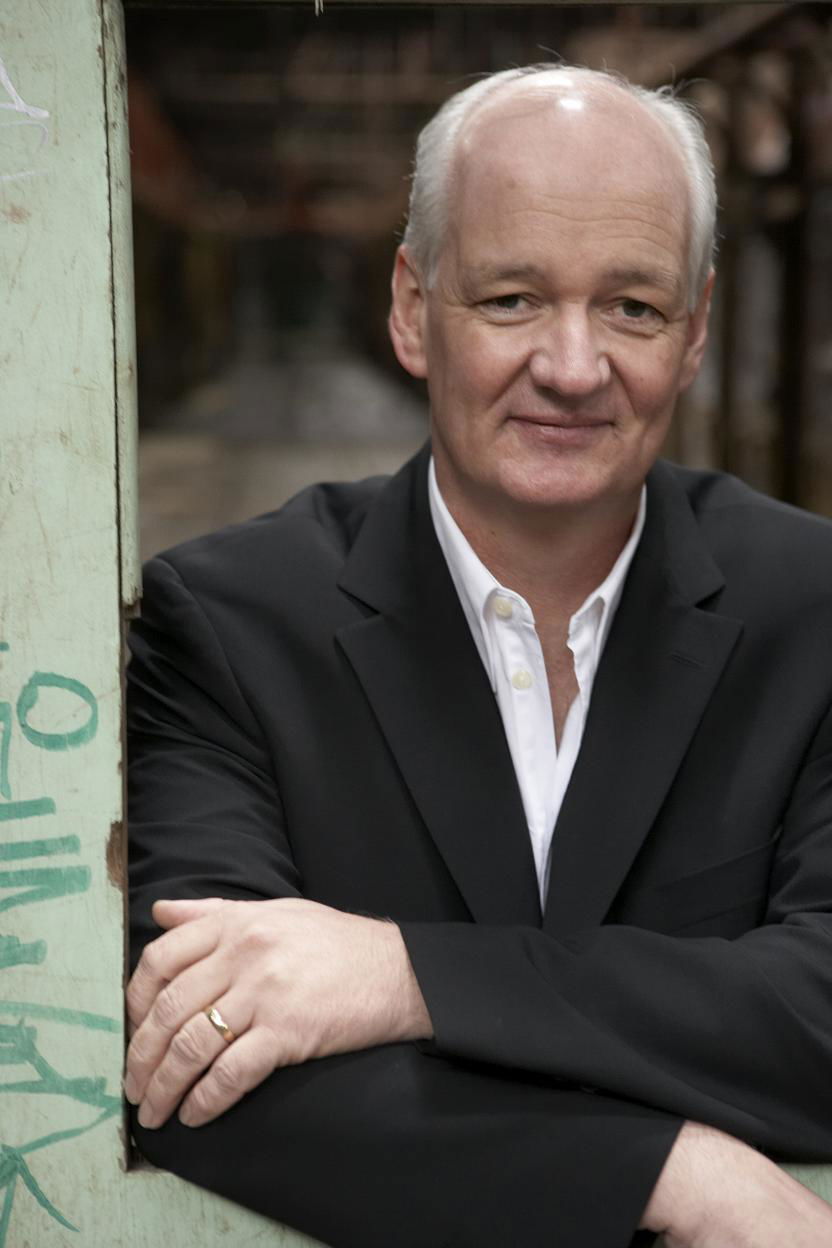 METRMAG Spotlight On:
Colin Mochrie brings his masterful improv skills to the Hanover Theatre (Worcester, MA.)
Along with his partner, BRAD SHERWOOD, COLIN MOCHRIE will bring his impeccably crafted improvisational skills back to the Hanover Theatre in Worcester, MA. on October 14th and, with improv, one never knows exactly what to expect - with the exception of an evening filled with laughter.
Like so many, I have watched "Whose Line Is It Anyway?" since it was a staple show during their early Comedy Central days in the 90s.
Comedy Central rebroadcast the original BBC shows on which MOCHRIE appeared, long before Drew Carey began hosting it for ABC in the 90s and way before the most recent CW Network edition, hosted by Aisha Tyler, which just concluded it's twelfth and final season.
MOCHRIE and SHERWOOD currently tour the country together with their acclaimed improv show "SCARED SCRIPTLESS" the longest running improv tour show in history.
MOCHRIE also works with Master Hypnotist Asad Mecci on another show, "HYPROV: IMPROV UNDER HYPNOSIS."
Not to make MOCHRIE seem old, but he's been at this a long, long time and, as we spoke with him by phone for this interview, it soon became clear this performer is veritable walking masterclass on improvisation. He also seems like a genuinely nice person.
According to his bio, MOCHRIE was born in Scotland, the oldest of three children.
While it might be hard to imagine. MOCHRIE was stated to be "shy as a child"
In 1964, the MOCHRIE family emigrated to Canada, first living in Montreal, Quebec then in Vancouver, British Columbia.
In later years, before joining Toronto's legendary Second City troupe, around 1980, MOCHRIE could be seen performing improv as part of the "Vancouver TheatreSports League."
MOCHRIE was once quoted as saying he "literally had to pull people out of McDonald's to come see the shows." Thus begins our chat.
Q - Why was it so hard to get people to attend?
"Well, when this started, improv really didn't have any kind of audience – certainly not the kind it has today," MOCHRIE explains. "Nobody knew what improv was. At that time, Jonathan Winters was probably the only one that mainstream audiences really saw doing it. When 'TheatreSports' happened, we would all go out, talk with people to come see us and they'd all ask 'Improv? What's that?' and we'd all have to explain that 'Yeah, well...it's short for improvisation and, uhh, you shout things at us and, uhh, we have to make things up.' Definitely wasn't the best 'sell' in the world but it soon became very successful."
MOCHRIE then landed a spot on the UK version of "Whose Line" which ran for nearly a decade. Below is a clip of MOCHRIE'S first time working with long time "Whose Line" cast mate, Ryan Stiles.
Almost immediately as the UK incarnation ended, in 1998, MOCHRIE began taping the US version of the show.
Q - What was that transition like?
"The last British season was actually filmed in Hollywood. So, we had a lot of the same crew, the same production company, same producers. "
MOCHRIE points out what the cast of the new version of "Whose Line" did have to adapt to was the ABC censors.
"There was no censorship in the UK, so anything was fair game," MOCHRIE says. "When we came to America, though, that became quite different. There was a censor offstage in a booth. The very first show, Greg Proops and I...well...I had to kiss him - and a censor came over and asked if we could 'do something else.' Drew eventually stepped in and what happened was they came up with a plan where we would film the show and, after, they would look at it and decide what stuff would stay in and what would go out."
The process worked and the Drew Carey-hosted incarnation of the show ran for another eight sidesplitting seasons. However, it still wasn't a perfect solution, according to MOCHRIE.
"We did a 'hoedown' once (one of the many "Whose Line" improv games using music) and Ryan said the word 'hand' - which got 'bleeped' by the censors - and by the time they realized (the mistake) it had already made it to air. So, everyone out in the television audience had to decide what the 'bad word' was that Ryan said."
People's imaginations might certainly run wild.
MOCHRIE'S wife, actress Debra McGrath, also is a working performer. As a performer, and for those married to performers, moving to wherever the work is might seem commonplace enough.
Yet, given the MOCHRIE family would be moving not only from state to state but from country to country, the MOCHRIES must sometimes have seemed like a military family.
Q - Were some of those momentous transitions difficult at all for you or your family?
"No, or at least, not as much as it sounds," MOCHRIE says. "Really, the taping was the smallest part of our life. Whenever possible, Deb and my daughter would come with me. We only shot on weekends and, outside of that, we would do things together like go around and see parts of London and Europe. Then, when we went to the states, it was two weekends, four hours each and we'd get to tape three to four shows. It really wasn't until the touring started when the 'need for adjustment' started. But I never wanted the work to take the place of my family. So, I tried make it as unobtrusive as possible."
Q – You have now been in three incarnations of the "Whose Line" program. Will there be a fourth for you, if they ask?
"I don't know. I truly live by the 'rules of improv,' meaning let's just see how it happens. I have noticed, though, that our audiences (for "SCARED SCRIPTLESS") are actually getting younger - and that doesn't always happen to a touring company. So, who knows? But, at this point, I think it is time to bring in new people."

When doing research for this interview - and while looking over MOCHRIE'S career as an actor - in addition to his winning many notable awards, including Canada's John Candy Award for Excellence in Comedy, I noticed an interesting pattern emerge.
"Whose Line" has been known to get quite risqué at times and some of the footage was amazing it ever made it to air.
Yet, MOCHRIE'S non-"Whose Line" credits lean more toward what many would call "family friendly" work – children's animated shows and lighter family fare.
Q - Was this a conscious choice, personal preference or just how things worked out?
"Really, just kind of how things worked out," says MOCHRIE "Actually, if you look at the show, I tend to think I was actually the cleanest out of anybody on the show and to try and make it more family friendly."
Q - Would this include the many moments of crotch grabbing your fellow cast mates?
"Well, it definitely let's you know who you can trust," MOCHRIE says.
But in between the more family friendly parts, some offers MOCHRIE was getting included a few juicy villain roles, which he says, "was great."
"I was a 400-year-old demon and, on my first day on the shoot, I killed a guy with a shovel," MOCHRIE recalls. "Next, I was a leader of an apocalyptic world. I also did a 'Murdoch Mysteries' where first I was a hotel detective ("Ralph Fellows"). Then, they brought me back but, this time, (spoiler alert) I was a serial killer. Then, they brought me back for a third and, this time, I was on the run. So, I have been very fortunate."
Which brings up to the famous...or infamous..."Thinsations Snack Fairy" ad campaign.
Q - When you were approached with the concept of you being dressed up like a fairy and wearing a tutu, were you reticent about it?
"Oh, maybe, but it ended up being fun – kind of whacky," MOCHRIE says, remembering. "They sent me this tutu...and a wand...and I said...'okay'... But what was nice about it was the traveling I got to do. One time, we shot in Argentina and I just remember being out alone in this wheat field. They flew me out to stand in a field. And another shoot was in South Africa. So, it was nice and I got to travel around the world."
MOCHRIE recalls the unique experience of a Madison Avenue parade that came along with the gig.
"It was a parade for all the big Wall Street marketing icons. I had to go on this parade (dressed as the Snack Fairy) with 'Juan Valdez,' the 'Energizer Bunny,' the 'Doublemint Twins' - and I remember my 'guy' (the Thinsations' rep) saying to me, 'No matter what you do, DON'T get your picture taken with any of the 'Keebler Elves!' (Laughing) I remember asking why and he explained, 'They are the competition!' I mean, the whole thing was just absurd. But I would not have traded that day it for anything."
There is no question MOCHRIE is an improvisational master – even when there is no dialogue involved. In some of the segments of "Whose Line," MOCHRIE doesn't even say a word, like during "Sound Effects" where, for our readers, MOCHRIE is given a premise and, while another actor feeds MOCHRIE the sound effects, MOCHRIE enacts the scene.
Q - How important is that relationship, that "connection," with your scene partners?
"Absolutely incredibly important. With Ryan (Stiles), you know, we've been at this for over 40 years, and with BRAD SHERWOOD it has been over 30 years. There's definitely that trust we have where we can look each other in the eye and say, 'Listen, I don't know where you are going with this (whatever 'this' is) but we'll find out together." Working with improvisers gets me back to the art and essentials of listening and supporting – which is good, good for me. People put egos aside and work toward a greater good. I have always been fortunate to be around such great improvisers and I hope that continues."
There are amazing actors out there some don't have the skillset required for improvisation. They absolutely need the anchor of the playwright's text in order to perform. Not every actor, nor comedian nor comedic actor, is cut out for improv but would love to be as good as MOCHRIE.
Q - Do you have any advice to try and help those actors in developing that required skillset?
"Well, first of all, they could be as good as BRAD - but never as good as me," MOCHRIE says, joking...maybe ;-). "I also do a tour with a hypnotist ("HYPROV: IMPROV UNDER HYPNOSIS" with Master Hypnotist Asad Mecci). We turn someone from the audience into an improviser every night because the hypnotism removes that part of the brain that inhibits creativity. There's a part of people (in their minds) that makes them too afraid, thinking they'll look silly or fail. But failing is good."
Q - Failing is good?
"You learn what went wrong and what to fix. You learn so much from failing and you learn to improve and get better. If you don't learn you keep making the mistakes over and over again. Just do it. It is not only such a great skill to have on stage but, also, I think a 'life skill' - because it teaches you how to listen and not a walk into situations with fixed ideas. We are all improvising our lives. Parts of our life is structured but everything else is just a crap shoot."
Q - Would you consider improvisational comedy, in general and in the way you have applied it over the decades, to be the most raw and honest form of theatre?
"Sure. We can go with that. (laughs) When you watch great actors do great theatre, they bring their take to it. They open up their emotions and psyche. But when you watch improv, you are watching the inner thoughts of everyone on stage. We learn from it. Great improv is relatable. We recognize things in it. Everything we do in an improv scene is pulled from real life – everything we've read, everything we've experienced."
Q - When COLIN MOCHRIE is not traveling the world bringing improv culture to the masses, or selling his personal line of hair care products, what might he be found doing? Any hobbies?
"I have taken up golf lately. I just wanted a nice, added frustration. Other than that, I do all the cooking at home. My wife has developed food issues so I have come up with some new food recipes for us both to enjoy. Maybe we'll see a couple of shows but mostly I stay at home reading recipe books."
MOCHRIE and SHERWOOD have brought their acclaimed improv show "SCARED SCRIPTLESS" to the Hanover Theatre in Worcester three times before in 2010, 2014 and 2016.
"It's always nice to be asked to come back to places where we've performed before and play to people who want to see us again," MOCHRIE says. "So, I'm looking forward to that. Once we get the show underway it becomes the elixir of life for us. After the pandemic - and after such a long time being away from live shows - people are now enjoying live performance again and this is just a good time."
Q - You and BRAD SHERWOOD advise people to come prepared with questions/suggestions to these live shows and to participate in some of the segments. How many ideas get rejected? For example, you have both been quoted as saying "SCARED SCRIPTLESS" tries to stay away from anything political.
"We don't take any political suggestions because it instantly divides the audience and we don't want that. We are not political satirists. We're just doing goofy stuff. Also, when asking for suggestions of occupations, we will also never accept things like 'gynecologist' or 'proctologist.' We want audiences to work a little, to try and come up with suggestions we haven't heard before. We ask for WEIRD occupations or strange points in history. We also don't do 'poo' and 'pee' jokes...although BRAD does..."
Q - After "SCARED SCRIPTLESS" ends, what comes next for COLIN MOCHRIE? Is there anything you'd like to try that you haven't done yet?
"Yeah, but it involves other people hiring me to do it," MOCHRIE says. "I have always wanted to do an action movie but, if I do one, it will have to be one made geared towards older people. I can do it, though. I've got the bad knees."
"SCARED SCRIPTLESS" returns to the Hanover Theatre in Worcester, MA. October 14, 2023 at 7:30pm.
Tickets start at $28. Dates and pricing subject to change without notice. Contact the box office at 877-571-7469 for more information.
Approximate run time two hours, 30 min with one intermission
Kevin T. Baldwin is a member of the American Theatre Critics Association (ATCA)
@MetrmagReviews
@Theatre_Critics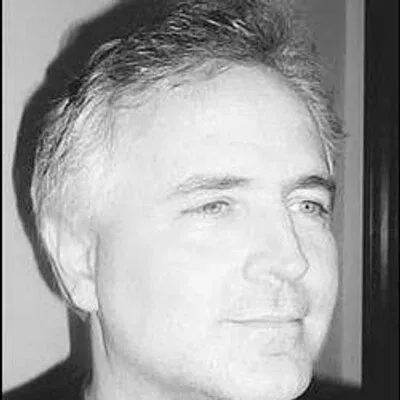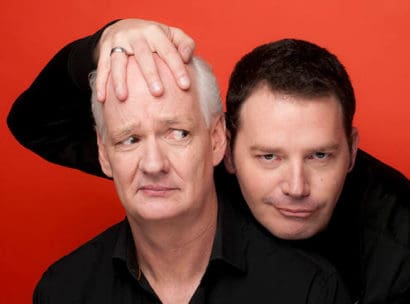 ABOUT THE SHOW
Armed with nothing but their sharp wit, comedians COLIN MOCHRIE AND BRAD SHERWOOD
take to the live stage to create hilarious and original scenes in their two-man show.
Armed with only their wits, "WHOSE LINE IS IT ANYWAY?" stars COLIN MOCHRIE AND BRAD SHERWOOD are taking to the live stage and they're…SCARED SCRIPTLESS.
Prepare to laugh yourself senseless as improv comedy masterminds COLIN MOCHRIE AND BRAD SHERWOOD must make up original scenes, songs and more from whatever you, the fans, suggest!
You just might also get to join in on the fun on stage. It's a hilarious comedic high wire act… just like a live version of "WHOSE LINE."
How the heck do they do it?
We don't know either!
Don't miss the best duo in improv in the "COLIN MOCHRIE AND BRAD SHERWOOD: SCARED SCRIPTLESS TOUR."
Plan for a night of non-stop laughter for ages 12 and up!
Approximately two hours, 30 minutes with one intermission
Please contact the box office at 877-571-SHOW (7469) for more information.

ABOUT HANOVER THEATRE FOR THE PERFORMING ARTS
Worcester Center for Performing Arts is a registered not-for-profit 501(c)(3) organization, which owns and operates The Hanover Theatre and Conservatory for the Performing Arts. All donations are tax deductible to the fullest extent allowed by law.
HANOVER THEATRE FOR THE PERFORMING ARTS
2 Southbridge Street
Worcester, MA. 01608
877-571-SHOW (7469)