(Cover Photo: The Cast of the musical "Bandstand" Playing at the Hanover Theatre in March. Photo Credit: Jeremy Daniel)
Kevin T. Baldwin
METRMag Reviewer
# 774-242-6724
The Hanover Theatre
for the Performing Arts
Presents
"BANDSTAND"
Work Light Productions presents "Bandstand" at the Hanover Theatre for the Performing Arts, 2 Southbridge Street, Worcester, MA 01608. Performances: POSTPONED! Tickets are $39, $49, $62 and $79 depending on seating availability. Discounts are available for members and groups of 10 or more. Contact the box office at 877.571.SHOW (7469) for more information. Special Performances: Audio descriptive services from Audio Journal provided on Sunday, March 22 at 1:00pm. ASL interpretation provided on Sunday, March 22 at 6:30pm.
Book, Lyrics & Music by Richard Oberacker. Book & Lyrics by Robert Taylor. Original Direction by Andy Richard Oberacker. Tour Direction by Gina Rattan. Music Supervision by Fred Lassen and Greg Anthony Rassen. Co-Orchestrations by Bill Elliot and Greg Anthony Rassen. Arrangements by Greg Anthony Rassen. Music Director Miles Plant.
Cast Includes: Zack Zaromatidis, Jennifer Elizabeth Smith, Roxy York, Rob Clove, Benjamin Powell, Scott Bell, Louis Jannuzzi III, Jonmichael Tarleton, Shaunice Alexander, Beth Anderson, Michael Bingham, Milena J. Comeau, Ryan P. Cyr, Sarah Dearstyne, Michael Hardenberg, Andre Malcolm, Kaitlyn Mayse, Matthew Mucha, Mallory Nolting, Taylor Okey, Katie Pohlman, Oz Shoshan, Cameron Turner. (Latest Info From Tour Web Site – All Above Subject to Change)
Exploding onto to the Hanover Theatre stage beginning March 19th comes the musical "BANDSTAND"!!
With music and Lyrics by Richard Oberacker featuring additional lyrics by Robert Taylor who co-authored the book with Oberacker, the musical received high praise for its brilliant high-octane choreography by three-time Tony® winner and "Hamilton" choreographer, Andy Blankenbuehler. Part of the Hanover Theatre's 2019-2020 Broadway Series.
"Bandstand" is the story of World War II front line soldiers. A "band of brothers" that fought a brutal war to defend American soil and, when they came home in 1945, they began to feel as if still inhabiting in an unfamiliar country.
One of those returning soldiers, Private First Class "Donny" (Zack Zaromatidis), an aspiring singer-songwriter, also feels lost as he copes with his own re-adjustment and seeking to return to his first love - music.
NBC (radio) announces a nation-wide contest to find the country's next great musical superstars. Donny sees a opportunity for himself and some fellow veterans that gives them the purpose they so desperately need.
For them, the U.S. had become a country for which they felt was required a new anthem designed to reach out and musically embrace their own while also inspiring the nation.
One of those veterans Donny enlists is trombonist "Wayne Wright" (Louis Jannuzzi III), a complex, troubled former soldier who factors in greatly to the "Bandstand" saga.
METR caught up with actor Jannuzzi, originally from Hillsboro, New Jersey (but now living in New York City) for an exclusive interview. Jannuzzi, whose birthday also coincides with the Hanover "Bandstand" performance on March 21st, elaborated on his career and on his "Bandstand" character.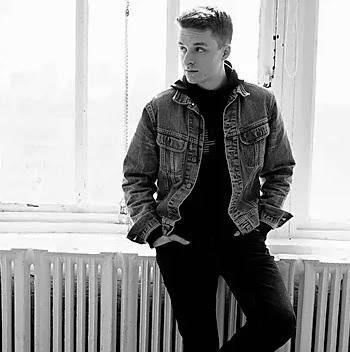 Louis Jannuzzi III who plays Wayne Wright in the musical "Bandstand".
Photo Credit: Nathan Johnson.
- You studied at DeSales University Main Stage. You have done some impressive shows: You were Matt in "The Fantasticks" and you've also performed in "The Producers," "Fiddler on the Roof," Les Miserables," "Evita" and more. When did you first realize you wanted to do shows and pursue a career in theatre?

LJ III: I went to Immaculata High School in Somerville NJ and, during freshman year, was understudy for the character "LeFou" in "Beauty and the Beast." I was very young – my voice hadn't even changed yet. But I liked it and started voice lessons, started getting some training. People started to listen to me and I began to get noticed. I wound up playing "Marius" in "Les Miserables." I loved the show so much. Soon after, I decided to make acting my career choice.

Q - You worked with Eric Roberts in the TV mini-series "Football, Texas." What was that experience like?

LJ III: That was just a crazy experience. It was my first real experience in a "cattle call" in New York City for a specific role. It was a public call, they were looking for someone who looked high school age and who could play the part of a high school football backup quarterback. I went in there and saw 200 people who looked JUST like me. I did my audition, got called back in, did some more call backs, and next thing I knew found myself on a flight to Texas. When I got there, all of a sudden in Eric Roberts walks through the door. Craziest experience and it happened right after I graduated college.

Q - Looking at your resume, it is really interesting to note that, not only do you play multiple musical instruments (violin, guitar, trombone, ukulele and more), you also have put down, under "Special Skills," a "Gollum Impersonation." How did that come about?

LJ III: My favorite movie is "LOTR: The Return of the King." My father, a professional playwright, was also an English teacher who taught all of the "Rings" books. I grew up reading the books, watched the movies. And I did the impersonation as a kid and later, when I began auditioning, my dad wrote a monologue for me that included a Gollum impersonation.

Q - You also dance and "Bandstand" has some amazing dancing in it, having won both the Tony and Drama Desk Awards for Best Choreography. Have you found the choreography in this tour challenging?

LJ III: Oh, yes. For this tour they took the choreography right from the New York show and put it on the road. All the dancers are performing the original choreography and it is really challenging. We are all working our butts off throughout the whole show and this cast gives 100 percent each night. They are all so incredibly involved and it truly is a sight to behold.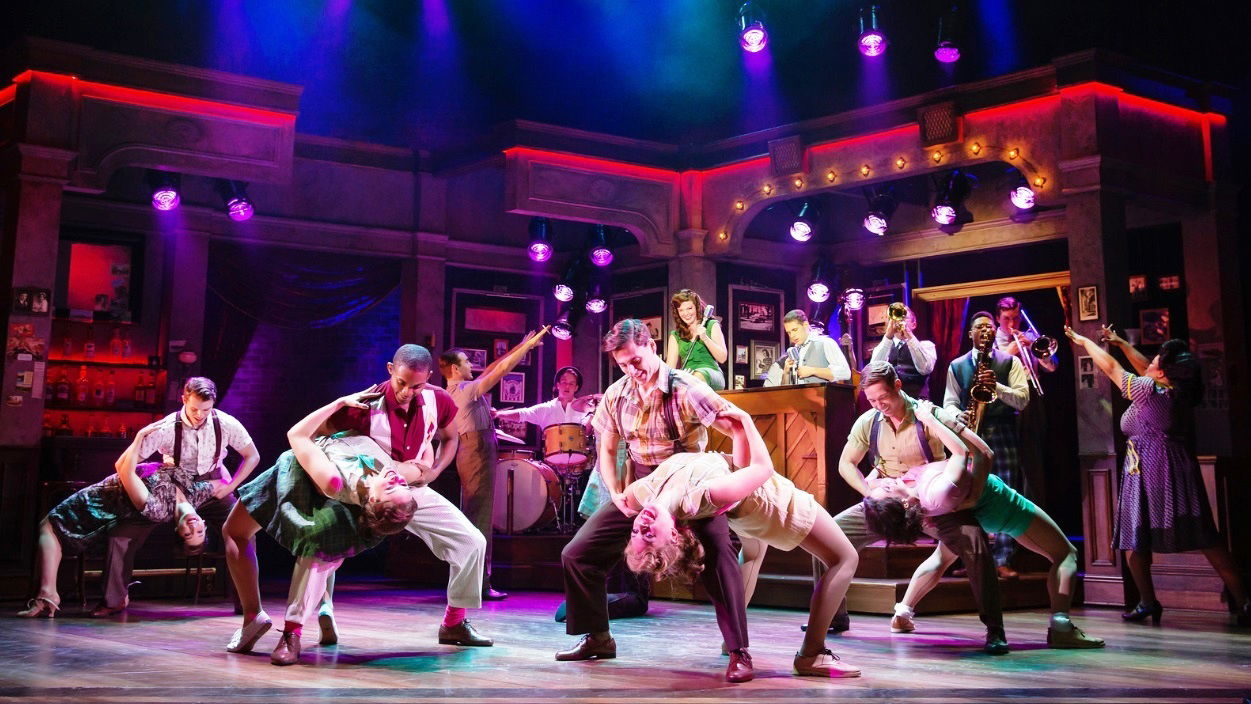 The Cast of the musical "Bandstand" Playing at the Hanover Theatre in March. Photo Credit: Jeremy Daniel.

Q - "Bandstand" is about soldiers who have just come home from their time serving during World War II. Now they seek fame and fortune in the music business. Tell us a little about the character you play, "Wayne Wright," and how he impacts the story.
LJ III: "Wayne" is a very complex character, the only one in the show who is a father and married man, and the only one who was not an enlisted soldier. He had an important role in the war, but he also came home with severe PTSD. This disorder he has - he begins to lose the order in his life and starts losing the things that he loves, meaning his family. His life begins to fall apart right at the moment when he finds this band. He finds that this band is the ultimate coping mechanism for him to be able to move on, to care and provide for his family. He has a lot of suicidal thoughts - this is a very real thing that veterans face today and have to deal with. I believe we try to provide something of a testament to what real veterans have to deal with. While "Wayne" is complex, but he is also easy to love if you open your mind to him. We, in the cast, are all committed to making these characters as real and intimate.

Q - You also understudy for Zack Zaromatidis who plays "Donny." Briefly tell us a little about the casting process and your experience in getting cast for the role.

LJ III: I went to the callback sessions and the final call back got an email from casting, telling me to prepare for stuff for "Donny." Well I never expected to go in for "Donny" and, with "Wayne," for me, that character seemed like the depth for him was a perfect fit for me. So, I never expected to be considered as an understudy for Zack. It was crazy to think about since I was so focused on "Wayne." Zach as "Donny" puts out unbelievably heartbreaking and driven performances every night. I am so proud to think of him as a friend.
Q - Have you had the opportunity to play "Donny" yet?
LJ III: Not yet.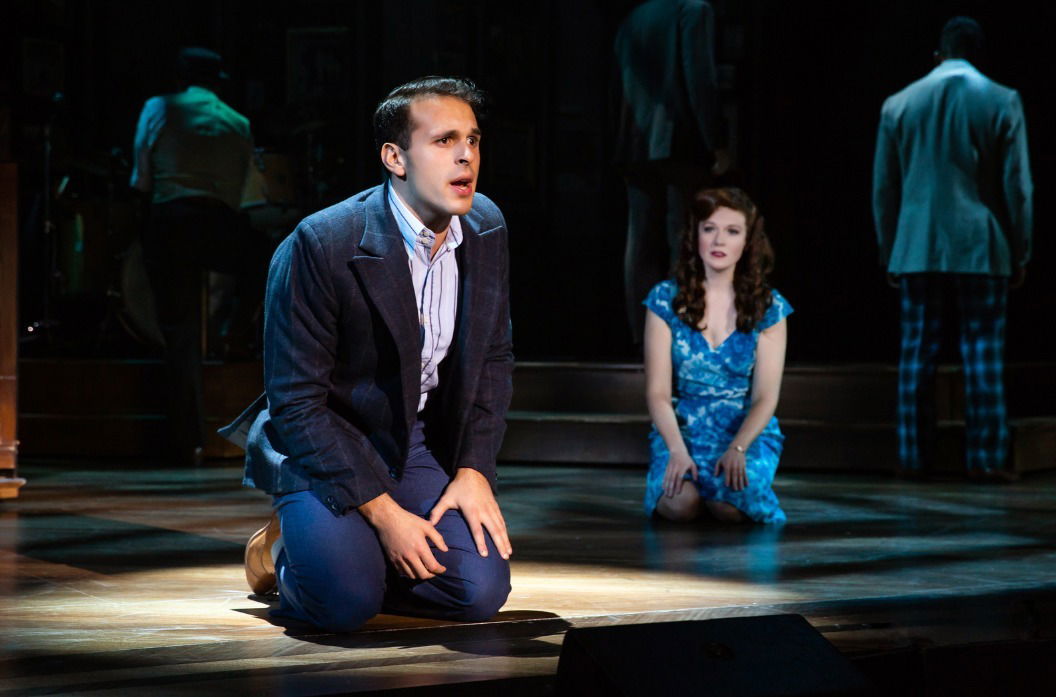 Zack Zaromatidis in "Bandstand" Playing at the Hanover Theatre.
Photo Credit: Jeremy Daniel.

Q - Did you have to audition with the trombone?

LJ III: I did. There's a lot of different levels of musicality. Scott (Scott Bell who plays "Nick," a trumpet player) and Rob (Rob Clove as "Jimmy," who plays saxophone and clarinet) in the band have been playing since they were kids. I just did it in high school and honors band. Hadn't played for seven years when this audition came up. So, for "Wayne," I dug the trombone out of my closet, dusted it off and auditioned for the part. It is nice to be able to add it back onto my resume.

Q - What has the whole tour experience been like for you? What has been most challenging for you as a performer?

LJ III: Challenging? Finding time for yourself and just have time to breathe, you know, to do yoga, to have that time to just focus on your breath. Sometimes with tour life, the traveling, rehearsing, doing the show, you know, every hour is full. Sometimes you just need to make sure you are okay with you. It is easy to go on a tour you don't enjoy, that you don't love. But I consider myself so lucky because I love the show and enjoy the people I work with.

Q - How has this particular cast and creative team been like to work with?

LJ III: Andy (Blankenbuehler, the show's original director/choreographer) has amazing insight and he put his heart and soul into this piece. Our director Gena (Rattan) was absolutely phenomenal. Her vision is to help actors with their process as an actor, providing feedback. I have never had that kind of feedback before. She is dedicated to preparation and can give exact same note to read, understand and then perform it. It is an honor to be directed by and work for her. We have two people who helped choreograph along with Andy and they also were so very helpful.

Q - Ultimately, what is it you hope audiences will leave with after seeing "Bandstand?"

LJ III: When people come to see "Bandstand" I hope that they see the true message of the show. I hope they see that we are trying to put on a show that is an homage to those who have not been welcomed home yet. We welcome the veterans who have come home. For those who aren't in the service, I hope we help them see and become more aware of the ongoing struggles and sacrifices veterans have made for our livelihood and to make them feel those sacrifices have not been in vain. It is an incredibly moving piece.
Q - And what's next on the horizon for Louis Jannuzzi III?
LJ III: As for me? Right now, I am focused on this tour and loving every second of it.
Kevin T. Baldwin is a member of the American Theatre Critics Association (ATCA)
Tickets are $39, $49, $62 and $79 depending on seating availability. Discounts are available for members and groups of 10 or more. Contact the box office at 877.571.SHOW (7469) for more information.
A Salute To Veterans
Enjoy a special performance for veterans on Thursday, March 19!
Special Performances:
Audio descriptive services from Audio Journal provided on Sunday, March 22 at 1 PM
ASL interpretation provided on Sunday, March 22 at 6:30 PM
Receive Email Updates About This Show