COVER PHOTO CAPTION: Actors (left to right) Tomm Knightlee, Brian Michael Henry, Bryan Austerman and Chris Coffey perform a tune in "Forever Plaid," which runs Oct. 24 through Dec. 8 at West Springfield's Majestic Theater. Photo credit: Kait Rankins.
By Kevin T. Baldwin
METRMAG Reviewer
Contact: 774-242-6724
Majestic Theater in West Springfield
Presents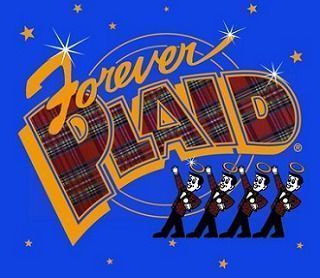 The Majestic Theater's 23rd Season continues with "Forever Plaid," a musical that runs October 24 through December 8, according to Producing Director Danny Eaton.
The play, by Stuart Ross, tells the tale of a semi-professional harmony group on their way to their first big gig at the Hilton airport cocktail bar, rehearsing their big finale, when they are slammed broadside by a school bus full of teenage girls on their way to witness the Beatles make their debut on The Ed Sullivan Show. While none of the girls are injured, the four harmony singers are killed instantly, but somehow manage to take the stage for one final gig. "Forever Plaid" is filled with great songs that audience members are sure to know and love, and has been described as "screamingly funny and entirely enchanting."
The cast includes Tomm Knightlee (of Enfield, CT) as "Smudge", Brian Michael Henry (of New York City) as "Sparky", Bryan Austerman (of Southwick) as "Jinx" and Chris Coffey (of New Jersey) as "Francis".
The play is directed by Ben Ashley, and Mitch Chakour is the music director. Set design is by Greg Trochlil, Dawn McKay is costume designer and the lighting design is by Dan Rist. Doug Wallace is sound engineer, and Stephen Petit is production stage manager. The band includes Chakour, Cliff Schofer and Don Rovero.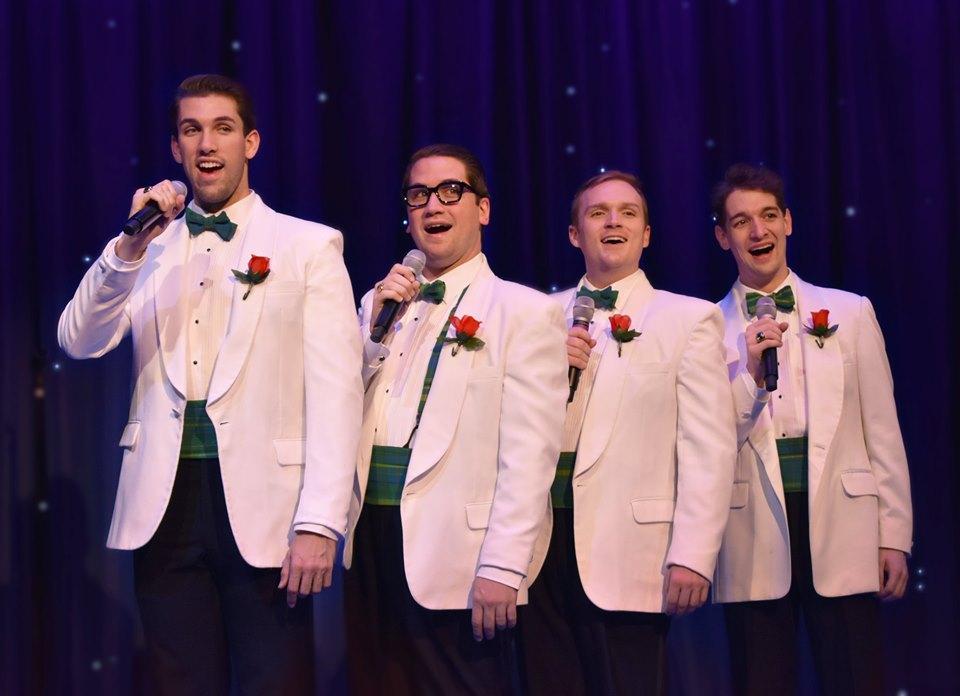 PHOTO CAPTION: Actors (left to right) Bryan Austerman, Tomm Knightlee, Brian Michael Henry and Chris Coffey in "Forever Plaid." Photo credit: Kait Rankins.

PERFORMANCE DATES FOR "FOREVER PLAID"
Oct. 24, 31, Nov. 7, 14, 21 & Dec. 5 at 7:30pm,
Oct. 25, 26, Nov. 1, 2, 8, 9, 15, 16, 22, 23, 29, 30, Dec. 6 & 7 at 8:00pm,
Oct. 27, Nov. 3, 10, 17, 23, 24, 30, Dec. 2, 7 & 8 at 2:00pm,
Oct. 29, 30, Nov. 6, 10, 13, 17, 20, 26 & Dec. 4 at 7:00pm
Ticket prices range from $27 to $34 and can be purchased by calling the box office at (413) 747-7797 or visiting while the box office is open (Monday – Friday 10am – 5pm, and Saturday 10am – 1pm).
The Theater Project is a non-profit company that Eaton founded in 1991. Since March 1997 it has been in residence in West Springfield's historic Majestic Theater, a century-old venue that has been named "Best Place to See Theater" and "Best Live Theatre Company" in newspaper polls. In addition, Eaton's work at the Majestic was honored with a Regional Award for Outstanding Achievement in the American Theatre by the New England Theatre Conference. For additional information, visit www.majestictheater.com.