Presents the Musical
Book & Lyrics by Howard Ashman
Music by Alan Menken
Based on the film by Roger Corman
Screenplay by Charles Griffith
Stage Director & Choreographer Jason Hair-Wynn
Music Director Shawn Gelzleichter
Producers Larry Segel & Deirdre A. L. Shaw
Stage Manager Katharine Edel
Cast Includes: Jason Hair-Wynn as "Voice Over"; Melissa Reda, Hannah Clifford, Layo Ojo and Dana Murray as the "Urchins"; Arthur Comer as "Mr. Mushnik"; Tessa Newell as "Audrey"; Michael Silvia as "Seymour Krelborn"; Mark Damon as "Orin Scrivello, DDS"; Lauren Donahue as "Audrey II (The Plant)"; Lauren Thompson as "Audrey II (The Voice)"; Mark Damon and Lauren Thompson as the "Skid Row Residents"; Mark Damon as "Media Big Wig"
Additional Creative Team:
Dance Captain - Dana Murray; Fight Coordinator -Jason Hair-Wynn; Set Designer - Crystal VanArtsdalen; Scenic Design & Painting: Crystal VanArtsdalen, Jason Hair-Wynn; Set Construction & Transportation Assistance: Jeff Bliss, Dylan Bushe, Larry Segel, Crystal VanArtsdalen, Mark Damon, Mark Damon, Sr., Evan Dilisio, Jason Hair-Wynn, Billy Jenkins, Dana Murray, Stephan Nedell, Tessa Newell,Layo Ojo, Sean Perry, Lauren Thompson, Jason Santerre, and Michael Silvia; Additional Set Painting -The Cast; Backstage Manager - Ryan Morrissey; Stage Crew: Samantha Dawson, Cambria DiCecca, Billy Jenkins; Technical & Venue Supervisor - Larry Segel; Light Design - Jason Hair-Wynn and Larry Segel; Lighting Set-Up - Larry Segel and Aleks Wierzbicki; Light Board Operator - Katharine Edel; Sound Design - Tyler Bliss and Jason Hair-Wynn; Sound Board Operator - Tyler Bliss; Costume Design - Amanda Allen and Vanessa Phelon; Assistant Costumers - Hannah Clifford and Jason Hair-Wynn; Extra Special Effects (Blood) - Vanessa Phelon; Wigs - Cara Guappone; Properties - Amanda Allen, Hannah Clifford, Mark Damon, Deirdre A. L. Shaw, Lauren Thompson, Jason Hair-Wynn, and Cast; Set Dressing - Hannah Clifford and Jason Hair-Wynn; Puppet Wranglers/Coaches: Billy Jenkins, Lauren Thompson, Mark Damon and Jason Hair-Wynn; Ticket Printing - Susan Roberts; Advanced & Day of Ticket Sales - Larry Segel; Raffle Organizer - Amanda Allen; Social Media Publicity: Amanda Allen, Mark Damon and Madeleine Mellen; Rehearsal Photography - Madeleine Mellen; Program Layout/Editing - Deirdre A. L. Shaw
Performances:
October 27, 2023 through November 5, 2023
(Contact Box Office for Exact Times)
American Legion Post 210, 44 Taylor Street, Saugus, MA
TICKETS:
For more information or tickets, phone # 781-816-7019 or email tcsaugus@gmail.com or visit www.tcsaugus.org
COVID 19 PROTOCOLS
Contact Venue for Most Updated COVID-19 Safety Protocols and Information.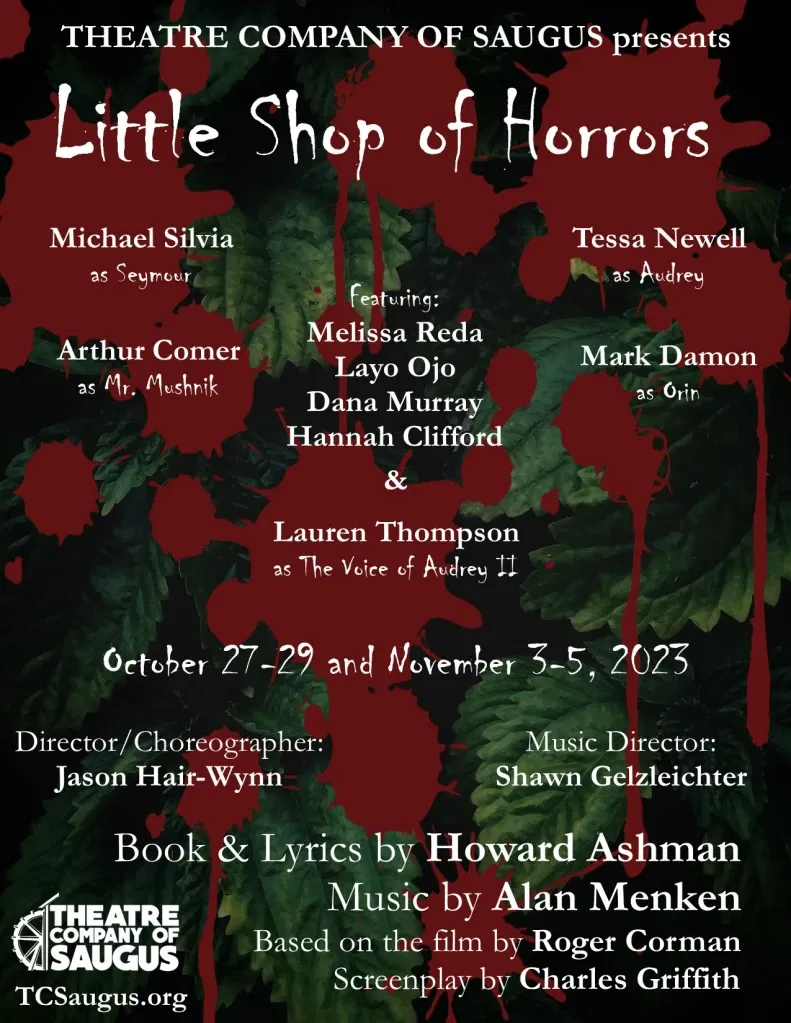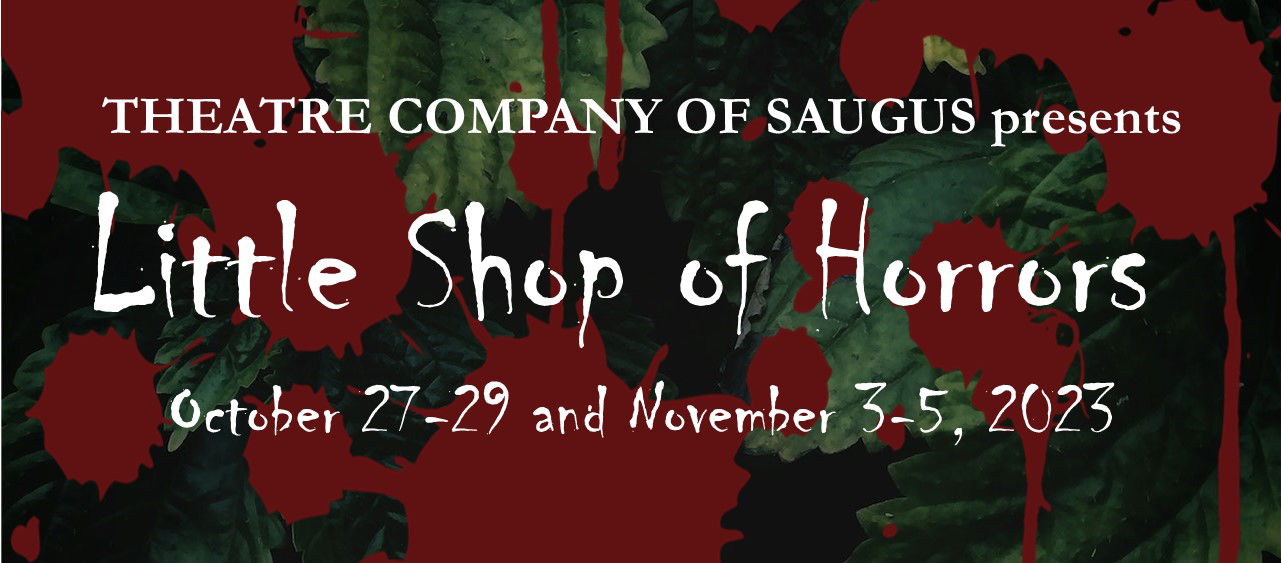 ABOUT THE SHOW
"LITTLE SHOP OF HORRORS" is a delectable sci-fi horror musical with an electrifying 1960s pop/rock score by Alan Menken and Howard Ashman.
Seymour Krelborn is a meek and dejected assistant at a floral shop who happens upon a strange plant, which he affectionately names "Audrey II" after his crush at the shop.
Little does he know that this strange and unusual plant will develop a soulful R&B voice, a potty mouth, and an unquenchable thirst for HUMAN BLOOD.
As Audrey II grows bigger and meaner, the carnivorous plant promises limitless fame and fortune to Seymour, as long as he continues providing a fresh supply of blood.
Just when it's too late, Seymour discovers Audrey II's extra-terrestrial origins and his true drive for world-domination.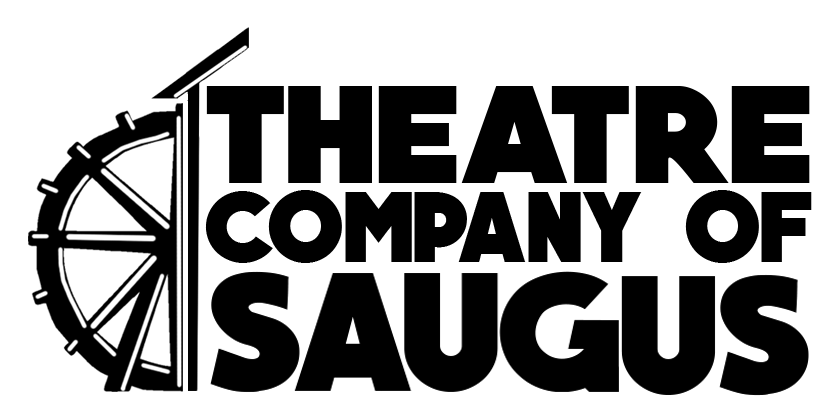 ABOUT THE THEATRE COMPANY OF SAUGUS (TCS)
THE THEATRE COMPANY OF SAUGUS (TCS) is the community theatre group serving Saugus, Massachusetts and surrounding communities. Founded in 1968 as the "Town-Criers", TCS incorporated in 1990 as a not-for-profit corporation. TCS mission statement is "To foster and promote an appreciation of the theatre arts and to stimulate production of living theatre for the entertainment and cultural enrichment of the community." TCS currently has about 100 members and do 3-5 productions each year. TCS is a member of the Eastern Massachusetts Association of Community Theatres (EMACT). TCS has at times been a member of the American Association of Community Theatre (AACT), and the New England Theatre Conference (NETC). TCS is a member of StageSource. TCS is a registered non-profit organization with tax-exempt 501 (c) (3) status.
THE THEATRE COMPANY OF SAUGUS (TCS)
P.O. Box # 1058
Saugus, MA. 01906
# 781-816-7019