"Studio Theatre Worcester Follows an Ambitious Path"
By Kevin T. Baldwin
METRMag Editor-in-Chief
# 774-242-6724
WORCESTER, MA: "The Fantasticks" a two-act musical presented by Studio Theatre Worcester, at the Greendale People's Church, 25 Francis Street, Worcester, MA 01606. Performances: Sept. 20, 21, 27 & 28 at 7:30pm, Sept. 22 & 29 at 2:00pm. Admission: $30 per adult, $25 per senior (60+), student and military. Tickets may be obtained via email at info@studiotheatreworcester.org or by calling STW at 508-556-0576. You may also visit their website at www.studiotheatreworcester.org
Book and Lyrics by Tom Jones. Music by Harvey Schmitt. Directed by John Somers. Assistant Directed by Lyndsey Hawkes. Choreographed by Kimberly Bourassa. Music Direction by Kris Layton.
"The Fantasticks" Cast Includes: Paul Conway, Kyle Collins, Norman Dubois, Pedro Figueroa, Reilly Harring, Ralph Stokes, Derek Sylvester, Lorae Wegner.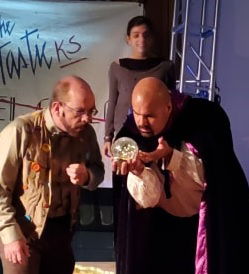 Cast of STW production of
"The Fantasticks"
Photo courtesy of Studio Theatre Worcester
Taking on an iconic musical production like "The Fantasticks" is a monumental task, but especially so for a new organization seeking to establish itself as Worcester's finest professional theatre company.
METRMag caught up with the company President and Artistic Director, John Somers, who spoke about the new theatre and their upcoming production of the Off Broadway staple musical "The Fantasticks".

Q: When was Studio Theatre Worcester (STW) established?
Somers: "We officially incorporated Studio Theatre Worcester in March, 2018 and launched our first show, 'The Complete Works of William Shakespeare (Abridged)' in May, 2019. We received our 501(c)(3) designation in June, 2019."
Q: Although there are some that have tried, there really has not been as successful a professional theatre company in Worcester since Foothills, which went dark shortly after the Hanover Theatre opened. What is different in the city now that gives you hope that STW will succeed?
Somers: There is a major revitalization of Worcester underway. With it, there is a tremendous amount of support right now for the arts. It is a fact that art improves quality of life. We are excited to be a part of the revitalization of this amazing city and contribute to the ground swell of the arts scene as it continues to evolve and grow.
As an example, Buffalo, NY, a comparable city, recently revitalized its arts district and has over 30 professional theatre companies that operate under a variety of Equity contracts. There is absolutely no reason Worcester can't follow suit and provide a similar offering of professional theatre. Variety is the spice of life and there is plenty of room for more professional quality theatre in Worcester.
Q: There are many fine theatre groups in central Massachusetts – what sets STW apart from them, other than the fact you are using compensated staff/performers?
Somers: What sets us apart are how we approach everything we do. We always start with our
"Mission Statement":
The mission of Studio Theatre Worcester is to engage with and inspire the Worcester community by producing high-quality theatrical works, cultivating new plays and musicals, and providing arts education programs to develop the future theatre artists, designers, technicians, and administrators of tomorrow.
Somers (Continuing): If a project comes up that doesn't align with our mission, vision, or values…we will not do it.
In terms of administration and operations, we take a very business-direct approach. While we are a non-profit business, we are still a business. Our Board of Directors is solid and brings a wealth of business experience to the table; as such, we are very strategic in that approach.
In terms of aesthetic, our goal is always to elicit a visceral response for theatre goers. We do not subscribe to presentational approaches in theatre; the audience is too removed, too disconnected from the experience. We want the audience to feel, as opposed to think.
Q: You are currently operating out of Greendale People's Church in Worcester. Do you see yourself in your own location soon? What is the plan?
Somers: Absolutely! We are thrilled to be partnering with the wonderful people of Greendale People's Church. They have been most welcoming to us and their performance space has been terrific for the size of the productions we have produced.
As we expand our seasons to include additional shows and more large-scale productions, we'll need to find additional partners with available performance space(s). There are several locations in downtown Worcester that are being renovated into performance spaces, including the Worcester Black Box.
We would love to be considered as a theatre-in-residence for any of those spaces. I am confident as we diligently work towards finding our forever home.
Q: Where do you see STW situated in 5 years? 10 years?
Somers: Our vision statement is that we "…will be the professional theatre of choice for artists, designers, educators and theatre goers in Central Massachusetts."
We have a solid 3- and 5-year development plan to get there. Building what we want to build is not an overnight process. We are steadfast in first establishing a solid foundation that we can build upon. This foundation MUST be in place before we layer on additional components.
A few things in the works, however, include: an education component, a stream for new works development, and a unique membership program that offers special benefits that we are confident serve as a differentiator.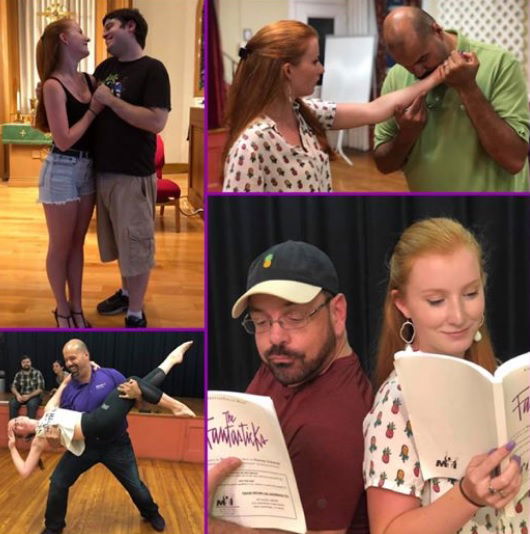 Cast of STW's "The Fantasticks" in rehearsal.
Photo Courtesy of Studio Theatre Worcester
Q: Let's talk a little about the upcoming production of the musical, "The Fantasticks". Your first production was "The Complete Works of Shakespeare (Abridged)" a high energy lampoon of the Bard's catalog which garnered some positive reviews and responses.
Now, as the city's only professional theatre company, you follow with one of the longest-running musicals (42 years and 17,162 performances, OFF-Broadway) in the history of American musical theatre. What drew you to it?
Somers: "The Fantasticks" fit perfectly with the theme of our season,
"And though she be but little, she is fierce."
Coupled with our second show ("Doubt") we focused on small cast shows that are not short on intensity of emotion. I also like to deliver the unexpected. People familiar with "The Fantasticks," will expect a standard approach. Our goal is for them to undoubtedly have an unexpected experience after seeing our production.
Q: Certainly, the world is far different now than when the show first premiered in 1960. How do you feel STW has kept it relevant to today in your staging at STW?
Somers: When I direct, I always start with: "Why is the story being told"?
While I have always loved the story of "The Fantasticks," only a handful of productions I have seen addressed the "why."
Without giving too much of the show away, we decided to approach the why by setting the play in the back alley of a now-defunct magician's show in Atlantic City.
All the dialogue and characters and songs remain as is written. We've just had the actors approach their respective character's "why" from a very different angle.
Q: Is there a message in the show that you feel still resonates today?
Somers: In terms of message, our approach deals a lot with hope –
How is hope lost?
How does one find hope again when it is lost?
What is that catalyst for finding hope?
How does taking a chance affect growth and can it play into rekindling hope?
These are questions that certainly resonate in our society today.
Q: Many theatre lovers are familiar with the show's iconic and melodious "Try to Remember", but what is your favorite song (or songs, if more than one) from the show and why?
Somers: Wow! What a difficult question to answer. Each song has a part(s) within it that has managed to find a way to reach my emotional core.
I'd say the song most on my mind right now is "I Can See it" which is, essentially, Matt's "coming of age" song. It's a pivotal turning point for him. He knows that in order to grow, he has to leave home. Leaving the safe confines of one's comfort zone is a tremendously difficult thing to do.
That decision parallels what we are doing with Studio Theatre Worcester. We don't play it safe. We continually push ourselves to stay outside of what's comfortable. That approach encourages and promotes growth.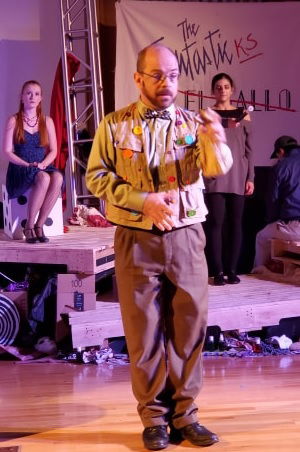 Paul Conway as Bellomy in
"The Fantasticks"
Photo Courtesy of Studio Theatre Worcester
Q: You began rehearsals early. Why the extended schedule?
Somers: We started rehearsals in July, so we've had about 9 weeks of rehearsal. Since most of our actors have full-time jobs during the day, we chose to hold our rehearsals in the evenings and on weekends.
When you take summer vacations into account that only compounds the scheduling challenges. You need to do what you can to get the appropriate amount of rehearsal time. I firmly believe that true discovery and exploration takes time.
Q: What has the cast and crew been like to work with throughout the production and what do you feel has been the most rewarding part of directing this musical?
Somers: We have been honored to have such an amazingly talented cast, crew, and production team for "The Fantasticks." The folks involved have come from all over New England; Providence, RI, Nashua, NH, Hudson, MA, etc. to be a part of this production.
The most rewarding part for me has been meeting new talent and connecting them with the Worcester arts scene. They all see the opportunity for artistic growth here and want to be a part of it.
Bonus question:
Q: Describe what's next for STW.
Somers: We are currently exploring new and different ways to market our endeavors and get our name out there and more visible. That's a never-ending task, especially while we're still in hyper-growth mode.
Planning for the 2020-21 season is underway, but we still have our 2nd show of the season, "Doubt," coming up in March 2020. That will promise to be an epic experience. Folks that know the show well will be intrigued to learn that this production will also be staged at Greendale People's Church.
We will be holding after-show talkbacks with the cast/crew and Pastor of the Church. The play covers topics that are sure to elicit some terrific, honest conversation.
"Doubt" performances are currently slated for March 13-22, 2020.