The Hanover Theatre
for the Performing Arts
Presents
"The Hip Hop Nutcracker"
WORCESTER - "The Hip Hop Nutcracker" Directed and choreographed by Jennifer Weber. Hanover Theatre for the Performing Arts, 2 Southbridge Street, Worcester, MA 01608. Performance: Dec. 29 at 7:00pm. Ticket prices $42.50, $52.50 and $62.50 depending on seat location. Discounts are available for Broadway subscribers, members and groups of 10 or more. Contact the box office at 877.571.SHOW (7469) for more information.
As local theatre goers conclude an eventful holiday season, Hanover Theatre patrons will be offered one last spectacular holiday treat with an updated interpretation of a Tchaikovsky tale…or "tail"…in "The Hip Hop Nutcracker" coming December 29th.
Directed and choreographed by Jennifer Weber, "The Hip Hop Nutcracker" production uses contemporary dance set to Tchaikovsky's timeless music.
Mike Fitelson is the writer and co-creator of the show (with the show's director Weber) and is also executive producer at the United Palace, an 89-year-old Wonder Theatre in Washington Heights, Manhattan's 4th largest theatre.
Recently, METR interviewed Fitelson, who adapted the story, supplying the images for its scenery, and produced its premiere.
Fitelson claims the inspiration for this approach to the Tchaikovsky tale came after seeing how Amherst-native Weber and her "Decadancetheatre" had, in his words, "seamlessly and genius-ly combined hip hop dance with classical music in their previous work."
So, Fitelson said putting together such a modernized "Nutcracker" project almost instantly became a "no brainer."
"This just seemed like a natural 'peanut butter with chocolate' kind of mash-up," Fitelson says. "The story easily adapts to any time period and setting, as long as you are careful to include the key references in the original story – Mouse King, growing tree, and general feeling of holiday excitement."
Fitelson's own credits include working to build the Northern Manhattan arts community for 17 years. He co-founded the annual arts festival, the "Uptown Arts Stroll," in 2003; served in every capacity of the "Manhattan Times," a bilingual community newspaper of Washington Heights and Inwood, from 2002 to 2011; and helped found the nonprofit "Northern Manhattan Arts Alliance" in 2006.
While "Hip Hop Nutcracker" is set in New York City, Fitelson feel the structure of the show still works within the context of the original Tchaikovsky story.
"Regardless of what version of the Nutcracker you are seeing, there is always an element of fantasy, of probing the line between reality and make believe. What better place than New York City to blur that line?" Fitelson says. "Jenn and I both live in NYC and can attest that, while we've never seen a tree grow before our eyes, it certainly wouldn't surprise us to see it happen in Central Park. The year's first snowfall always seems to transform Midtown into a land of sweets."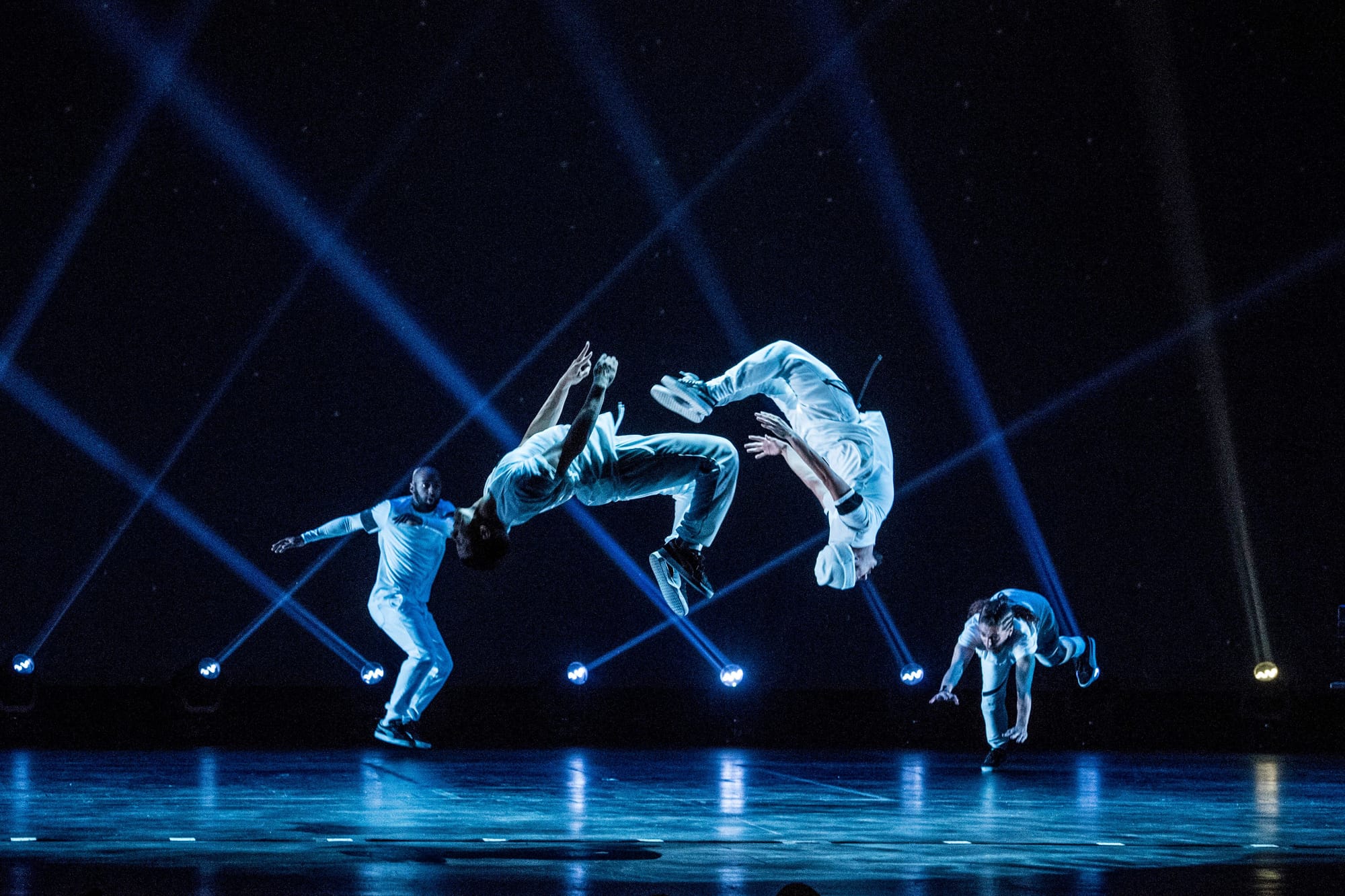 Cast of "Hip Hop Nutcracker" at the Hanover Theatre. Photo courtesy of Timothy Norris.
The creative duo have crafted a show that may be overall all hip hop in execution but Fitelson advises how the show has other forms of dance which may infuse their way onto the stage.
"Each dancer pulls from their repertoire – and personality – to tell their character's story," Fitelson explains. "Most of the moves come from the world of hip hop – from proto 70s breaking to up-to-the-minute acrobatics. But dancers with classical or modern training often find ways to sprinkle other styles into their performance.
According to the Hanover press releases, just like  in the original ballet, the story follows young Maria-Clara and her Nutcracker Prince who together go on a "dream adventure battling a gang of mice, visiting the land of sweets and learning the lessons of the holiday season."
"Innovative digital graffiti and visuals transform the landscape of E.T.A. Hoffmann's beloved story from traditional 19th Century Germany to the vibrant, diverse sights and sounds of contemporary New York City."
The creative team even managed to score a "gift" of their own with the great MC Kurtis Blow, THE first commercially successful rapper from the early 1980s who was also the first to sign with a major record label and who, according to Fitelson, is still a major presence on stage.
"How often do you see an audience on its feet dancing BEFORE a ballet?"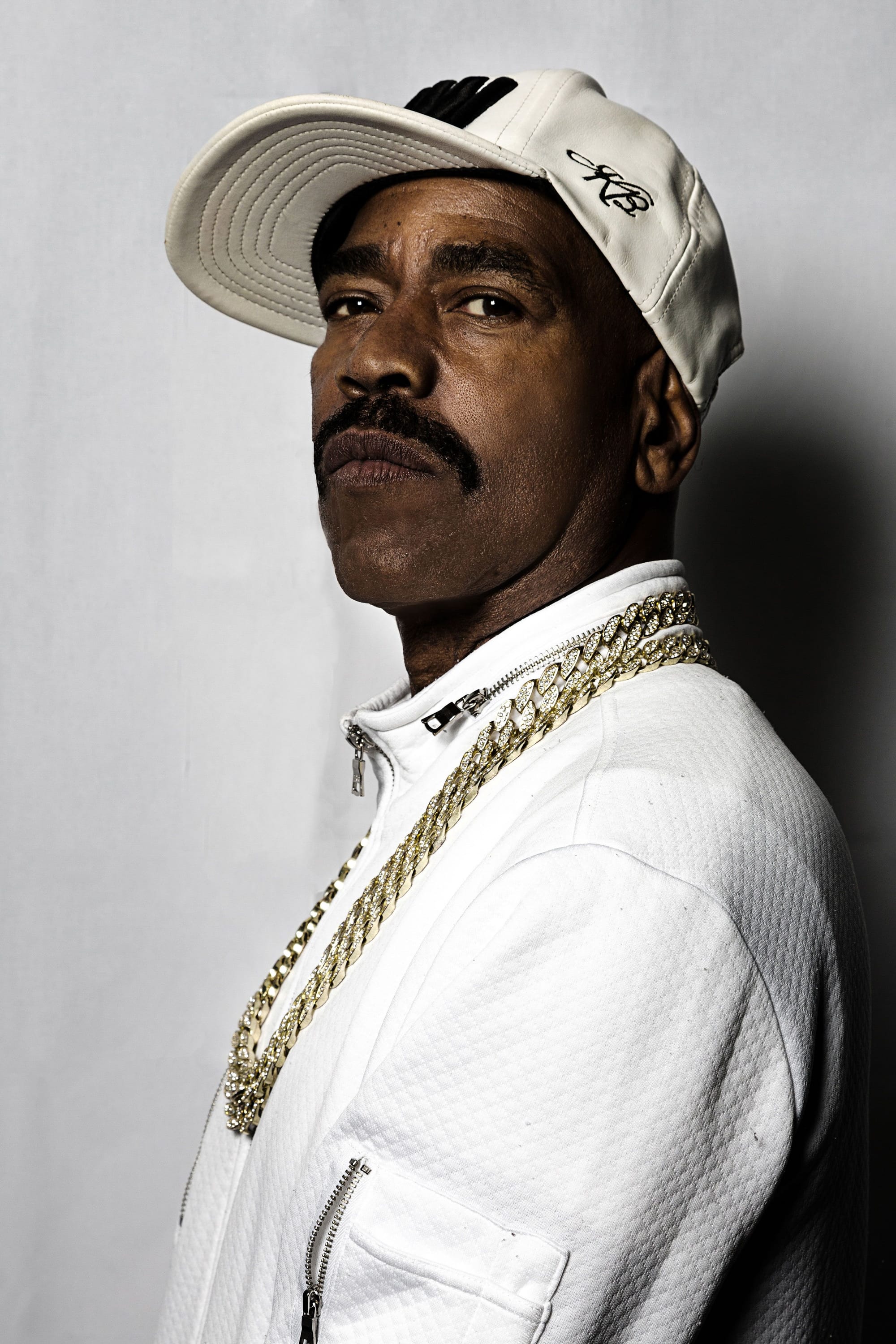 MC Kurtis Blow. Photo Courtesy of Timothy Norris.
"We were connected to Kurtis through the New Jersey Performing Arts Center (NJPAC), which was one of our earliest – and loudest – supporters," Fitelson explains. "They had a longstanding relationship. Once NJPAC saw the direction we were heading, they introduced us. Kurtis embraced the project and we found a way for him to beautifully bookend the story."
Fitelson describes the overall message of this interpretation is one of youth culture, a sense of family and bringing back a belief of "infinite possibilities."
"Every telling celebrates the magic of the holiday season, and finding that magic in fellowship and family. Ours certainly aspires to impart that spirit.," Fitelson says. "I don't think I realized til just now that our story also asks children to try to see their parents for not just who they are but also who they once hoped to be. I adapted the story when I had two young children. I see now that part of the back story was reminding them that, at one time, my life was a blank page waiting to be filled by dreams and imagination. Sometimes it takes children to reconnect with the promise of infinite possibility."
Approximately two hours with intermission
Appropriate for all ages
"The Hip Hop Nutcracker turns Tchaikovsky on his head, in the coolest possible way." - CBS
"A truly one-of-a-kind experience, filled with high-powered choreography and a very modern storyline." - Elle Magazine
Follow The Hip Hop Nutcracker on social media:
Facebook: https://www.facebook.com/thehiphopnutcracker/
Instagram: https://www.instagram.com/hiphopnutcracker/
Twitter: https://twitter.com/hhnutcracker/
YouTube: https://www.youtube.com/channel/UCWpqgbYykPixFpjG95rA_xg