(Cover Photo courtesy of the Hanover Theatre)
By Kevin T. Baldwin
METRMag Reviewer
Contact: 774-242-6724
WORCESTER - "A Christmas Carol" Adaptation by Troy Siebels based on the original Charles Dickens novel. Hanover Theatre for the Performing Arts, 2 Southbridge Street, Worcester, MA 01608. Performances: Dec. 15, 21 at 2:00pm, Dec. 15, 19, 21 & 23 at 7:00pm, Dec. 22 at 11:00am and 4:00pm. Ticket prices $28, $46 and $56 depending on seat location. Discounts are available for members and groups of ten or more. Students and kids are 50% off! Please contact the box office at 877.571.SHOW (7469) for more information.
Directed by Troy Siebels. Music Director Timothy Evans. Choreographer Ilyse Robbins.
Cast includes: Cast includes: Jeremy Lawrence, Marc Geller, Bill Mootos, Ellen Peterson, Tyler Bellmon, Andrew Crowe, Christopher Chew, Steve Gagliastro, Kathy St. George, Kylie Benoit, Tyler Keogh, Charlotte Siebels, Michael Skrzek, Tim Jones, Stephanie Carlson, Lily Steven, Annie Kerins, Adeline Canney, Carter Siebels, Addelyn Esposito, Genevieve Lussier, Laura D. DeGiacomo, Viktoria Chiappa, Brad Foster Reinking, Shelly Willis Fawson, Mark Linehan, Meredith Gosselin, Preston Langlois, Millie Chew, Lucy DeMeo.
For eight of the past 12 years of Hanover Theatre's production of "A Christmas Carol" actor Jeremy Lawrence has thoroughly entertained audiences with his portrayal of miserly "Ebenezer Scrooge" which Lawrence describes as a story "not only of redemption, but of incredible personal transformation."
Lawrence, a New York City native whose upcoming exit from the role was announced with this production, says that, while some of the names and faces may have changed over the years, he has enjoyed immensely the relationships he has established with the cast and crew at the Hanover.
"One of the hardest things for me will be to lose these friendships I have made," Lawrence says. "It has been a most remarkable show and I have been blessed to have known these remarkable people. I could not do this without them."
Fellow actors Lawrence indicated he will miss included some familiar names to the production, a few of whom have been with the show prior to Lawrence.
"There's Tyler Bellman (Bob Cratchit), Andrew Crowe (Fred) who have done it for the past eight years with me," Lawrence says. "And there's Ellen Peterson (Mrs. Spencer), with whom I have my very first lines in the show, and who came up to me at our first rehearsal with the encouraging words, 'Say, you're good' - which is an encouraging thing for an actor to hear coming into a new experience like that."
Lawrence recalls his first days into the production as being "terrifying," indicating that it is "hard for an actor to walk into an already recognized production and taking on a lead role."
"When I came on board for my first 'Christmas Carol' at the Hanover, the show was already quite the 'whirlygig" of a working machine," Lawrence says. "I was hired to inhabit a role which was already previously established by other actors during the show's first few years. But, over time, with my own spin on the 'Scrooge' character, I slowly have been able to make the 'works of the machine' start paying attention
to some of the things I contribute."
Performing in an annual live production of the Charles Dickens iconic tale might well have been a daunting task for the veteran actor who makes it appear effortless. However, Lawrence advises that, since the beginning, he has worked with Hanover President and the show's creative force behind this adaptation, Troy Siebels, to 'tweak' the show in effort to offer something new every year.
"When I first came on board, Troy said to me that, with Scrooge and how he wanted me to play Scrooge, he didn't want a 'mean guy who turns into a nice guy.' He said he wanted to learn more about him to help explain the transformation he undergoes from beginning to end."
Lawrence prides in how the role, played by "some of the greatest actors of our time," not only "speaks of redemption and is a celebration of Christmas but also is a tale of great social criticism and social justice."
"Dickens took a sledgehammer to speak of social injustice of the time, which took great courage and compassion," Lawrence says, praising Siebels' adaptation, as well.
"It is completely faithful to Dickens in how it chimes forth," Lawrence says. "Almost all of the words in Troy's adaptation are from Dickens, but with Troy adding some narrative elements to help move the story along."
For his own approach to the role of Scrooge, Lawrence says playing the character, familiar to so many, actually takes a great deal of "energy" to make the role unique to him.
"The energy comes from having to reach deep down and really pull from your gut to play the character," Lawrence says, proclaiming that, to keep the show from becoming stagnant, he, along with Siebels, cast and crew working together, "Every year to try and do it somewhat differently, and this year is no exception."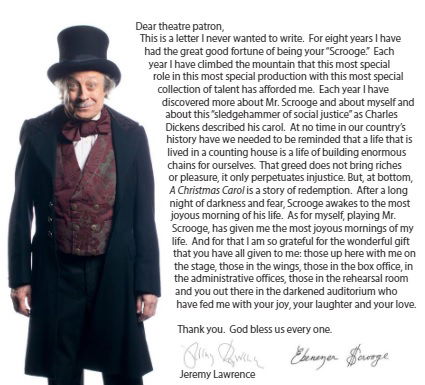 Message from Jeremy Lawrence. Courtesy of the Hanover Theatre.
And now, after eight years, how does Lawrence view the character of "Scrooge"?
"He (Scrooge) has forgotten how to create relationships in the world," Lawrence explains. "He has withdrawn, living alone with just his money. Yet he doesn't even spend it. He just has it there with him, all alone."
Then, after the last of the Spirits has visited him, Lawrence continues, "Scrooge learns about coming to terms with his own death. He comes to the gravestone, sees his name and, through this experience and all the ones with the ghosts, Scrooge learns that he CAN change, that he CAN become somebody who gives to others and not live his life isolated and alone. He begins to FEEL things again."
Change is also a constant in any working relationship, and Lawrence exits the Hanover family after the final "Christmas Carol" curtain comes down this year.
However, Lawrence's humanizing portrayal of "Scrooge" has become one many have looked forward to over the past eight Christmas seasons and one that will surely be missed.
Moving forward, Lawrence has other projects coming up, including an appearance as "Tennessee Williams" on the Amazon Prime hit streaming series, "The Marvelous Mrs. Maisel" (Season 3, episode 5), a number of one-man shows (including "Tennessee Williams") and a screenplay he is developing.
Nonetheless, should the opportunity arise and he is offered the chance to perform the role again, Lawrence admits he would be open to it.
"One never knows," Lawrence says. "But it was wonderful to be part of something like this for eight years and with the whole cast and crew."
Upcoming Special Performances Include:
Thursday, December 19 at 7 PM - Talkback with the cast will following the performance
Thursday, December 19 at 7 PM - A portion of proceeds from VIP reception and performance go to Worcester Community Action Council; Use promo code WCAC at checkout to purchase tickets
Saturday, December 21 at 2 PM - Audio descriptive services from Audio Journal, ASL interpretation and pre-show tactile tour provided
Sunday, December 22 at 11 AM - Relaxed performance with pre-show tactile tour designed for vision impaired and other curious patrons
Student Matinees:
For information on student matinees contact Kelly Rourke, education assistant, at krourke@thehanovertheatre.org or 508.471.1765.