Gateway Players
Will Present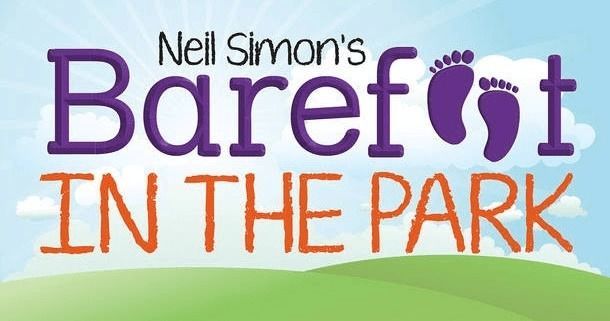 SOUTHBRIDGE: Gateway Players present "Barefoot in the Park" by Neil Simon. Presented by Gateway Players. Performances to be held at the Fellowship Hall of Elm Street Congregational Church, 61 Elm Street, Southbridge, MA. Performances: Feb. 7, 8, 14, 15 at 7:30pm & Feb. 16 at 2:00pm. Tickets are $15 for adults and $13 for seniors and youth under 18. Tickets may be reserved by calling Gateway at 508-764-4531 or order online at www.brownpapertickets.com
(Note: Online tickets will not be available 24 hours prior to a specific show)
Written by Neil Simon. Directed by Mary Gahagan.
Cast Includes: Hadley Crane, Sean Nault, Dennis Gahagan, Jason Iannone, Gail Riva White, Patrick Bracken.
Without question, Neil Simon has a huge catalog of well-known plays ("Odd Couple," "California Suite", the "Brighton Beach" trilogy, just among the few).
For Gateway Players director Mary Gahagan, "Barefoot in the Park" ranks highly in that massive list of iconic shows.
"Barefoot in the Park," a romantic comedy in three acts, is about a newlywed couple just moving into an apartment on the top floor of a brownstone in New York City.
"I believe 'Barefoot in the Park' must be one of my favorites because the story is about two people in love, who have just gotten married, at a time in history when people didn't live together before marriage," Gahagan says. "They had a lot to learn about each other, and about themselves, and it is all presented to the audience in a beautiful, touching way that is filled with many hilarious lines."
Gahagan recalls seeing and/or reading a number of Simon's movies and plays. Her first experience directing a Neil Simon play was in college.
"I directed scenes from 'God's Favorite' and I performed as 'Evy' in an acting class performance of 'The Gingerbread Lady,'" recalls Gahagan. "I also directed 'Prisoner of Second Avenue' for the Duncanville Community Theatre in Texas."
Gahagan lived in Texas prior to moving to Massachusetts. Her first show with Gateway was the play "Suppressed Desires" in 2007 by Susan Glaspell and George Cran Cooke. She also has worked for Pasture Prime Players operating out of Charlton.
While Gahagan notes how "Barefoot in the Park" was previously suggested a couple of times for a Gateway season, according to the company's web site, this will be the first time in 36 years it has been staged since initially being performed at Gateway back in 1984.
Gahagan admits her biggest challenge in staging this latest production was a very reduced rehearsal period.
"We only had two rehearsals before Christmas and then started in January with three nights a week rehearsals. So, only really one month plus tech week," Gahagan says. "Very short time for a Neil Simon play. Also have had to struggle with flu virus. At one time I had half of the cast sick at the same time. They were real troopers though and we just stayed as far apart from each other as well as we could, so as not to infect each other."
Also factoring into the production schedule was trying to address some creative challenges.
"(We had a) super small stage which needed a skylight, levels, bedroom and bathroom areas, as well as a kitchen and living room," Gahagan points out. "I think we made it work, but it was a challenge getting it all to fit, trying to stay in time period as much as possible and still leave room for the actors to do the important work"
Gahagan highlights how the show also required it to "snow" on stage, but reaffirms, "with the creative talent of Cynthia Keane and her son Max Carron (who also constructed the set), we will have snow!"
"Barefoot" is a small cast show – six players altogether. Gahagan proudly proclaims how her cast has been "amazing."
"I think I say that about every cast, but in this case it might be more true than ever," Gahagan says. "They have a variety of experience between them, and those with more experience have been so willing to guide those with less experience."
Gahagan advises how the cast would also spend time outside of rehearsals working on lines and character.
"They have enjoyed teasing each other and have created a genuine friendship though the short course of our rehearsals," Gahagan says. "Even the guys with smaller roles (Sean Nault as 'Telephone Repair Man' and Dennis Gahagan as the 'Delivery Man') have stepped up and are helping stage manager Erin Morin with set changes."
The 1967 film adaptation of "Barefoot" starred Jane Fonda and Robert Redford as the newlywed couple. Now, 53 years later, is it actors Jason Iannone and Hadley Crane who must bring their own interpretation to the characters in this staging.
Jason Iannone and Hadley Crane in the Gateway Players production of Neil Simon's "Barefoot in the Park". Photo Credit: Dennis Gahagan
"Jason and Hadley are both young enough that they had never seen the movie with Fonda and Redford, and I believe they both decided not to watch it until the show is over. Therefore, they are both bringing their own vision of the characters to life," according to Gahagan. "Neil Simon writes excellent character descriptions in his dialogue and stage directions. So, you will see some similarities to the film, but they are definitely NOT trying to recreate the film version of the characters. But I do believe you will see a lot of the wonderful chemistry that existed in the film, as well as the tension and love that the two characters share."
Originally premiering on stage in 1963, also with Redford (with actress Elizabeth Ashley), Gahagan discusses some of the creative decisions required to make the show relevant for today's audience.
"Something we learned during this run that I didn't know before was that the show is based on Neil's first marriage," Gahagan says. "We have tried to keep the show set in its original 1963 time period. The story of the play is so timeless that I didn't feel we needed to change anything to make it work for today's audience."
Gahagan continued her point, emphasizing, "Everyone who has fallen in love, gotten married, and/or moved in with a new love, has experienced many of the things that (the characters of) Paul and Corie face in the show. You learn things about each other, some you like, some you don't – And, you also learn about yourself, hopefully wanting to make changes in yourself to make you a better person and a better partner. No different today than in 1963."
As with all Neil Simon shows, there is a very specific, almost musical, rhythm to his dialogue. Not all actors, especially those that tend to over-interpret, overthink and over-emote dialogue, are successful in making that rhythm work. Gahagan discussed how she has been able to address this in her staging.
"It is definitely something that we have talked about, and worked on. There is definitely a rhythm to his dialogue," Gahagan says. "And there are times that characters are talking to each other, but not listening to what the other one is saying, which presents a different challenge. All of the actors have worked on this, but I think that Gail Riva White (who plays Corie's mother, Ethel) has excelled at it."
Ultimately, Gahagan says she hopes audiences leave the show with smiles on their faces and the knowledge that, "Many of us deal with similar issues when trying to live with someone that we love and with HOPE - Hope that, no matter what the situation may be, that they will see that things CAN get better.
A quote from Harry Pepper (a Telephone Repair Man in the play) emphasizes, "(Things) tend to break down now and then, but they seem to have a way of getting fixed. Know what I mean?"
Gahagan, apparently, agrees with that sentiment.
"As long as two people are willing to work to make things better, they probably will improve," Gahagan says.
Kevin T. Baldwin is a member of the American Theatre Critics Association (ATCA)