(Cover Photo: "Photograph 51" and Rosalind Franklin in Paris, circa 1950. Photo Credit: Vittoria Luzzati)
Kevin T. Baldwin
METRMag Reviewer
# 774-242-6724
The Fourth Wall Stage Company
Presents Anna Ziegler's
"PHOTOGRAPH 51"
Presented at the Worcester Historical Museum, 30 Elm Street, Worcester. Performances: POSTPONED UNTIL MAY. For more information contact Fourth Wall at # 508-951-2665.
Written by Anna Ziegler. Co-Directed by Barbara Guertin and Robbin Joyce.
Cast Includes: Jourdan Figueroa, Cory Scott, Connor Lee, Majdi Ammari, Fred D'Angelo, Erik Johnsen.
In celebration of Women's History Month during the month of March, and in conjunction with the Worcester Historical Museum, Worcester's Fourth Wall Stage Company will present Anna Ziegler's "Photograph 51" which sheds a light on the underappreciated contribution of X-ray crystallographer Rosalind Franklin in the discovery of the DNA double helix structure while working in 1952's King's College, London.
The show is being directed by Barbara Guertin and Robbin Joyce. Guertin recalls the group first discovered it when Frank Bartucca, founding Artistic Director of Fourth Wall Theatre Company, saw a production of "Photograph 51" at Central Square Theater in 2019, according to Guertin, he felt it would be a good fit for Fourth Wall to stage this year.
"Both Frank and I are committed to finding unique fresh plays that may be new to Worcester area audiences," Guertin says. "Plus, I have been on the Worcester Historical Museum Board for over 15 years, and Girl's Inc. for six years. Finding plays that encompass history, science and important female characters is the trifecta for us."
Guertin points out how, for the last several years, Fourth Wall has produced historical plays for the museum, and, with this play, "teeing it up for Women's History Month is the ultimate goal."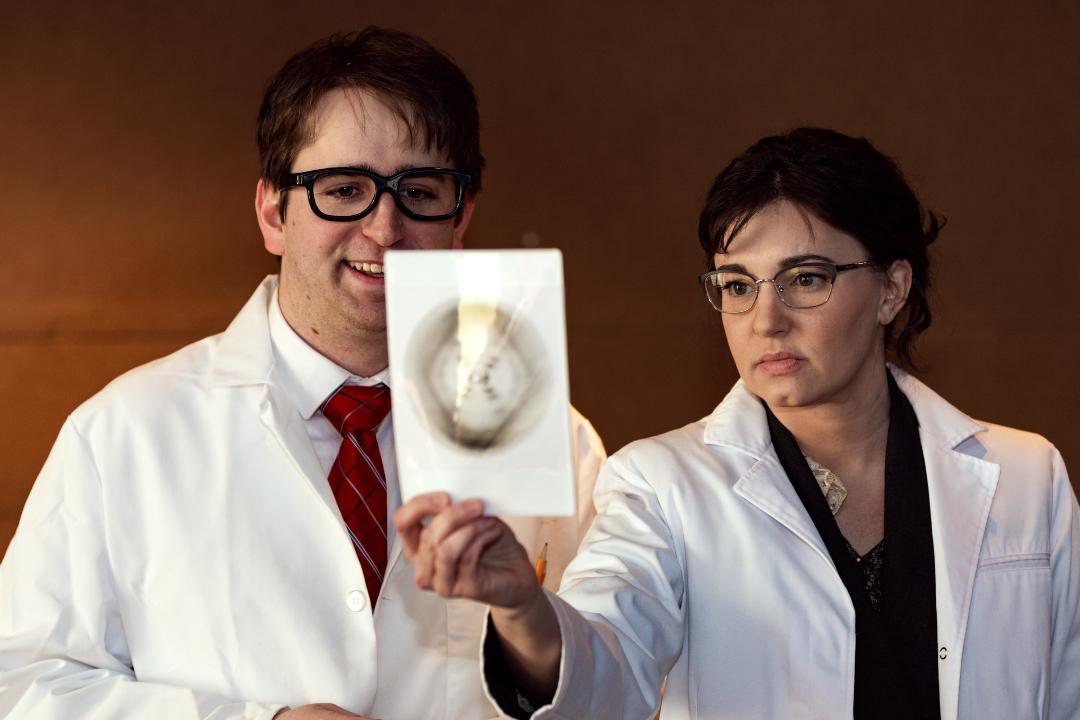 Connor Lee and Jourdan Figueroa in Anna Ziegler's "Photograph 51"
presented by Fourth Wall Stage Company at Worcester Historical Museum.
Photo Credit: Eric Lecuyer.


"The discovery of the Double Helix DNA was touted as the 'Discovery of Life' and incredibly integral to Dr. Craig Mello's (of UMass Medical School) Nobel prize for his discovery of RNAi," Guertin says. "So, we felt that this was a Worcester-related story."
The play was written by Anna Ziegler, an American playwright. According to Guertin, this is Fourth Wall's first production of one of her works. The play was a critical darling when it first gained notoriety in 2015, primarily for the performance of Nicole Kidman as central figure Rosalind Franklin.
In this latest staging, Jourdan (Spruill) Figueroa is portraying Rosalind and Guertin describes what she brings to the character.
"Jourdan appeared as Blanche Dubois in our 'Streetcar Named Desire,'" Guertin says. "She had the rare quality of one of Tennessee Williams' female characters - a hauntingly intense woman with fatalistic fragility."
Guertin describes Jourdan, who was raised in a 'theater family,' as having "incomparable skill and talent."
"Very few actresses can pull off a scientific character, replete with a flawless British accent, and the essence of an historic character - without being too obvious and heavy-handed," Guertin says.
The story, which revolves (no pun intended) around the discovery of the DNA double helix, takes place in London in 1953. Guertin elaborates on how was Franklin a key figure in this discovery.
"England was a coal-dependent empire in the 1940s and 50s; and the 'Great Smog' of 1952 caused 12,000 deaths, and 150,000 people to be hospitalized,' Guertin says. "Rosalind Franklin, rose to become the major researcher in coal molecular make-up."
Franklin was a noted expert researcher in the areas of Crystallography and X-Ray photography.
"When she (Franklin) was asked by Kings College to join their team, they pulled a fast one on her, and said they were now researching DNA.," Guertin says. "She had no choice - she was the only female PhD researcher at Kings.
It was Franklin's "Photograph 51" that made the difference, notes Guertin.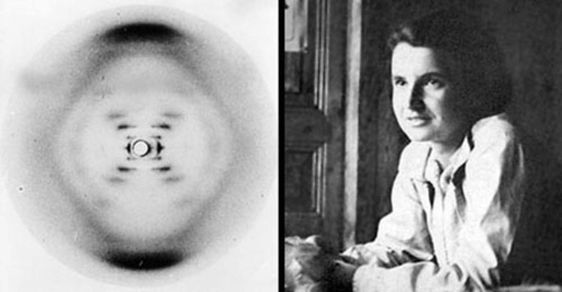 "Photograph 51" and the real Rosalind Franklin in Paris, circa 1950. Photo Credit: Vittoria Luzzati.
"Her 'Photograph 51' was so clear - it paved the way for the discovery of the fact that DNA was helical," Guertin says, emphasizing how, "The fact that she was not given the Nobel (Prize) has been highlighted in this play."
According to Guertin, everyone within her cast and creative team at Fourth Wall contributes to the success of each show.
"We hire professional (union and non-union) actors," Guertin says. "We work very collaboratively and I strive to create an environment where everyone feels safe and inspired.
Pointing out how it is not uncommon for everyone - from Fourth Wall interns, stage manager, technical crew, and actors - to give their input, Guertin also advises , "I wouldn't cast someone if I felt they weren't creative and open to working in this type of team environment."
"They all have their specific talents - and they must fit the essence of the characters," Guertin says.
Some of the creative challenges Fourth Wall has faced in staging the show is with what Guertin describes as their "presentation format."
"Yes, we break the Fourth Wall constantly. This was one of the most difficult shows we have ever staged because of this fact," Guertin says. "I wanted the narration to seamlessly fold into action, as if you were watching a documentary that melded into a dramatic feature film."
The show, as with many Fourth Wall presentations, is being staged at Worcester Historical Museum. Fourth Wall has had a very efficacious relationship with the Museum and Guertin discusses the mutually beneficial association.
"Our mission is to present works that really effect and inspire people, and historical figures tend to play into this really well," Guertin says.
Previous examples of this successful symbiotic relationship include the staging of shows such as "Mother Jones," "The Women Who Mapped the Stars," "Dr. Ruth," "Twelve Angry Jurors," to "Uncle Vanya."
"We don't shy away from controversial characters, nor do we mount frivolous plays," Guertin states proudly. "We like our audiences to leave more informed, emotionally invested and thoughtful."
And, ultimately, what is it Guertin hopes audiences come away with after seeing "Photograph 51"?
"That the trophy does not always go to the person who is most deserving - especially when that person happens to be a woman," Guertin says. "Hence the reason we chose it for Women's History Month."
Worcester Historical Museum, 30 Elm Street, Worcester. For more information contact Fourth Wall at # 508-951-2665.
"Photograph 51" Cast:
Jourdan Figueroa - Rosalind Franklin
Cory Scott - Maurice Wilkins
Connor Lee - Ray Gosling
Majdi Ammari - Don Caspar
Fred D'Angelo - Francis Crick
Erik Johnsen - James Watson