(All Photos of "Chasing the Ghost" courtesy of Brittany Messuri Photography)
Forge Theater Lab presents "Chasing the Ghost"
By Kevin T. Baldwin
CORRESPONDENT
# 774-242-6724
FITCHBURG: "Chasing the Ghost" a new play by Lauren Rogers. Presented by the Forge Theater Lab. Performances at Wallace Theater for Performing Arts, McKay Building at Fitchburg State University, 67 Rindge Road, Fitchburg, MA. Performances: Dec. 7, 13, and 14 at 8:00pm; Dec. 8 at 2:00pm. Ticket prices: $15 General / $5 Students & Seniors (60+) Dec. 12 at 6:30pm (Pay What You Can).
Written by Ashley Lauren Rogers. Directed by Samantha deManbey
Cast Includes: Noah Dawson, Brittany Messuri, Amy DeMar-Dubois, Leeann Monat, Austin Swallow, Chuck Amaral.
For those seeking an alternative from the plethora of holiday musicals, Forge Theater Lab presents "Chasing the Ghost" by Ashley Lauren Rogers.
The play, having had its reported first reading in 2017, has an element of the supernatural. Director Samantha deManbey discusses how the group was first exposed to the material and what made them choose this particular show for a December staging.
"Ashley submitted the play during our first call for script submissions. Right away we saw a compelling and unusual story," according to deManbey, who recalls doing a staged reading back in February, 2018 and being surprised by "heated responses" from audience members and noticed "how differently men and women reacted to the play."
"We want to put on challenging plays that start conversations," says deManbey. "This play is a multi-layered story that deals with ideas surrounding toxic masculinity and our media cultures, but also has elements of humor and the supernatural."
There are some dark concepts explored in the play, but deManbey describes what she sees as the true meaning behind the play's title "Chasing the Ghost."
"Kurt becomes obsessed with catching the 'ghost' haunting him to the point where his relentless pursuit starts straining his marriage," deManbey says. "Why doesn't he just leave? Why is he, but not his wife, being haunted? Throughout the play we are given information about his past that help answer these questions."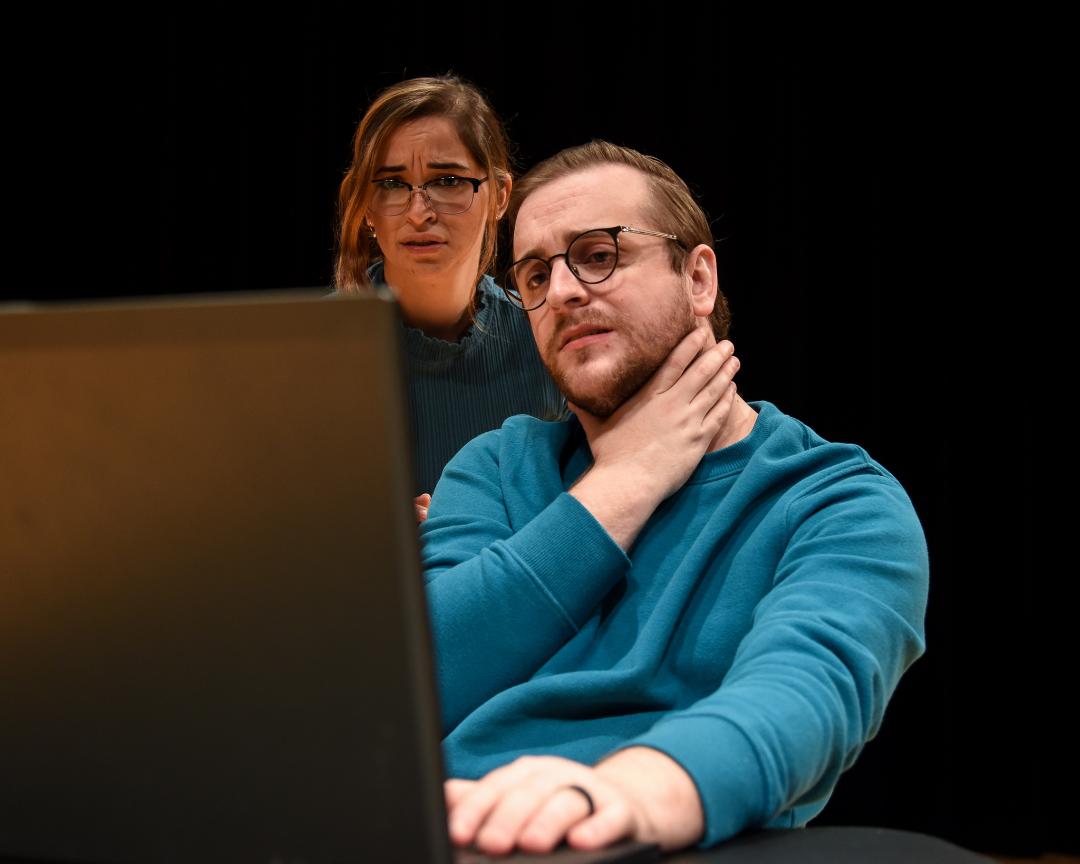 Noah Dawson and Brittany Messuri in "Chasing the Ghost" at Forge Theater Lab.


According to deManbey, there are some supernatural elements that Forge needed to visualize as being accomplished within a relatively small budget, which proves to be a challenging part of staging this show. However, she says, "Working with our lighting designer, Phil Smith, we came up with some ideas to make these moments stand out."
DeManbey states each member of her cast brings their own strength to the table.
"I've worked with Austin Swallow and Chuck Amaral multiple times before, and they always bring something unique and engaging to seemingly normal characters, deManbey says. "Kurt is a very challenging role, and I think Noah (Dawson) has done his best to not hold anything back in his performance."
Amy DeMar-Dubois (who plays Steph) and Leeann Monat (as Andrea), play podcast hosts and, according to deManbey, "have a great rapport and offer some much needed humor throughout the play."
"Cheyenne Winley (as Spectre)," says deManbey, "has a powerful presence onstage and was always coming up with great ideas to enhance her scenes. Brittany Messuri (who plays Patty) is always willing to try something new and pushes herself to get each moment just right."
DeManbey points out how she has really enjoyed working with this cast.
"Most of them have been working with this script since our first staged reading in 2018," deManbey says. "They've offered some feedback and ideas that have helped Ashley make this a stronger play."
With so much "yuletide competition" this year, many area theatre companies are putting on holiday shows. This play seems as far removed as it could be from standard holiday fare. But some theatre goers may be seeking just this kind of material as a holiday alternative.
What deManbey says she hopes audiences will come away is the 'gift of yearning' to discuss more the issues raised in "Chasing the Ghost."
"Holiday shows are a great evening out for families that build traditions. We also know that some theatergoers are on the lookout year-round for thought-provoking works of art that challenge their ideas about what it means to live well in today's world," deManbey says. "We hope people check out our new company this December and leave the theater continuing the conversation that Ashley's play has started."
Ticket prices for the performances are: $15 General / $5 Students & Seniors (60+) with a special Dec. 12 (Pay What You Can) show.