"Triptych (Eyes of One on Another)" -
Emerson Cutler Majestic Theatre
BOSTON:
Triptych is presented by ArtsEmerson in association with Celebrity Series of Boston and New England Conservatory
---
Composed by Bryce Dessner. Libretto by korde arrington tuttle. Featuring words by Essex Hemphill & Patti Smith. Directed by Kaneza Schaal. Featuring Roomful of Teeth with Alicia Hall Moran & Isaiah Robinson. Music Direction & Conducting by Brad Wells. Produced by ArKtype / Thomas O. Kriegsmann in Cooperation with The Robert Mapplethorpe Foundation. Music by Bryce Dessner is used with permission of Chester Music Ltd.
TRIPTYCH was commissioned by ArtsEmerson. Supported in part by the Andrew W. Mellon Foundation. Produced in Residency with and Commissioned by University Musical Society, University of Michigan, Ann Arbor, MI. Co-produced by Los Angeles Philharmonic, Gustavo Dudamel Music and Artistic Director.
TRIPTYCH was co-commissioned by BAM; Luminato Festival, Toronto, Canada; Stavros Niarchos Foundation Cultural Center, Athens, Greece; Cincinnati Opera, Cincinnati, OH; Cal Performances, UC Berkeley, Berkeley, CA; Stanford Live, Stanford University, Stanford, CA; Adelaide Festival, Australia; John F. Kennedy Center for the Performing Arts for performance as part of DirectCurrent 2019; Texas Performing Arts, UT Austin; Holland Festival, Amsterdam; Wexner Center for the Arts, Ohio State University, Columbus, OH; the Momentary, Bentonville, AR, Celebrity Series, Boston, MA; and developed in residency with MassMOCA, North Adams, MA.

TRIPTYCH
(EYES OF ONE ON ANOTHER)
FEATURING ROOMFUL OF TEETH
COMPOSED BY BRYCE DESSNER (THE NATIONAL)
A visually stunning, musical, and poetic exploration
of legendary photographer Robert Mapplethorpe.
OCT 30 - NOV 3, 2019
Triptych (Eyes of One on Another) is the daring collaboration of a group of visionary artists working together for the first time, inspired by and featuring images from Robert Mapplethorpe's stunning body of work.
Thirty years after Mapplethorpe's death, the world still cannot turn away from the magnetism and emotional complexity of his influential photographs.
With their startling union of erotic heat and cool classicism, his controversial works were images of a generation, shattering mainstream conceptions of conventional beauty.
Composed by Bryce Dessner (guitarist for GRAMMY Award–winning band The National), featuring libretto by korde arrington tuttle and poetry by Essex Hemphill and Patti Smith, and sung by the eight-person choral ensemble Roomful of Teeth, Triptych is a once-in-a-lifetime collaboration of artists and art forms.
Mapplethorpe's uncanny ability to upend beliefs on race, gender and politics in both edifying and reckless ways is celebrated and examined here through haunting, unforgettable music and large-scale projections of his work.
Triptych is a bold tribute to one of the most brilliant photographers of the 20th century.
PARAMOUNT BOX OFFICE HOURS:
TUE - SAT: 10AM to 6PM
SUN & MON: Closed
The Cutler Majestic Box Office is open during performances only.
Emerson Cutler Majestic Theatre
219 Tremont Street Boston, MA 02116
*If traveling via the MBTA, please consider allowing extra time to get to the theatre due to some station closures and service adjustments in the nearby area. For full details on all MBTA service adjustments, please visit https://www.mbta.com/alerts.
60 minutes, no intermission
Tickets from $25
Ages 16+ | This work contains images depicting sexuality and nudity, and includes frank discussions of sexuality.
EMERSON CUTLER MAJESTIC THEATRE
219 TREMONT ST BOSTON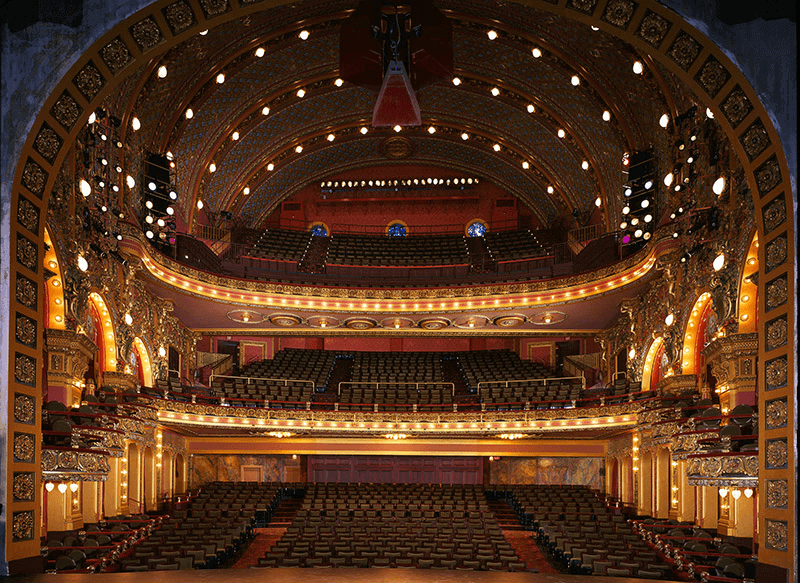 Built in 1903 as the second performance venue in Boston's historic Theatre District, the elegant architecture and impeccable acoustics of the Majestic were originally intended for opera performances. Over the years, the facility was also used for theatre, vaudeville and even movies. When Emerson College purchased the property in 1983, the building had severely deteriorated. After a magnificent restoration, made possible by Ted and Joan Benard-Cutler, the Cutler Majestic Theatre reopened in 2003 and now serves the Boston community by showcasing first-class performing arts groups in its exquisite 1,186-seat auditorium. Recognized as a Boston Historic Landmark, the Cutler Majestic combines state-of-the-art theatre facilities with old world charm.

VISITING THE THEATRE
Click Here for a list of our Parking Partners
Click Here for a list of our Restaurant partners.
LATE SEATING
Late arrivers will be seated at the discretion of the House Supervisor. The Late Policy is set by the artist(s), their production personnel, and the House Supervisor, and vary for each performance. Please allow enough travel time to arrive, accordingly.