Kevin T. Baldwin
METRMag Reviewer
# 774-242-6724
The Company Theatre (of Norwell)
Presents Tony Award-Winning Show
"FUN HOME"
Book and Lyrics by Lisa Kron. Music by Jeanine Tesori based on Alison Bechdel's memoir.
Directed by Zoe Bradford and Jordie Saucerman. Music Directed by Matthew Stern. Choreographer Sally Ashton Forrest.
Cast Includes: Aimee Doherty, Riley Crockett, Jaclyn Chylinski, Michael Hammond, Amy Barker, Melissa Carubia, John Crampton, Charlie Flaherty, Owen Veith.
Fun Home opens Friday, March 13, and runs through Sunday, March 29. There are evening and matinée performances available. Tickets are $44. For a complete list of showtimes, to purchase tickets, or for more information, visit www.companytheatre.com or call the box office at 781-871-2787.
"This first-of-its-kind production tackles tough issues with candor, wit and an all-star cast."
The Company Theatre (of Norwell) will be presenting "Fun Home" and METR spoke with one of the co-directors for some insight into their approach to the multi-layered musical drama.
Directed by Zoe Bradford and Jordie Saucerman, "Fun Home" is based on Alison Bechdel's best-selling graphic novel and memoir. The musical originally won 5 Tony Awards, including Best Musical. Now being staged at The Company Theatre in Norwell, this latest staging follows the character of "Alison" through three significant phases in her life.
Bradford discusses whether either of the directors had seen the Broadway show before even deciding to put in to direct.
"We were both fascinated with 'Fun Home' when we saw the clip on the Tony awards," Bradford says. "For me, personally, once I saw the show, I couldn't wait to direct it and eagerly awaited for the rights to come available.
Bradford says her first experience seeing "Fun Home" was with a national tour in a large venue which, as she points out, "really works best in an intimate theatre like ours."
And why the decision to co-direct?
"Jordie and I founded The Company Theatre (TCT) 41 years ago, in a church basement, with no money and a group of eager students," Bradford recalls. "We grew so fast in the late 1970's and '80's, that we were able to form a school (The Academy of the Company Theatre)."
From that point, according to Bradford, it was then TCT searched for a building to be their "permanent home."
"We achieved that dream in 1992 with the purchase of our theatre in Norwell," Bradford remembers.
The duo has successfully co-directed a huge number of musicals, says Bradford, indicating how they have also won many awards as a team.
"Jordie is a master at keeping tech transitions running seamlessly, and can bring the best out in a performer," Bradford says. "She especially loves working with children. I love the casting process, and working with the actors, and designers I keep a keen eye on the overall look of a show; I like to be a visionary on a project. That's why we make a great team."
Since the rights only recently became available, neither has staged "Fun Home" before.
However, Bradford points out that, when TCT's resident music director was unavailable, as she had previously seen guest musical director, Matt Stern, who also served as music director for SpeakEasy Stage Company's production of "Fun Home," she knew TCT would want him involved.
"When I saw it, I thought the music and band were outstanding, and invited him to join us," Bradford says.
According to Bradford, Stern is an award winning musical director and educator, a full-time Assistant Professor of Theatre at Boston Conservatory at Berklee with music director credits including Huntington Theatre, Boston University, and Wheelock, to name a few.
"His passion for the show and its score equals ours," Bradford says. "Matt has embraced the seamless connection of action and music."
According to a statement relayed to METR by Stern through Bradford, he "is delighted to work with the stellar voices in our cast and the fantastic musicians in the band."
As stated in TCT's press release: Throughout the story, the audience experiences Alison's evolution as she shares memories that celebrate the curiosity of childhood, the challenges of coming out, the complexities of family, and the revelation of seeing one's parents through adult eyes.
While not only shining a light on Small Alison's becoming aware of her own sexuality, she deals with a very disappointing and "counter-productive" relationship with her troubled father. Bradford describes a little of the approach to handling such delicate subject matter.
"Embracing this challenge is one of the exciting things about directing 'Fun Home,'" Bradford says. "To get to the heart of the story you must have compassion for Alison's father - And it is important that you understand both he and his wife are, in a way, trapped by society and its expectations."
Bradford points out how, back in the 70s, family dynamics were "so different then."
"Helicopter parents, family nights, being open and honest about feelings, or sex education - Even saying 'I love you' between parents and children on a regular basis? None of that was the norm," Bradford says. "I had a profound car ride conversation with my own father when I was 16, so (the song) 'Telephone Wire' is beautiful and heart wrenching for me."
Bradford says she believes, along with co-director Saucerman, there are moments for audience members who have lived through the 70s and 80s to "find humor, and a better understanding of their own parents."
Michael Hammond is a local actor/director who portrays "Bruce," Alison's troubled father.
"Through Michael's sensitive interpretation, we are able to show him (Bruce) as an antique collector, a lover of beautiful homes and architecture, a hard worker, a man passionate about reading and teaching the classics-these are all wonderful traits that conflict with his sometimes unappealing and abusive behavior," Bradford says. "(Portraying) one who is not able to live the life he is meant to live, and as a father who is trying to do the right thing but cannot deny his feelings for other men, Michael is doing a brilliant job."
Which brings us to the noted area veteran actress, Aimee Doherty (two-time recipient of the Elliot Norton Award and two-time recipient of IRNE Award for Outstanding Actress in a Musical), who, portraying the adult Alison, Bradford praises as coming into the rehearsal process "prepared with an open heart and mind."
"(Aimee) is able to bring to life an artist's spontaneity and creativity, a gay woman's look at her conflicted and confusing past of a Pennsylvania childhood, her college years, and her love of her parents and family," Bradford says, indicating how Doherty is "reactive yet non-obtrusive to every scene."
"Adult Alison is not a narrator, we are in her mind and in the pages of her illustrated graphic novel," Bradford continues. "When she is not speaking or singing, we are still engaged through Aimee's facial expression and body language. She never leaves the stage, and she is carrying this with the dedication that is a wonder to watch."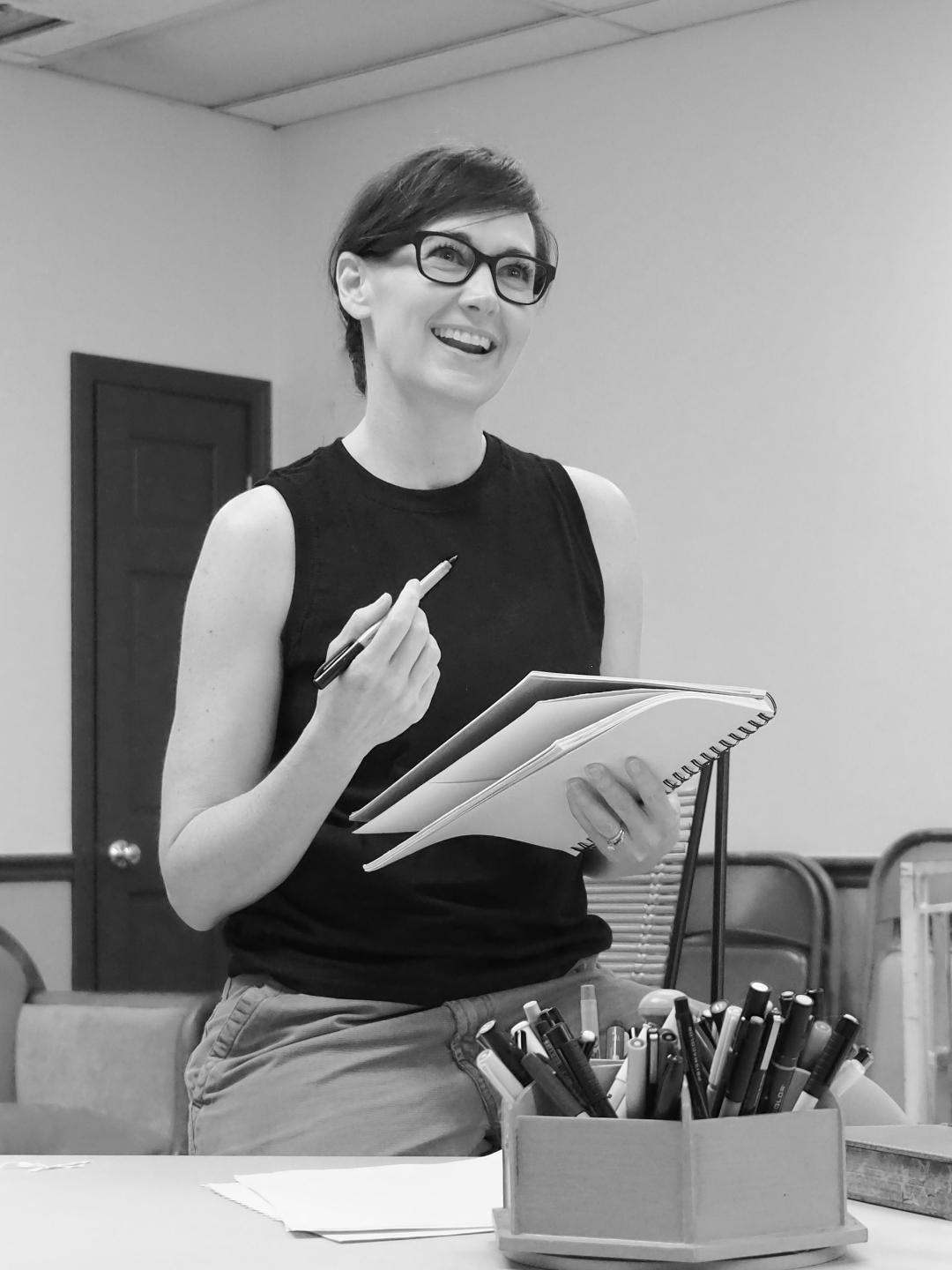 Aimee Doherty in TCT's musical "Fun Home" going up March 13th.
Photo Courtesy of the Company Theatre:
"Ring of Keys" seems to be a song that really connects emotionally with a lot of people. Bradford reflects on why she thinks that is.
"In all my experience as a director, I cannot recall any song in a musical sung by a young person about self-discovery like ('Ring of Keys')," Bradford says. "It resonates with vulnerability, bravery, and acceptance of who you might be deep inside. There are a few films about coming of age for a kid the age of little Alison (like 'My Girl' or 'Stand by Me') but there is no one musical theatre experience I can think of that is so personal for her age. 'Spring Awakening' achieves some special moments like this, but the kids are in their mid to late teens, so it's different."
So, when looking to cast younger girls in the parts of Small and Medium Alison, Bradford discusses the important considerations as part of TCT's casting criteria which made their search, "quite interesting."
TCT has a year round educational component, the "Academy of the Company Theatre (A.C.T.) and, as Bradford notes, there were many talented young students practicing "Ring of Keys" in the hope of performing this featured role.
"In fact, we had talented girls audition from all over the greater Boston area, and although most sounded great, they approached it almost too trained, too 'Broadway,'" Bradford says. "We ended up asking a student of ours, 11 year old Riley Crockett, to audition.
According to Bradford, Riley had never even heard of the musical, let alone performed in a musical of this scale. However, Bradford, notes, "I believe anyone who has had a 'first crush' experience will feel connected to this song, and the way Riley acts it, for those who are in the LGBTQ community, it may be heart melting."
"Her sweet yet strong voice, her pathos, and her natural tomboy appeal won all of us over immediately; and she happens to look remarkably like Aimee Doherty! She is smart, but not precocious like the boys who play her brothers. (and the boys are precocious in a delightful way— they are both veterans for their young ages and have been super supportive of Riley.) Riley is very down to earth, and is able to answer questions we present to her about understanding her character.
Bradford describes what was it like when she and her creative team first took Riley to work with Doherty, interacting to help bring the story of the "singular" Alison to life.
"Aside from church or synagogue, theatre is the a rare gathering of inter-generational people working towards a common goal," Bradford says. "Everyone is equally important, especially in a small cast like this, and everyone respects the gifts brought to the table."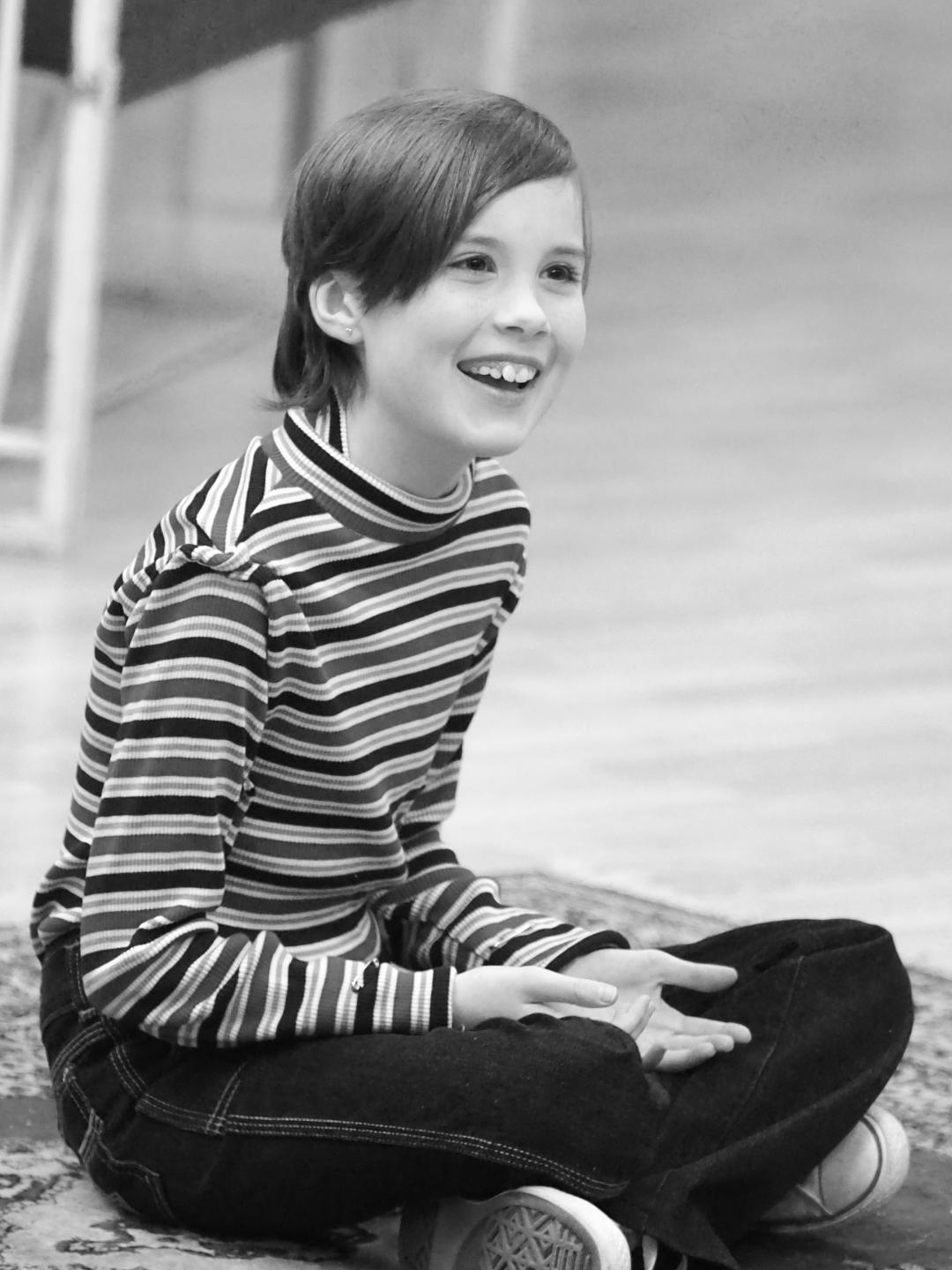 Riley Crockett in TCT's musical "Fun Home".
Photo Courtesy of the Company Theatre.

The encouragement shared by TCT's veteran and Equity performers with the young performers in the cast, according to Bradford, has been "inspiring."
"More demanding than a conventional musical, each scene requires discussion and analyzing, and the experience between all is rewarding, deep, and quite honestly fun and occasionally surprising with the kids," Bradford points out.
Others in the cast include actress Amy Barker, who, as "Helen," brings (according to Bradford) a "new awareness to a the role of the mother—which can potentially be overlooked with other themes going on."
"Just as her husband Bruce struggles with his life, Amy shows Helen as a lovely yet conflicted wife, trying to accept her destiny for the sake of her children, and for the sake of her family's reputation in a small town," Bradford says. "Amy as Helen shows her love for her daughter in a subtle way that takes great strength and courage. Amy's eyes tell her story beyond words and song, and I love watching her delve into this role. As a mother in real life, Amy brings a special compassion with her struggle of acceptance of her daughter. Any woman who has lived through an unsuccessful marriage will relate to her very personal portrayal."
Even though the TCT staff had not gotten the opportunity to work with Barker until "Fun Home," Bradford recalls her rendition of "Days and Days" during the audition process was, "So incredibly layered and moving, there was no way we weren't going to cast her!"
Melissa Carubia plays the sexy, confident and a bit cocky first love interest "Joan" with sensitivity and humor, says Bradford.
"Melissa is a strong supporter of women's rights and a champion for the LGBTQ Community," Bradford says, acknowledging how Carubia and Jaclyn Chylinski (who plays "Medium Allison" or "Middle Allison") have a, "natural ease about them after the initial coming out scenes with Middle Alison that feels believable."
Bradford praises Chylinski's sense of timing stating that, as "Middle Allison" she, "hits the mark as a 'new lesbian' in her bittersweet, awkward college years. 'Middle Alison' has some of the funniest lines and scenes in the show, and Jackie handles them with just the right amount of pathos, embarrassment and joy."
Playing Allison's brother "John" is young actor Owen Veith who has, for the last two years, worked with the creative team having been previously cast as "Little Boy" in "Ragtime."
"We have been delighted with his progress. He reminds us of an adult in a child's body - and he brings humor and depth to everything he does," Bradford says.
Playing Allison's brother "Christian" is actor Charlie Flaherty, who Bradford praises as a young performer "working on being a triple threat and especially loves dancing." He works with TCT's "Fun Home" Choreographer Sally Ashton Forrest.
"To Sally's delight, he (Charlie) brings the right amount of sass to her choreography," Bradford says, indicating Forrest has also directed him in "CATS" as the character "Mungojerri."
An unsung hero of "Fun Home" is John Crampton who, according to Bradford, "meets the challenge of playing four different supporting male roles."
"John has expertly managed to make each character different, with the help of Paula Ninstein's vintage style touches as costume designer," Bradford says. "John is a dancer/choreographer as well as an actor /singer and leads 'Raincoat of Love' in true David Cassidy form."
People seem to forget that while filled to the "Fun Home" roof with poignancy, there are also some humorous moments in the show. Bradford elaborates on some of her favorites.
"Every time we rehearse it, the adults in the cast stop what they are doing and watch the kids preform 'Come to the Fun Home.," says Bradford. "The lyrics are so clever and the kids are really embracing the 'Jackson 5' feel of the number. It's a riot, and (choreographer) Sally Ashton Forrest has done a great job with funky dance moves. 'Raincoat of Love' also takes us brilliantly out of a sad situation and into a bit of joyous 'Partridge Family' nostalgia."
One of the biggest creative challenges TCT faced in staging "Fun Home," according to Bradford, was the creation of the set.
"Originally performed in the round, this is a 'memory play' and does not necessarily need to be literal but is very prop dependent," Bradford says. "Together with our set designer Ryan Barrow, we have created an amazing Victorian house where most of the action takes place, but the second story is unfinished through the windows to indicate that it is not in present time."
Bradford elaborates that recreating some of the architectural opulence and using carefully chosen antiques became a critical part of the overall process.
"When we reveal the set, we want the audience to have that 'what it's like to live in a museum' feel," Bradford says. "Props and furniture pieces have been purchased or pulled from our collection. An affordable (imitation) William Morris wallpaper was super challenging to find."
Gearing up for quite a run, "Fun Home" will premiere on March 13th and run through March 29th at the The Company Theatre stage located at 30 Accord Park Drive in Norwell, MA. In April, TCT will present "Girls Night: The Musical" (April 2 & 4) followed by "The Wiz" (April 17 through April 26).
Stay tuned to METR for coverage of many more upcoming shows including these presented by The Company Theatre.
Kevin T. Baldwin is a member of the American Theatre Critics Association (ATCA)