Exit 7 Players
Announce
2023-2024 Season


Exit Seven Players LTD, 37 Chestnut Street, Ludlow, MA 01056
For Tickets or More Information Contact Exit 7 at # 413-583-4301 or via email at
COVID 19 PROTOCOLS
Contact Venue for Most Updated COVID-19 Safety Protocols and Information.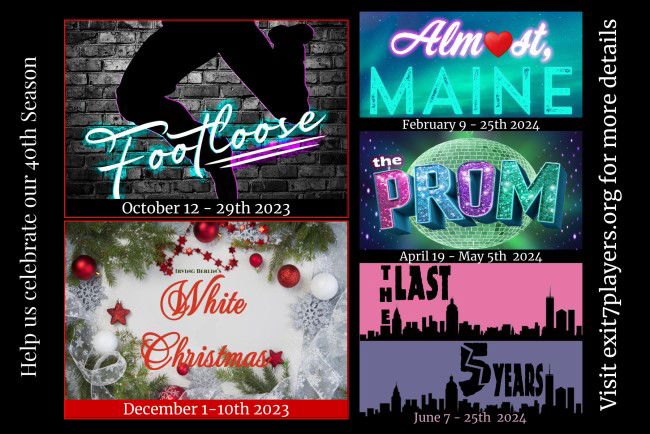 ABOUT THE SHOWS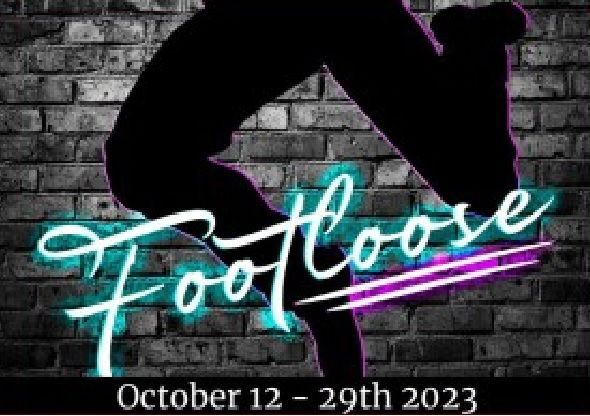 ABOUT "FOOTLOOSE THE MUSICAL"
"FOOTLOOSE THE MUSICAL" is the story of Ren McCormack, a teenage boy from Chicago.
He and his mother move to the small town of Bomont after his father abandons them. Upon arriving,
Ren finds himself at odds with most of the town, including the Reverend Bomont.
The Reverend has convinced the town to outlaw dancing, which Ren finds unbelievable.
With the help of the Ariel (the Reverend's daughter) and Willard (a country hick who becomes his best friend), Ren convinces the Reverend to let the teenagers dance, and in the process helps the town to heal from a tragedy that affected them all.
Performances:
October 12, 2023 through October 29, 2023
(Contact Venue for Exact Dates and Times)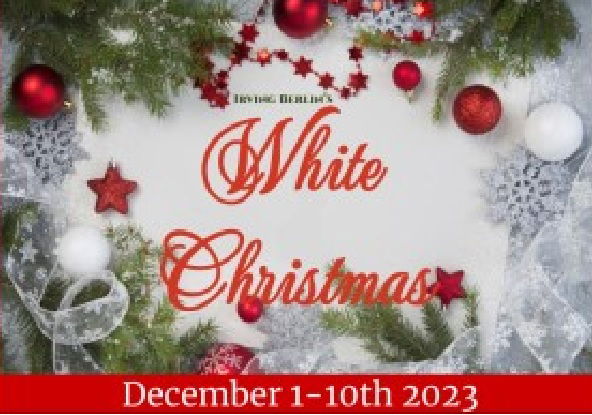 ABOUT "IRVING BERLIN'S WHITE CHRISTMAS"
"IRVING BERLIN'S WHITE CHRISTMAS" concerns soldiers Bob Wallace and Phil Davis whoc together served under General Henry Waverley in World War Two and, ten years later, they are still working together in a popular song and dance duo, Wallace and Davis.
When they meet the singing sisters, Betty and Judy Haynes, Phil becomes enamored with the beautiful Judy, while Bob is more reserved about his feelings for Betty.
The two men follow the sisters up to their seasonal engagement at The Columbia Inn in Vermont.
They discover the inn is owned by General Waverley but, unbeknownst to him, the inn is struggling to survive.
With the help of Martha, the concierge, and the General's granddaughter, Susan, Bob, Phil, Betty and Judy decide to put on a big show to draw in business.
Bob arranges for his old friend Ralph Sheldrake to bring the General's former troops up to Vermont to support the show.
Performances:
December 1, 2023 through December 10, 2023
(Contact Venue for Exact Dates and Times)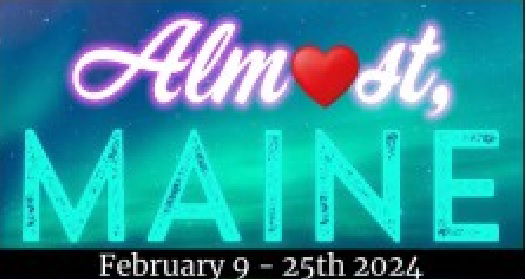 ABOUT "ALMOST, MAINE"
A woman carries her heart, broken into nineteen pieces, in a small paper bag.
A man shrinks to half his former size, after losing hope in love.
A couple keep the love they have given each other in large red bags, or compress the mass into the size of a diamond.
These playful and surreal experiences are commonplace in the world of John Cariani's "ALMOST, MAINE" where on one deeply cold and magical Midwinter Night, the citizens of Almost -- not organized enough for a town, too populated for a wilderness -- experience the life-altering power of the human heart.
Relationships end, begin, or change beyond recognition, as strangers become friends, friends become lovers, and lovers turn into strangers.
Propelled by the mystical energy of the aurora borealis and populated with characters who are humorous, plain-spoken, thoughtful, and sincere, "ALMOST, MAINE" is a series of loosely connected tales about love, each with a compelling couple at its center, each with its own touch of sorcery.
Performances:
February 9, 2024 through February 25, 2024
(Contact Venue for Exact Dates and Times)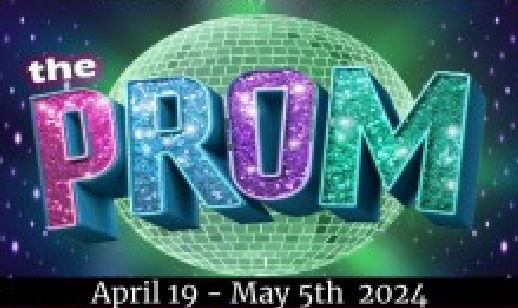 ABOUT "THE PROM"
Emma didn't want to be a newspaper headline or the face of a movement.
She just wanted to take her girlfriend Alyssa to their high school prom.
But just when it seems like she might persuade the hesitant PTA, four bumbling Broadway has-beens in search of relevance barge into Edgewater, Indiana to put a spotlight on the issue — and themselves.
As the worlds of Broadway and Main Street hilariously collide, the courage of one girl reminds us all of the power of love to bring us together.
With non-stop laughs and show-stopping dance numbers, "THE PROM" is a feel-good musical with a message that is even more relevant today.
Performances:
April 19, 2024 through May 5, 2024
(Contact Venue for Exact Dates and Times)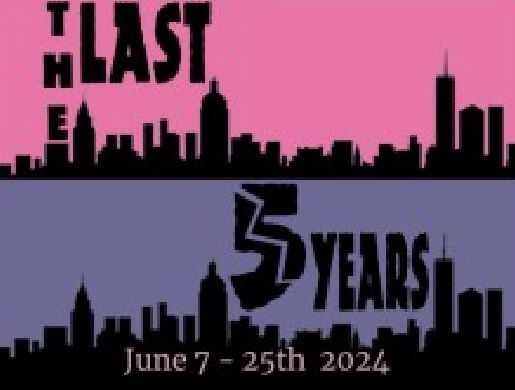 ABOUT "THE LAST FIVE YEARS"
This celebrated 2002 award-winning Off-Broadway musical by Jason Robert Brown, "THE LAST FIVE YEARS" chronicles the five-year life of a marriage, with one of the brightest and most lyrical musical scores of the 21st century.
"THE LAST FIVE YEARS" is an intensely personal and emotionally moving look at a relationship told from two individual points of view, using uniquely different perspectives simultaneously: in "forward time" as we follow the story from the man's perspective and in "reverse time" as we view it from the woman's perspective.
Performances:
June 7, 2024 through June 25, 2024
(Contact Venue for Exact Dates and Times)

ABOUT EXIT 7 PLAYERS
Exit 7 is a community theater group located in Ludlow, Massachusetts that was founded in the spring of 1984 and began with a production of Agatha Christie's Ten Little Indians. Located on Chestnut Street in the historic auditorium of what was previously the Ludlow High School, the Exit 7 Players have focused on renovating the Chestnut Street Theater while bringing the arts to Ludlow and the surrounding communities.
Exit Seven Players LTD
413-583-4301
37 Chestnut Street, Ludlow, MA 01056