By Kevin T. Baldwin
METRMAG Reviewer
Contact: 774-242-6724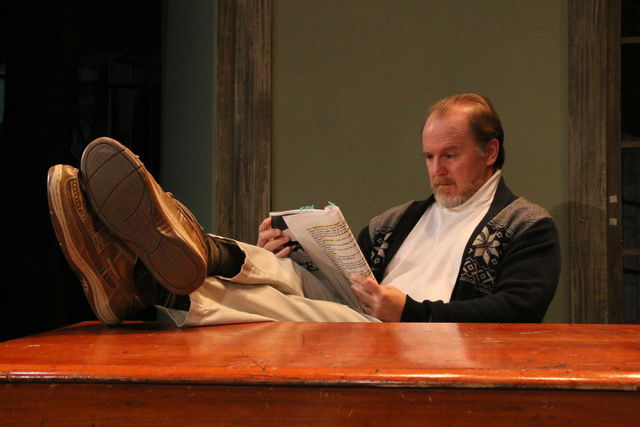 Preston Arnold as Sidney Bruhl in "Deathtrap" at Bradley Playhouse".
Photos courtesy of Chris Atwood

Cast Listing
Sidney Bruhl – Preston Arnold
Myra Bruhl – Valerie Coleman
Clifford Anderson – Sean Gardell
Helga ten Dorp – Jennifer Briere
Porter Milgrim – William Corriveau
PUTNAM: According to the folks at the Bradley Playhouse, it would be a ghastly trick to miss Ira Levin's "Deathtrap," a Tony Award-nominated comedy thriller treat.
The show opens Oct. 4 and runs for three weekends.
Presented by the Theatre of Northeastern Connecticut (TNECT) the show is directed by Natasha Darius. Performances are at 7:30 p.m. Oct. 4, 5, 11, 12, 18 and 19 and at 2 p.m. Oct. 6, 13 and 20. Tickets are $20 for adults and $16 for seniors and students. Reservations may be made with a major credit card online at www.thebradleyplayhouse.org or by calling 860-928-7887. Tickets may be purchased at the theater box office, either before the performance or at the door if available. Purchasing tickets ahead of time is always a good idea.
Set in Westport, famed author Sidney Bruhl (Preston Arnold) has a crippling case of writer's block. He sees an opportunity for breakthrough when gets a script from one of his students that could be a potential hit.
Sidney invites the young writer, Clifford (Sean Gardell), over to his place where they can "collaborate" on the story's needed "improvements".
Clifford, an admirer of Sidney, seemingly welcomes the opportunity to work with Sidney.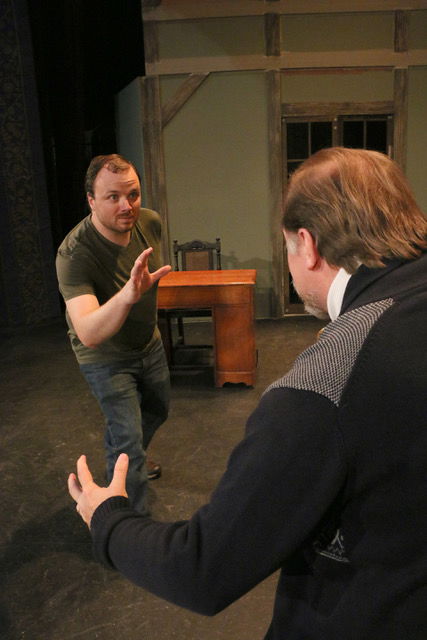 Sean Gardell as Clifford (left) in mock combat with Preston Arnold as Sidney Bruhl (right). Photos courtesy of Chris Atwood.
There, Clifford meets Sidney's attractive wife, Myra (Valerie Coleman) and, through many twists and turns in the plot, where this show ends is a far cry from where it begins.
As the show unfolds, we also are introduced to Helga (Jennifer Briere), a nosey neighbor, and Porter (William Corriveau), Sydney's attorney.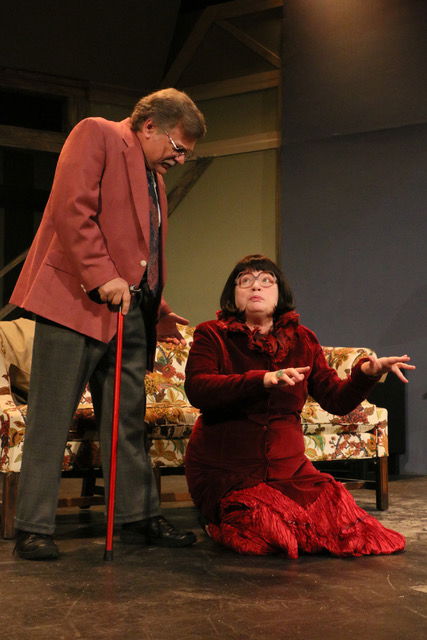 William Corriveau as Porter Milgrim and Jen Briere as Helga in "Deathtrap". Photos courtesy of Chris Atwood.


Not only clever, the play is also quite funny, even during some of the show's darker, more frenzied moments.
Tickets: https://tickets.vendini.com/ticket-software.html?t=tix&e=cdcedf48708dbde34ce91cb11eb72105&vqitq=7617665f-5695-457a-9bff-dcb3356258c9&vqitp=530931c9-9095-4685-b936-fd9b41966ad3&vqitts=1569856258&vqitc=vendini&vqite=itl&vqitrt=Safetynet&vqith=a5b16b0a72884cd74b0a1b2596acfd31