By Kevin T. Baldwin
METRMAG Reviewer
Contact: 774-242-6724

Presents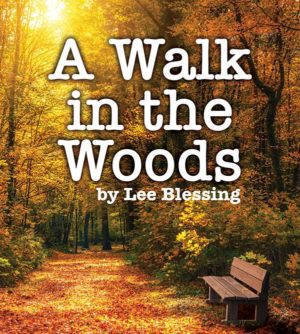 BOYLSTON: "A Walk in the Woods" by Lee Blessing presented by Calliope Productions, 150 Main Street, Boylston, MA. Performances: Oct. 17, 18, 19, 25, & 26 at 7:30pm, Oct. 20 &27 at 2:00pm. Tickets are $20 for regular admission, and $17 for seniors & students. Reserve or purchase your tickets now by calling 508-869-6887 or visiting www.calliopeproductions.org.
Written by Lee Blessing. Directed by Dave Ludt.
CAST INCLUDES: Ed Moynihan and David Nestelbaum.
In "A Walk in the Woods," Lee Blessing's 1988 drama, being presented by Calliope Productions beginning October 17th, international diplomacy is explored. With the negotiation of a nuclear arms reduction being at the heart of the story, according to the play's director and Calliope Artistic Director Dave Ludt, the relevancy and impact of the events discussed are still felt today.
"With current world tensions escalating daily, this is an especially relevant and shrewdly observant play for today's audiences," says Ludt. " (It is) an eloquently crafted drama that makes the audience listen, laugh, and , most of all, think. For those yearning for a more enlightened and respectful world, this play offers much to ponder."
Coincidentally, the timeliness of this staging became even more apparent by the fact that, this past August, the United States withdrew from the "INF Treaty" of which the negotiations in the play are referenced. In the play's latest staging, personal tensions and opposing political ideologies are all on display along the woodland path that the two negotiators must journey along together. Together they must find common ground.
"Several factors drove me to want to direct this play, says Ludt. "Besides its obvious timeliness, the play is an eloquently written piece that effectively conveys the urgent need to maintain one's idealism in the face of setbacks and failures."
The play provides a great deal of insight into the human condition in the way it delineates the personalities, hopes, and values of two individuals caught in a situation over which they have little control and, according to Ludt, one that has the potential to affect the fate of the world.
The show was originally nominated for both a Tony Award and Olivier Award and was even a finalist for the Pulitzer Prize.
Two arms negotiators - Ed Moynihan as John Honeyman, an earnest and idealistic American and David Nestelbaum as Andrey Botvinnik, a cynical and pragmatic Russian, enjoy respites from their negotiations by walking in the woods outside Geneva, Switzerland.
Ludt, who first read the play this past spring, said he was looking for a small-cast play to stage in 2020, and the decision to present the play now was based on a number of factors related to cast size, set requirements, and subject matter and, per Ludt, "was precipitated by an unanticipated change that had to be made in Calliope's 2019 performance season."
"The reason for wanting to do a fall play with a scaled-down or minimal set is that we need full use of the stage for rehearsals for the large-scale major musical we stage every December (this year it's "Annie")," Ludt says. "Having a fixed set for a late October production precludes access to the stage for September and October rehearsals for the December musical."
As the story of the two-character "Walk in the Woods" unfolds, there are revealing and absorbing conversations. We learn much about both Honeyman and Botvinnik beyond their functions as negotiators. Per Ludt, such a play works very well in the intimate setting of Calliope's theatre.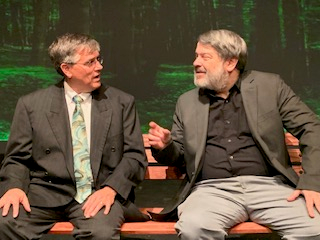 Ed Moynihan and David Nestelbaum.
Photos courtesy of Dave Ludt, Calliope Productions.

"The play also encourages the audience to wax nostalgic as it reflects on a time period when adversarial nations actually sat down and diplomatically negotiated ways to resolve disagreements and conflicts," Ludt says.
Ludt emphasizes that, looming in the near future (2021 to be exact), the expiration of the New Strategic Arms Reduction Treaty will occur.
"Although the U.S. sent diplomats to Geneva last month to conduct talks with their Russian counterparts to possibly extend this treaty, no updates as to any progress has been reported," Ludt says. "And, of course, the current absence of any formal bilateral nuclear arms negotiations with North Korea and China should be an additional matter of concern for everyone."
Ludt says both Moynihan and Nestelbaum are ideally suited for their roles and have been "in character" since day one of rehearsals.
"They are both armchair history buffs and practitioners of the correctly spoken word, which makes directing them a pleasure," Ludt says. "Discussions focusing on history, international diplomacy, philosophy, and the state of the world frequently precede and follow rehearsals – adding depth and breadth to the rehearsal experience as well as substance to the development of their stage characters."
In the end, both characters must ultimately, somehow and together, find that aforementioned common ground. If world peace for just these two world powers was dependent on such "walks in woods" then, obviously, today, many more such "walks" are needed.
"A Walk in the Woods" will be performed on October 17, 18, 19, 20, 25, 26, and 27. Performances are at 7:30 pm on Thursday through Saturday and 2:00 pm on the two Sundays.
Tickets are $20 for regular admission, and $17 for seniors & students. Tickets and reservations are available by calling 508-869-6887 or visit www.calliopeproductions.org.
Kevin T. Baldwin is a member of the American Theatre Critics Association (ATCA)