By Kevin T. Baldwin
METRMAG Reviewer
Contact: 774-242-6724

Presents
A Thriller by Frederick Knott
Adapted by Jeffrey Hatcher
Directed by Anthony Masciangioli
Within recent years, there has been a resurgence in popularity for the suspenseful dramatic play "Wait Until Dark." Both New Players Theatre Guild in Fitchburg and Pasture Prime Players in Charlton have performed the show and now, Barre Players takes an ambitious swing at staging the compelling thriller.
The show's director, Anthony Masciangioli, feels part of the reason for the newfound popularity is due to a new stage adaptation that came out around 2013 by playwright Jeffrey Hatcher.
"I think that (Hatcher's adaptation) helped bring it back to the public eye," Masciangioli says, who also attributes the show's renaissance to a female lead character that is not only astonishing because of how she faces her adversaries in "Wait Until Dark," she also comes across strong in the face of her own physical adversity.
"Susan is also an incredible role and someone I feel that anyone can look up to and connect to in some way," Masciangioli says. "Especially in a time where a lot of shows can be dominated by men, we have a show here that has a very strong female lead (who never really leaves the stage once she enters) that serves as a good role model."
Originally a thriller written by Frederick Knott, "Wait Until Dark" was made into a 1967 major motion picture featuring leading men Richard Crenna and Efrem Zimbalist Jr., veteran character actor Alan Arkin, and iconic actress Audrey Hepburn who played "Susan." The last moments in the movie are still considered among the most suspenseful scenes ever captured on film.
Susan, not born blind but rather only recently became blind, is at home…alone. Her husband, Sam, a photographer, has been called away on an assignment.
We find out that Sam was asked to hold onto a doll for a strange woman as they both exited an airplane but, suddenly, the woman left in a hurry, leaving Sam with the doll. So, Sam brought the doll home. Early in the show, we learn that the woman was a drug smuggler. The doll is now being sought by her accomplice, Mr. Roat, who has murdered her and has roped in two co-conspirators, Mike and Carlino, into his scheme to recover the doll, which holds a fortune in smuggled heroin ('fortune" being relative to a 1967 standard, anyway).
In the Barre Players forthcoming stage adaptation by Hatcher, actress Elizabeth Jacoby plays "Susan," with Nicholas Marques appearing as Susan's husband, "Sam," Jeremy Woloski as the story's villainous "Mr. Roat," with Greg Glanville as "Mike" and Dave Piperno as "Carlino," Roat's accomplices; and Clare Krug as Susan's young neighbor, "Gloria."
This is not Masciangioli's first outing with Barre Players, having premiered with the group in a previous production of "How to Succeed in Business Without Really Trying."
"I saw posting on Facebook that they weren't able to cast (the characters of) 'Finch' or 'Bud' so, with a little encouragement from my future mother-in-law, I went out for it and was cast as 'Finch.'"
From that experience, Masciangioli says he found his colleagues at Barre Players to be, "very welcoming and easy to work with and Barre soon became my second home."
As to what brought Masciangioli to direct this show?
"I was on the play reading committee and we were looking for a thriller for October," Masciangioli says. "I came across a list of thriller plays online and this one really caught my eye. After reading the script, I felt that I needed to direct this show."
While Masciangioli was captivated from the start, the Players, as part of procedure, did put the word out looking for interested directors but, when schedules didn't work out, as Masciangioli puts it, "I took the plunge and I'm very glad that I did."
In recent times, having an actual blind actress to portray Susan is preferred but not always a realistic option for casting. Directing someone playing the character of Susan to be blind on stage or who actually IS blind on stage may present challenges to both the actress and the director.
According to Masciangioli, he faced those challenges best by trusting in his actress, Elizabeth Jacoby.
"I asked Elizabeth about this and she said the biggest thing was fighting her instincts," Masciangioli says. "There were moments where she'd want to look someone in the eye or shake their hand, but would have to fight the urge to naturally do so."
However, for Masciangioli, his greatest challenge as director was making sure the character of Susan was believable.
"I never wanted Susan to be portrayed as a caricature," Masciangioli says. "She's comfortable in her own home, but also can't move fluidly all the time. Finding the balance of knowing/being aware of where things or people are and making it seem as if Elizabeth was truly blind was key."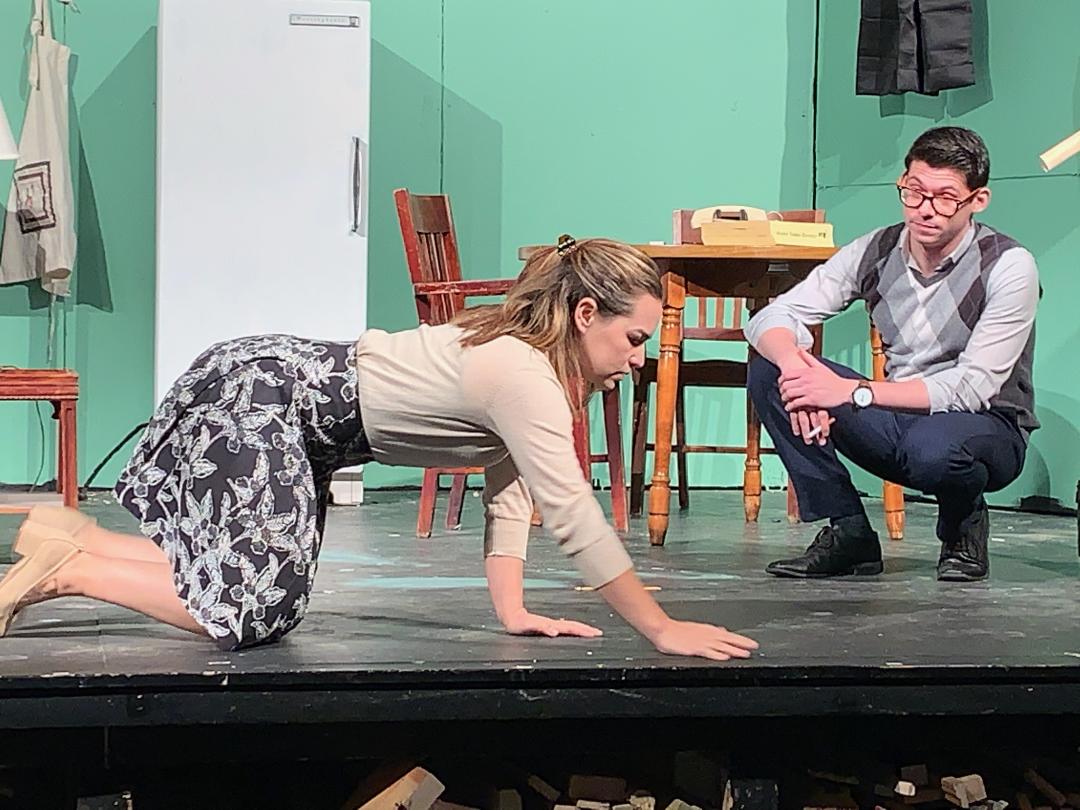 Elizabeth Jacoby and Nicholas Marques in "Wait Until Dark".
Photos courtesy of Meg Norton.
For those who haven't seen the show or movie before, and without divulging too much of the plot, it can be said that, toward the end of the show, there are approximately ten riveting minutes of intense adversity that takes place in virtual darkness. Masciangioli discussed the challenges that presented for not only him as a director but also for the cast/crew involved.
"Safety was the big thing. I don't want to go into a lot of detail in fear of ruining anything, but safety was the biggest challenge," Masciangioli says. "We started rehearsing the 'virtual darkness' early enough for people to get comfortable with it."
The primary message Masciangioli says he hopes audiences will come away from after seeing and experiencing "Wait Until Dark" is that people will be able to use their perceived weakness as strength.
"Susan has a line in Act One, 'Most people say, you're blind. Like, this is who you are. Not this is what you can't do anymore.' This show demonstrates that even if you can't see, hear, or have any other physical or mental limitation that you aren't any less of a person and are capable of doing anything."
Masciangioli says the best part of working with this particular cast and crew for "Wait Until Dark" has been their dedication.
"Everyone has been so dedicated and has just as much passion and energy for this show as I do," Masciangioli says. "They have all brought so much to the table and 'Wait Until Dark' has truly become an ensemble piece through and through. I'm excited for people to see what my actors and crew have created."
Performances for "Wait Until Dark" will be held Oct. 18, 19, 25 & 26, 2019 at 7:30pm with a Sunday Matinee Oct. 27 at 2:00pm.
Tickets are $20 for general admission and $15 for senior citizens (age 65+) and children (age 12 and younger). For reservations, visit barreplayerstheater.com or call 978-355-2096. Not Recommended for guests under age 14 due to mild adult themes.
For reservations: http://www.barreplayerstheater.com/reservations.html