Calliope Productions
Presents Agatha Christie's
"WITNESS FOR THE PROSECUTION"
Winner! New York Critics Circle Award!
Written by Agatha Christie
Performances:
October 5, 6, 7, 13 & 14, 2023 at 7:30pm
October 8 & 15, 2023 at 2:00pm
Calliope Theatre, 150 Main Street, in Boylston, MA.
Tickets: https://www.ticketstage.com/T/CALLIOPE
Contact the Box Office at 508-869-6887
COVID 19 PROTOCOLS
Contact Venue for Most Updated COVID-19 Safety Protocols and Information.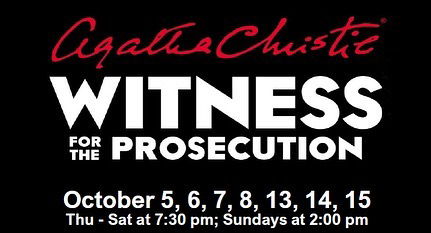 ABOUT THE SHOW
In Agatha Christie's immortal classic "WITNESS FOR THE PROSECUTION" Leonard Vole stands accused of murdering a rich widow.
The stakes are high with shocking witness testimony, impassioned outbursts from the dock and a young man's fight to escape the hangman's noose.
Generally regarded as one of Christie's most accomplished plays, this suspenseful thriller keeps audiences guessing until the very end.

ABOUT CALLIOPE PRODUCTIONS
Calliope Productions

is a year-round non-profit theatre company founded in 1982 that serves the needs and interests of audiences and performers in the Central Massachusetts region. Calliope Productions presents six main-stage productions each year, and operates performance training workshops for students (ages 9 - 18) and adults.

Calliope Productions

is a member of the American Association of Community Theatre, the Eastern Massachusetts Association of Community Theatres, and the Worcester Cultural Coalition.
Calliope Productions
150 Main Street
Boylston, MA 01505
508-869-6887