The Huntington Theatre
Presents
"WITCH"
A Devious Comedy About One Woman's Deal with the Devil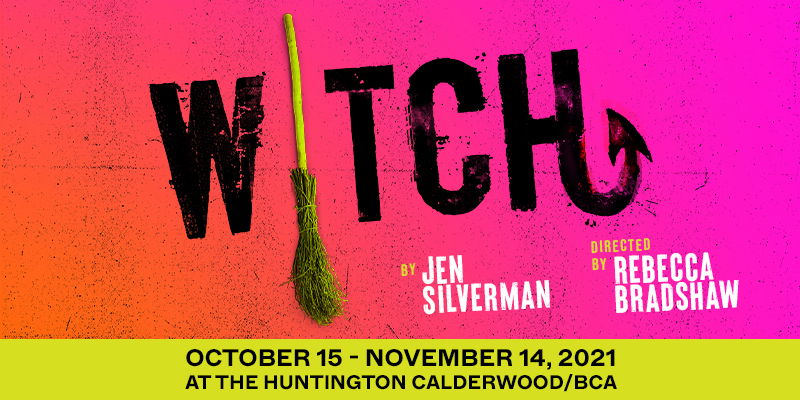 Written by Jen Silverman
Directed By Rebecca Bradshaw
Performances:
October 15 through November 14, 2021
Huntington Theatre Company, Calderwood Pavilion at the BCA, 527 Tremont Street, Boston, MA.
PRESS RELEASE:
This fiendishly funny new play follows an alluring devil named Scratch as he arrives in the country village of Edmonton, and he promises to make the darkest dreams of its locals come true in exchange for their souls.
When he meets Elizabeth Sawyer, she should be the easiest to convince — she's an outcast, branded as a witch for years. So why does she resist Scratch's deal?
This subversive, inventive work by Jen Silverman (The Roommate) is a free adaptation of a 1621 Jacobean comedy recreated with a modern sensibility, and is "devilishly clever and deliciously laugh-packed" (StageSceneLA). Directing is Rebecca Bradshaw.
OFFICES: 560 Harrison Avenue, Boston MA 02118
CALL # 617-266-7900
TICKETING SERVICES: 617-266-0800
COVID SAFETY PROTOCOLS: Based on CDC and state guidelines, our specific policies and protocols will continue to evolve. Protocols for Witch performances will not be determined until early October and will be communicated clearly to all ticket holders in advance of their performance.

ABOUT THE HUNTINGTON THEATRE COMPANY:
The Huntington Theatre Company is Boston's leading professional theatre and one of the region's premier cultural assets since its founding in 1982. Recipient of the 2013 Regional Theatre Tony Award, the Huntington brings together superb local and national talent and produces a mix of groundbreaking new works and classics made current to create award-winning productions. The Huntington runs nationally renowned programs in education and new play development and serves the local theatre community through its operation of the Calderwood Pavilion at the BCA. The Huntington has long been an anchor cultural institution of Huntington Avenue, the Avenue of the Arts, and will remain so on a permanent basis with plans to convert the Huntington Avenue Theatre into a first-rate, modern venue with expanded services to audiences, artists, and the community. The Huntington cultivates, celebrates, and champions theatre as an art form.
For more information, visit huntingtontheatre.org.