Theatre at the Mount
Presents
"Winter Wonderettes"
Opening Thanksgiving Weekend!
Created By Roger Bean
Directed By Gail Steele.
Music Director: Michelle Heffner. Choreographer: Nicole Couture Skorb.
Cast Includes: Kristen Licht, Lynne Dumais, Dawn Ross & Jackie Wyatt.
Tickets go on sale October 4, 2021 at 10:00am
November 26, 26, December 3, 4, 2021 at 7:30pm
November 27, December 5, 2021 at 2:00pm
Theatre at the Mount, MWCC, 444 Green Street, Gardner, MA 01440
Box Office # 978-630-9388
For tickets and show information: box-office@mwcc.mass.edu
For other information: g_steele@mwcc.mass.edu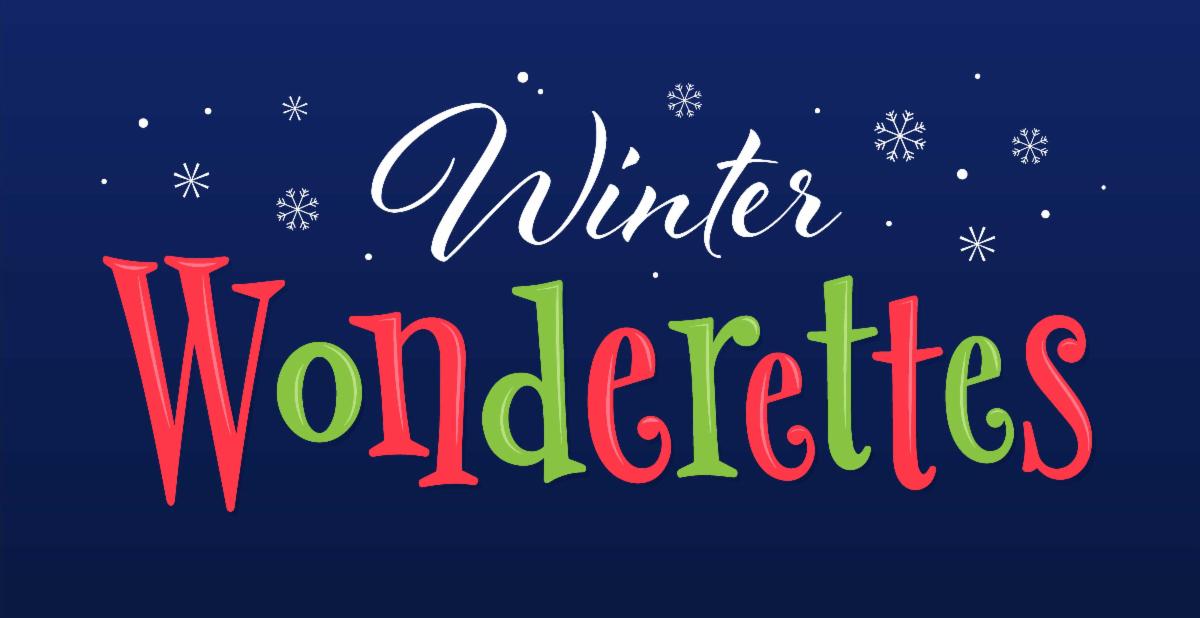 The "Wonderettes" are BACK!
Missy (Lynne Dumais)! Cindy Lou (Dawn Ross)!
Suzy (Kristen Licht) & Betty Jean (Jackie Wyatt )!
In the first sequel to the Roger Bean's "Wonderettes" series.
Setting: Harper's Hardware Store, 1968.
ABOUT THE SHOW
This seasonal celebration finds the girls entertaining at the annual Harper's Hardware Holiday Party.
When Santa turns up missing, the girls use their talent and creative ingenuity to save the holiday party!
Featuring great '60s versions of holiday classics such as
"Santa Claus Is Comin' to Town,"
"Jingle Bell Rock,"
"Run, Rudolph, Run,"
and
"Winter Wonderland,"
the result is, of course, marvelous!
This energetic and glittering holiday package is guaranteed to delight audiences of all ages.
As we re-open for live, in-person performances the safety of our audience, staff and performers is paramount. While statewide COVID restrictions have been lifted, Theatre at the Mount is taking a more conservative and measured approach. Being careful now will ensure that we can continue on the path to full operations going forward.*

SEATING – we have fewer seats. We have measured distance around seats to ensure social distancing, alternating rows and leaving empty seats between patrons. With only 50% of our seats available, shows are likely to sell out quickly.

TICKETS – tickets will be available in PODS of 2 or 3 tickets. A POD is a commonly used COVID-era seating unit used by many entertainment and sports venues. Patrons will be required to purchase either a 2-ticket POD or a 3-ticket POD. If the POD configuration cannot accommodate your party's size, please call our box office for assistance. Single seats and handicap/accessible seats are available through the box office only.To minimize interactions with our box-office, we recommend that you select either the "print-at-home" or "mobile" ticket option which both work with our scanners.

PRICING – all tickets are $24 per person, plus a $1 convenience fee. (A 2-ticket pod will cost $48 plus $2 convenience fee for a total of $50).

MASKS – patrons must wear a mask when in the lobby, at the box-office, in the restrooms and on the way to their seats. Once you are seated in your "pod" you may remove your mask.

CONCESSIONS – we will not have concessions available in the lobby. You are welcome to bring bottled water into the theatre with you but please no other food or drink.

MEET AND GREET – our cast and crew will not come out for meet and greets after the show.

WHAT ABOUT SEASON TICKETS? – because we are operating at only 50% capacity it is impossible to give our season ticket holders their "usual" seats. When we return to full operations our subscribers will have top priority and will have the opportunity to purchase their "usual" seats.
We thank you for your patience and look forward to seeing you back at Theatre at the Mount!
*All policies and protocols are subject to change as health conditions unfold.

ABOUT THEATRE AT THE MOUNT
In 40 years, TAM has presented over 300 plays and had more than 2,500 different people involved in productions either onstage or backstage. An estimated 20,000 costumes have been designed and 1,000 different sets constructed with more than a half million people enjoying community theatre at its best.
444 Green Street
Gardner, MA 01440
Box Office # 978-630-9388
For tickets and show information: box-office@mwcc.mass.edu
For other information: g_steele@mwcc.mass.edu