Reagle Music Theatre of Greater Boston
Presents
"WEST SIDE STORY"
Book by Arthur Laurents
Music by Leonard Bernstein
Lyrics by Stephen Sondheim
Directed and Choreographed by Rachel Bertone
Music Direction by Dan Rodriguez
Performances:
July 8, 9, 14 & 16, 2022 at 7:30pm
July 10, 13 & 15, 2022 at 2:00pm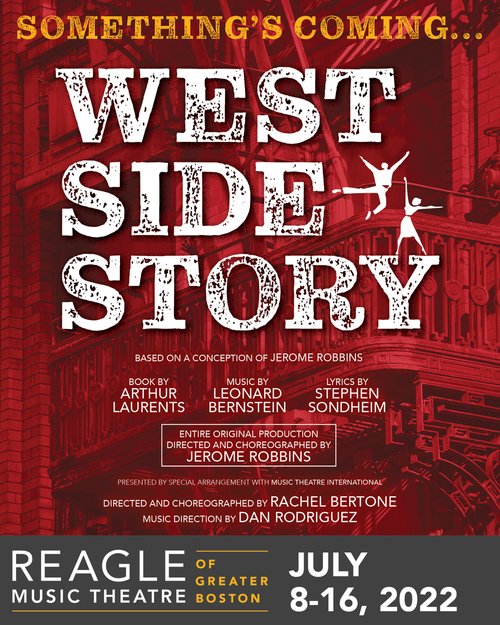 ABOUT THE SHOW
West Side Story explores forbidden love and the rivalry between the Jets and the Sharks, two teenage street gangs of different ethnic backgrounds.
Inspired by Shakespeare's Romeo and Juliet and set in 1950s New York City, their struggle to survive in a world of hate, violence, and prejudice is one of the most innovative, heart-wrenching, and relevant musical dramas in Broadway history.
Featuring "Tonight," "Something's Coming," "I Feel Pretty," "Maria," and other timeless songs.Based on a Conception of Jerome Robbins.
Entire Original Production Directed and Choreographed by Jerome Robbins
Presented through special arrangement with Music Theatre International (MTI)
Recommended for ages 13+

ABOUT REAGLE MUSIC THEATRE
Reagle Music Theatre of Greater Boston's mission is to present the highest quality of musical theatre productions by combining talented regional performers with professional performers and technicians, thus providing an unusual learning experience for its regular members and more enjoyable experiences for its audiences. Reagle Music Theatre is committed to using the skills of its company to strengthen and enhance teaching and learning in the Waltham Public Schools by educating youth to the joys of theatre, and by using theatre techniques to enhance learning in other curriculum areas.Our offerings include musicals, concerts, revues, educational programming, New York theatergoing trips, and more.
Reagle Music Theatre of Greater Boston, Inc.
617 Lexington Street
Waltham, MA 02452
Phone # 781-891-5600
www.reaglemusictheatre.org