The Hanover Theatre for the Performing Arts
Presents the Broadway Musical
"TOOTSIE THE MUSICAL"
Book by ROBERT HORN
Music and Lyrics by DAVID YAZBEK
Based on the story by DON McGUIRE and LARRY GELBART and the COLUMBIA PICTURES motion
picture produced by PUNCH PRODUCTIONS and starring DUSTIN HOFFMAN
Broadway Choreography by DENIS JONES
Directed by DAVE SOLOMON
Original Broadway Direction by SCOTT ELLIS
Additional Creative Team: Christine Peters - Tour Scenic Design; William Ivey Long - Costume Design; Donald Holder - Lighting Design; Brian Ronan - Sound Design; Paul Huntley - Hair & Wig Design; Angelina Avallone - Make-Up Design; Christopher Vergara - Costume Coordinator; Binder Casting - Chad Murnane, CSA Casting; Talitha Fehr - Music Coordinator; Dean Sharenow - Music Supervisor; David Chase - Dance Arrangements; Simon Hale – Orchestrations; Allied Global Marketing - Tour Marketing & Press; The Booking Group - Tour Booking Agency; Andrew David Sotomayor - Music Director; Suzayn Mackenzie-Roy - Production Stage Manager; Andrew Terlizzi – Company Manager; Brianna Thompson - Assistant Stage Manager, Assistant Company Manager; Brian Schrader - General Manager; Kori Prior - Executive Producer; Heather Chockley - Production Management; Andrea Grody - Supervising Music Director, Vocal & Incidental Arrangements. (NOTE: Information obtained from tour website subject to change)
Performances:
September 29, 2022 at 7:30pm
September 30, 2022 at 8:00pm
October 1, 2022 at 2:00pm and 8:00pm
October 2, 2022 at 1:00pm and 6:30pm
Presented at the Hanover Theatre for the Performing Arts, 2 Southbridge St., Worcester.
For More Information:
877-571-SHOW (7469)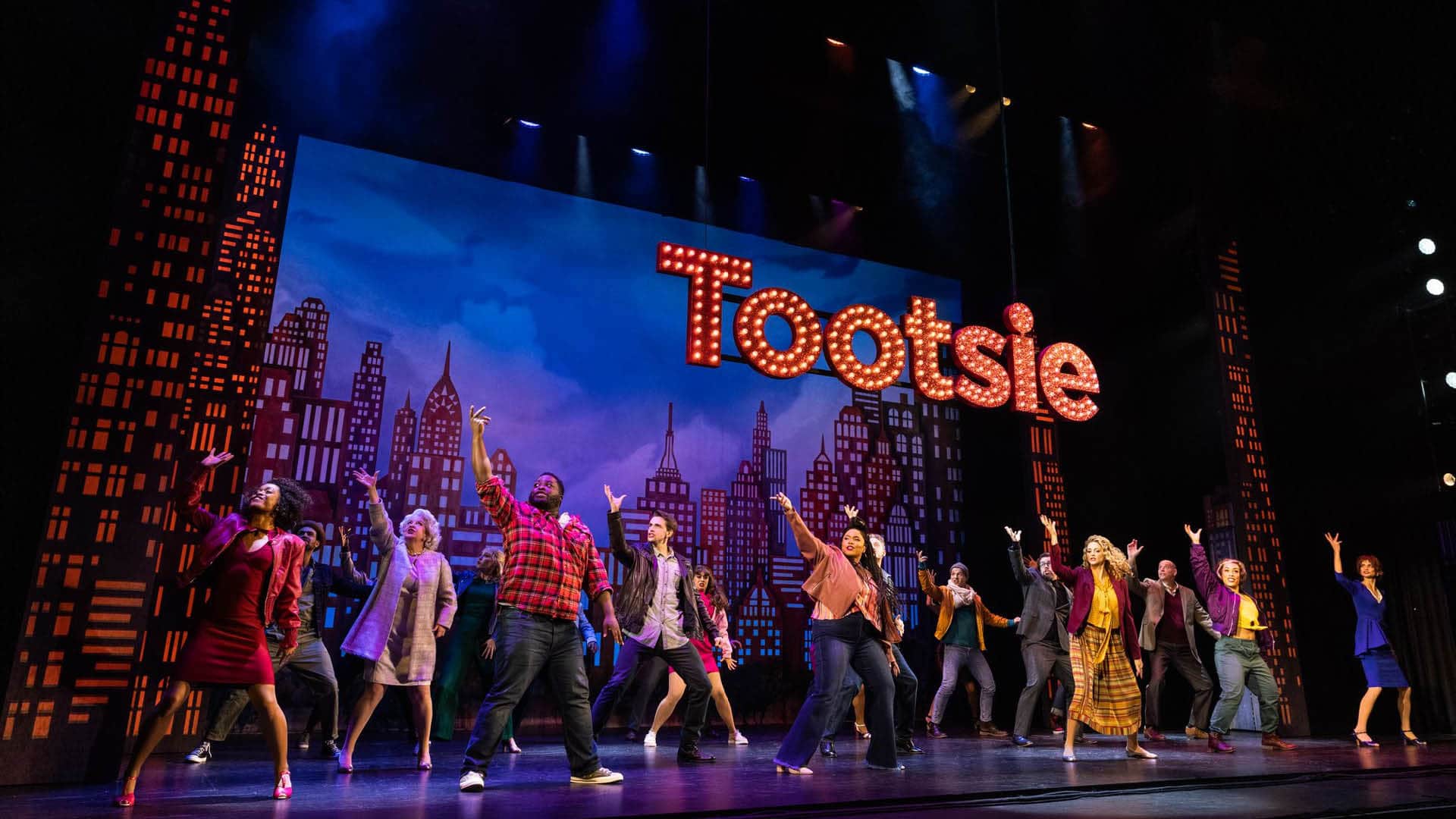 (Photo: CAST of "Tootsie the Musical" playing at the Hanover Theatre in Worcester, MA. Photo by Evan Zimmerman for MurphyMade)
ABOUT THE SHOW
Call it "musical comedy heaven" (Rolling Stone).
Call it "the most uproarious new musical in years!" (The Hollywood Reporter).
Call it "TOOTSIE!"
This laugh-out-loud love letter to the theater tells the story of Michael Dorsey, a talented but difficult actor who struggles to find work until one show-stopping act of desperation lands him the role of a lifetime.
Featuring a hilarious Tony®-winning book by Robert Horn and an outrageously clever score by 2018 Tony-winner David Yazbek (The Band's Visit, Dirty Rotten Scoundrels), this New York Times Critic's Pick is "a joyful delight" (The Washington Post) that's "so packed with punchlines, it should be called a jokebox musical!" (Bloomberg). "In these turbulent times, when the world seems out of balance, we need a place to let the good times roll," raves Rolling Stone. "TOOTSIE is it!"
Based on the 1982 smash comedy hit, Tootsie, the Musical has been nominated for ten Tony® awards and while capturing the hearts of audiences all over the country.
Premiering in Chicago, four years ago, this hysterically funny show is sure to make you laugh out loud while falling in love with the incredibly talented cast of characters.
The Hanover Theatre and Conservatory could not be more excited to announce the amazing adaptation of the feel-good movie Tootsie, featuring a male actor, turned female impostor whose plan gets derailed by a multitude of unexpected turns!
Come laugh your heart out and see firsthand why this 1982 smash hit has made a come back as a Broadway success!
Contains adult language and situations.
Audio Description services available at the Sunday matinee performance, 1 pm
ASL available at the Sunday evening performance, 6:30 pm (If you are using ASL services, please let the ticket office know when you are ready to purchase tickets, so we can place you in seats in front of the ASL interpreter.)
COVID-19 PROTOCOL
Most recent Hanover Theatre safety protocol details may be found here:
https://thehanovertheatre.org/plan-your-visit/safety-protocols/

Worcester Center for Performing Arts is a registered not-for-profit 501(c)(3) organization, which owns and operates The Hanover Theatre and Conservatory for the Performing Arts. All donations are tax deductible to the fullest extent allow