K and E Theater Group
Presents Andrew Lippa's
"THE WILD PARTY"
Book, Music and Lyrics by Andrew Lippa
Based on the Poem by Joseph Moncure March
Directed and Choreographed by Eddie Zitka
Music Director Bill Martin
Additional Creative Team: David Webber - Assistant Director; Jessica Winter - Dance Captain; Carly DellaPenna - Lighting Design; Elysha Sathyaraj - Lighting Design & Operator; Joshua Hamre - Sound Design & Operator; Bruce Torrey - Set Build; Ed Zitka - Set Build.
Cast Includes: Chelsea Derby – Queenie; Carina Savoie – Kate; Joshua Fernandez Garcia – Black; Eddie Zitka – Burrs; Julia Bussell – Nadine; Michael DeVito - Phil D'Armano; Jessica Glasser – Mae; Christine Greene - Madelaine True; Andre Ruiz – Sam; Lauren Seslar -Featured Ensemble; Chris Webber - Oscar D'Armano; David Webber – Max; Jami Wilson – Dolores; Jessica Winter – Jackie; John F. Woytowicz - Eddie
Performances:
October 7, 8, 13, 14 & 15, 2022 at 7:30pm
October 8, 9 & 15, 2022 at 2:00pm
Northampton Center for the Arts, 33 Hawley Street, Northampton, MA 01060
Tickets: https://ketg.ticketleap.com/wild-party/
Partially Developed and Received Readings at The O'Neill Theater Center during the 1997 National Music Theatre Conference. Originally Produced in New York City by The Manhattan Theatre Club
THE WILD PARTY is presented through special arrangement with Music Theatre International (MTI). All authorized performance materials are also supplied by MTI. www.mtishows.com
MASKS AND PROOF OF VACCINATION REQUIRED AT NORTHAMPTON CENTER FOR THE ARTS AND ALL KETG PRODUCTIONS UNTIL FURTHER NOTICE.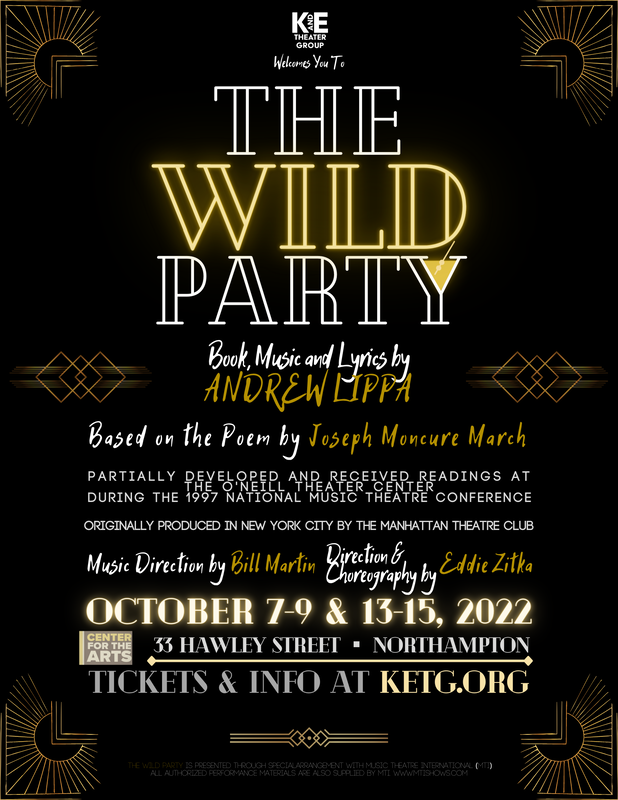 ABOUT THE SHOW
A steamy prohibition tale, steamrolling and roaring its way across the stage, ANDREW LIPPA'S WILD PARTY was an Off-Broadway gem that garnered an array of industry accolades, including Drama Desk, Outer Critics Circle and Obie awards in 2000.
Based on Joseph Moncure March's evocative 1928 narrative poem of the same name, this darkly brilliant show features one of the most exciting, pulse-racing scores ever written.
Lovers Queenie and Burrs decide to throw the party-to-end-all-parties in their Manhattan apartment.
After the colorful arrival of a slew of guests living life on the edge, Queenie's wandering eyes land on a striking man named Black.
As the decadence is reaching a climax, so is Burrs' jealousy, which erupts and sends him into a violent rage.
Gun in hand and inhibitions abandoned, Burrs turns on Queenie and Black. The gun gets fired, but who's been shot?

ABOUT K AND E THEATER GROUP
K and E Theater Group seeks to further the education of and provide dramatic art entertainment to the surrounding Western Massachusetts communities, actively recruiting the new performers, and enriching the performers' experiences as they interact with theatrical arts.
K and E Theater Group
Northampton Center for the Arts
33 Hawley Street
Northampton, MA 01060
www.ketg.org