Ashland Community Theater
presents
"THE VIEWING ROOM"
By Mark Smith
Directed by Joe White
Performances:
September 23, 24 & 25 at 7:30pm
October 1 & 2 at 7:30pm
Ashland Community Theater, Marconi's VFW Theater, 311 Pleasant Street, Ashland, MA 01721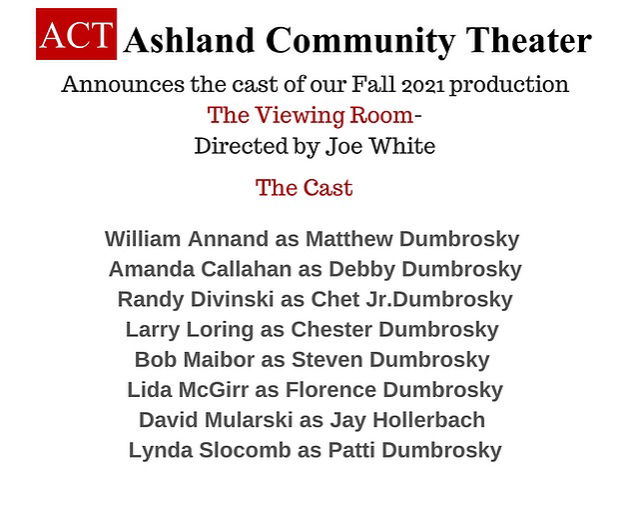 ABOUT THE VIEWING ROOM
"The Viewing Room" is ACT's 13th production and their sixth at Marconi's theater at the Ashland VFW. The show is an original comedic play about the death and life of Chester Dumbrosky.
"The Viewing Room" takes place in Jan 2005 at the Hollerbach funeral home; it is the wake of Chester Dumbrosky patriarch of the Dumbrosky family.
The play is about family interactions and the interpersonal relationships we all have; or want to have with our families.
While every family dynamic is different everyone of us plays a role within that dynamic.

LIMITED SEATING Tickets (only 40-45 per show)
https://www.onthestage.tickets/show/ashland-community-theater-llc/the-viewing-room-21793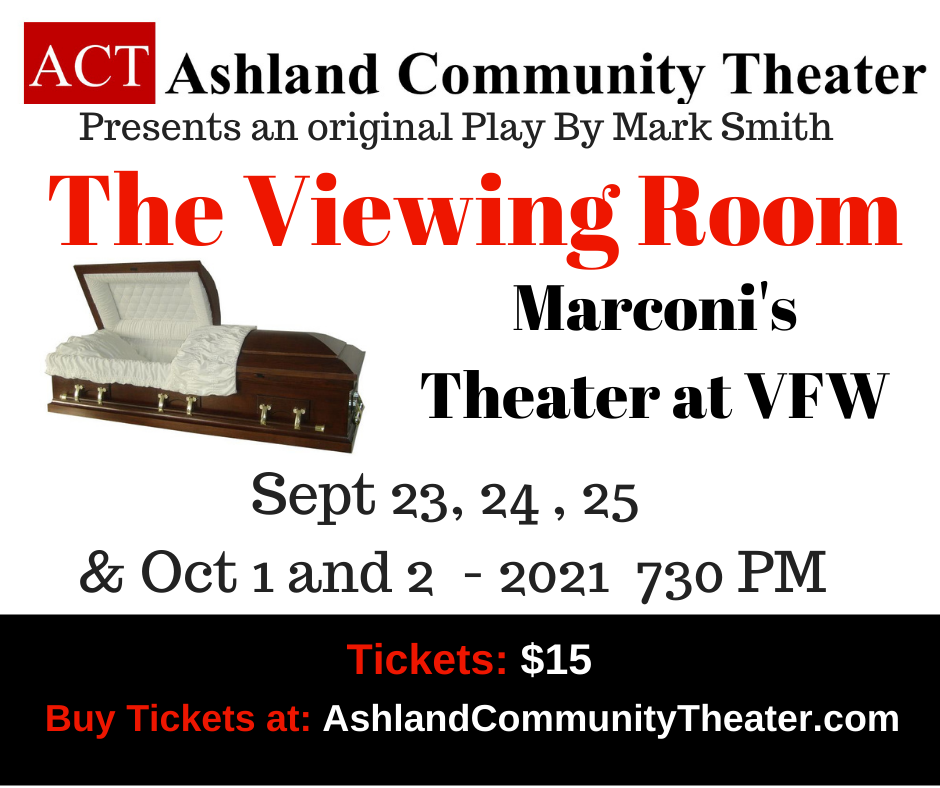 COVID-19 PROTOCOL
COVID-19 Safety Policy - Ashland Community Theater is joining other Massachusetts theaters requiring patrons to wear masks and to present proof of vaccination or a recent negative COVID-19 test to attend our indoor performance.

The mask must fully cover the mouth and nose to keep all safe.
Proof of vaccination may include showing either a vaccination card or a photo of the card, or a digital vaccine record.
Please note that a full refund will be given to anyone who has purchased a ticket and is not able to comply with the safety policy. We look forward to welcoming you back to ACT safely!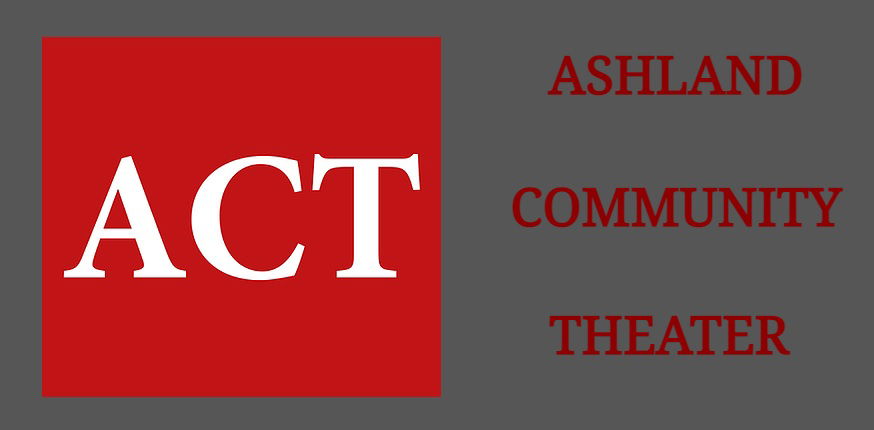 ABOUT ASHLAND COMMUNITY THEATER LLC
MISSION STATEMENT
Be an open group that accepts and welcomes all people who are interested in being part of Theater, Film and Community.
Produce two quality theater productions per year that entertain, enrich, and educate Ashland, MA and its surrounding communities.
Partner with WACA-TV to produce film and video projects that that entertain, enrich, and educate Ashland, MA and its surrounding communities.
Afford an opportunity for adults and teens interested in acting, directing, writing, and stage work.
Encourage the creation of original material revolving around social issues and values pertinent to our lives and community.
Provide a creative outlet for community building and involvement.