Studio Theatre Worcester
Presents Larissa FastHorse's
"THE THANKSGIVING PLAY"
Written by Larissa FastHorse
Directed by Chris Ortiz
Performances:
November 10, 2023 through November 19, 2023
(Contact Box Office for Exact Times)
TICKETS:
https://www.studiotheatreworcester.org/tickets
COVID 19 PROTOCOLS
Contact Venue for Most Updated COVID-19 Safety Protocols and Information.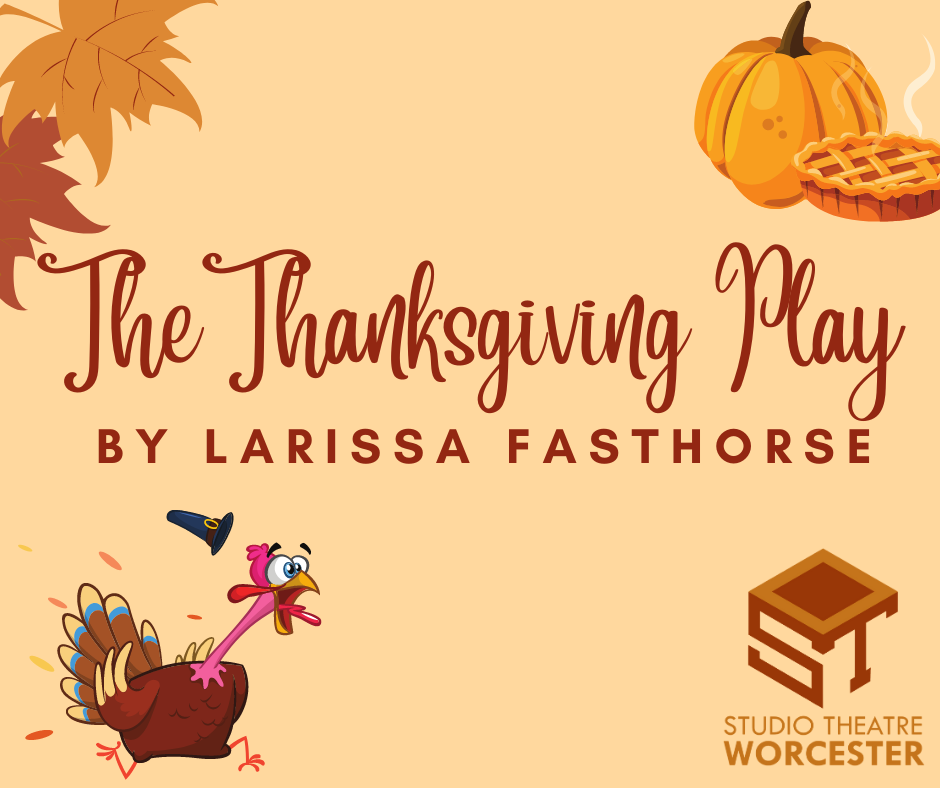 ABOUT THE SHOW
Synopsis: Good intentions collide with absurd assumptions in Larissa FastHorse's wickedly funny satire, as a troupe of terminally "woke" teaching artists scrambles to create a pageant that somehow manages to celebrate both Turkey Day and Native American Heritage Month. (Description from Concord Theatricals)
High school drama teacher Logan is desperate to save her career.
Always ready to rock the boat, she is now facing a petition that calls for her termination.
So she pursued several grants ranging from education to cultural awareness to bring together three actors that will devise a play about the first Thanksgiving.
Or Native American Heritage Month.
Or just November in general.
With yoga instructor (and boyfriend) Jaxton, elementary teacher Caden, and professional actress Alicia, Logan is out to save her career and tell a culturally conscious story about what it means to be Native American … even though all of the performers are white.
Punctuated by offensive (and completely real) Thanksgiving songs from educators' social media, Larissa FastHorse's "THE THANKSGIVING PLAY" is a hilarious satiric jab at political correctness, social wokeness, and cultural assumptions. (STAGEAGENT)

ABOUT STUDIO THEATRE WORCESTER
MISSION:
STUDIO THEATRE WORCESTER (STW) is committed to a differentiated, professional theatre experience that reflects the diversity and vibrancy of Worcester communities. Our high quality, theatrical productions and education programs inspire and challenge our audiences while providing compensated opportunities for artists.
VISION:
STUDIO THEATRE WORCESTER will be the professional theatre of choice for artists, designers, educators, and theatre goers in Central Massachusetts.
VALUES:
Produce QUALITY productions that elicit VISCERAL experiences for our patrons.
Foster INCLUSIVITY, DIVERSITY, and EQUITY throughout all areas of our organization.
Encourage continued learning by providing EDUCATION opportunities.
Promote and invest in the use of LOCAL talent.
Invest in INNOVATION to keep the costs of our productions and classes affordable.
Develop a strong bond with the COMMUNITY.
Identify and DISMANTLE SYSTEMS that inhibit access to theatre.
Build SUSTAINABLE VALUE through fiscal responsibility.