The Boch Center Wang Theatre
Presents "Ted Lasso" star
BRETT GOLDSTEIN
in
"THE SECOND BEST NIGHT OF YOUR LIFE"
Stand-Up Tour Debut!
One Night Only!
Look out! BRETT GOLDSTEIN (comedian, double Emmy award winning actor, writer, director and swimmer) brings his live stand up to Boston...There will be swears…
Performance:
October 12, 2023 at 7:00pm
TICKETS:
For Tickets contact the Boch Center Wang Theatre at bochcenter.org.
PARKING BOOK PARKING
COVID 19 PROTOCOLS
Contact Venue for Most Updated COVID-19 Safety Protocols and Information.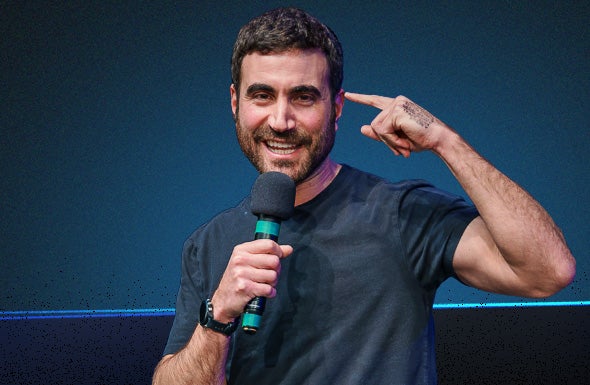 ABOUT THE SHOW
Two-time Emmy award-winning actor, comedian, writer, director (and swimmer) BRETT GOLDSTEIN announced that he'll be embarking on his first live stand-up tour in the U.S. and Canada this Fall.
The "Ted Lasso" star will bring "THE SECOND BEST NIGHT OF YOUR LIFE" to the Boch Center Wang Theatre Friday, October 13, 2023.
Please note there is a 15+ age advisory for this show.
For Tickets contact the Boch Center Wang Theatre at bochcenter.org.

ABOUT THE WANG AND SHUBERT THEATRES
Just as the city and audience have evolved with the times, the Boch Center, as guardian of the WANG and SHUBERT THEATRES (and from 2012-15, the Center also managed the historic Emerson Colonial Theatre), has changed to meet the needs of its community.
Uniquely using a Balanced Scorecard (a Fortune 500 management framework), strategy map, and strategic dashboard, the Boch Center ensures that our Theatres and programs stay relevant to the community we serve. Today, the Boch Center is considered a best practice institution and nonprofit arts leader. With the belief that arts make and keep us a civilized nation, the Boch Center is dedicated to providing high-quality, diverse and culturally relevant arts and entertainment, and arts education programming for New England residents and visitors.
ABOUT THE BOCH CENTER
The Boch Center is one of the nation's leading nonprofit performing arts institutions and a guardian of the historic WANG and SHUBERT THEATRES. As New England's largest cultural venue, the Boch Center is home to theater, classical and popular music, dance, comedy, opera, Broadway musicals, family entertainment, and more. Located in Boston's historic Theater District, the Boch Center also offers a diverse mix of educational, cultural and community outreach initiatives, including the City Spotlights Leadership Program and the Folk Americana Roots Hall of Fame; collaborates with artists and local nonprofit arts organizations; preserves historic venues; and acts as a champion for Greater Boston's arts and cultural community. Learn more at bochcenter.org.