The Cannon Theatre
Presents Tom Stoppard's
"THE REAL INSPECTOR HOUND"
Written by Tom Stoppard
Directed by Maren Caulfield
Stage Manager Adam Conn
Produced by Meredith Brummer
Cast Includes: Chris Lockheardt – Moon; Andrew Harrington – Birdboot; Erin Shine - Mrs. Drudge; Simon Jensen-Fellows – Simon; Kyla Begle – Felicity; Carla Perrotta – Cynthia; Bob Amici – Magnus; Matt Foster - Inspector Hound; Chelsea Reyes – Higgs.
Additional Creative Team:
Set Build/Tech Director - Bret Bahe; Set Design - Shawn Cannon; Lighting Design - Kal Larsen; Costumes - Shawn Cannon; Sound - Bret Bahe; Props - Karen MacIntyre & Maren Caulfield.
Performances:
March 17, 2023 through April 2, 2023
(Contact Box Office for Exact Times)
The Cannon Theatre, 28 Andrews Parkway, Devens, MA.
Tickets:
For Tickets Contact the Box Office at # 978-448-2108 or visit www.thecannontheatre.org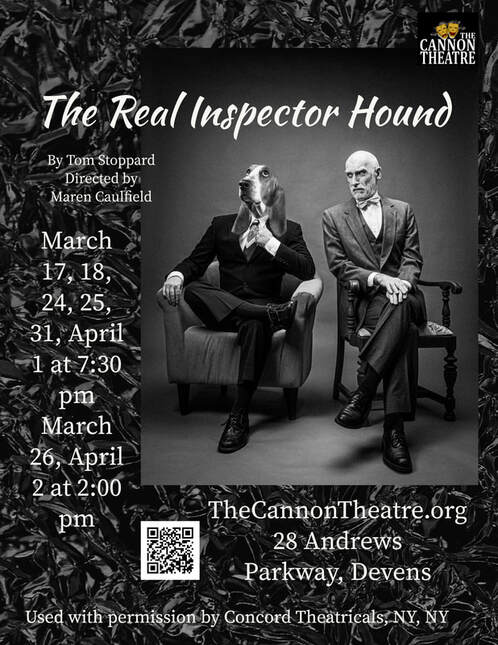 ABOUT THE SHOW
In this critically acclaimed comedy, feuding theatre critics Birdboot and Moon — the first a fusty philanderer and the second a pompous and vindictive second stringer — are swept
into the whodunit they are viewing.
They are the only audience - perhaps we should say witnesses - to the butchery play known
as Murder in Muldoon Manor.
In this hilarious spoof of Agatha Christie-like melodramas, the body under the sofa proves to be an unexpected victim.
As mists rise about isolated Muldoon Manor, Moon and Birdboot become dangerously implicated in the lethal activities happening on the stage before them!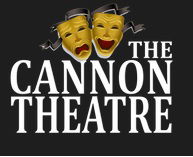 ABOUT THE CANNON THEATRE
The Cannon Theatre was founded by Shawn Cannon and Bret Bahe, who shared a dream of creating a community theater – a place for learning, and great plays, a place where people could enjoy the company of others, laugh, and just lose themselves in the joy of artistic expression. Over the years, the theater incorporated, and then became a non-profit organization, managed so that every precious cent made from each production is carefully fed right back into the creation of the next. During the Pandemic of 2020, the theater was forced to close, as their overhead was too high, They began searching for a new space during 2021, and found it in the late summer of 2021.
The Cannon Theatre board, which still includes the theater's very active and passionate founders, invites you to join us and experience this welcoming community, whether as an audience member, an actor, backstage crew, or even director. We guarantee you will leave feeling satisfied!
THE CANNON THEATRE
28 Andrews Parkway
Devens, MA
978-448-2108