Exit 7 Players
Presents the Jason Robert Brown Musical
"THE LAST FIVE YEARS"
Written By Jason Robert Brown
Performances:
June 7, 2024 through June 25, 2024
(Contact Venue for Exact Dates and Times)
Exit Seven Players LTD, 37 Chestnut Street, Ludlow, MA 01056
For Tickets or More Information Contact Exit 7 at # 413-583-4301 or via email at
COVID 19 PROTOCOLS
Contact Venue for Most Updated COVID-19 Safety Protocols and Information.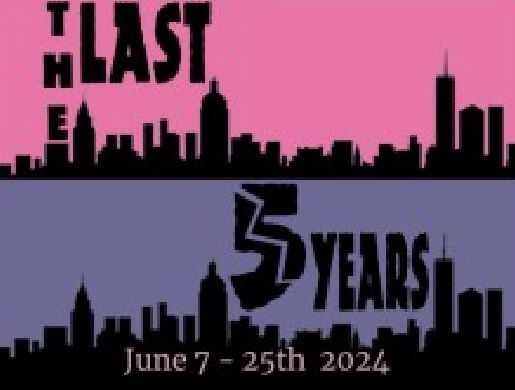 ABOUT THE SHOW
This celebrated 2002 award-winning Off-Broadway musical by Jason Robert Brown, "THE LAST FIVE YEARS" chronicles the five-year life of a marriage, with one of the brightest and most lyrical musical scores of the 21st century.
"THE LAST FIVE YEARS" is an intensely personal and emotionally moving look at a relationship told from two individual points of view, using uniquely different perspectives simultaneously: in "forward time" as we follow the story from the man's perspective and in "reverse time" as we view it from the woman's perspective.

ABOUT EXIT 7 PLAYERS
Exit 7 is a community theater group located in Ludlow, Massachusetts that was founded in the spring of 1984 and began with a production of Agatha Christie's Ten Little Indians. Located on Chestnut Street in the historic auditorium of what was previously the Ludlow High School, the Exit 7 Players have focused on renovating the Chestnut Street Theater while bringing the arts to Ludlow and the surrounding communities.
Exit Seven Players LTD
413-583-4301
37 Chestnut Street, Ludlow, MA 01056