The Majestic Theater
Presents Oscar Wilde's
"THE IMPORTANCE OF BEING EARNEST "
Written by Oscar Wilde
Majestic Theater, 131 Elm Street, West Springfield, MA 01089
Performances:
January 4, 2024 through February 11, 2024
(Contact Box Office for Exact Times)
Tickets can be purchased at the box office or by phone at # 413-747-7797.
BECOME A 26th SEASON SUBSCRIBER
Download and Print Subscription Form
COVID 19 PROTOCOLS
Contact Venue for Most Updated COVID-19 Safety Protocols and Information.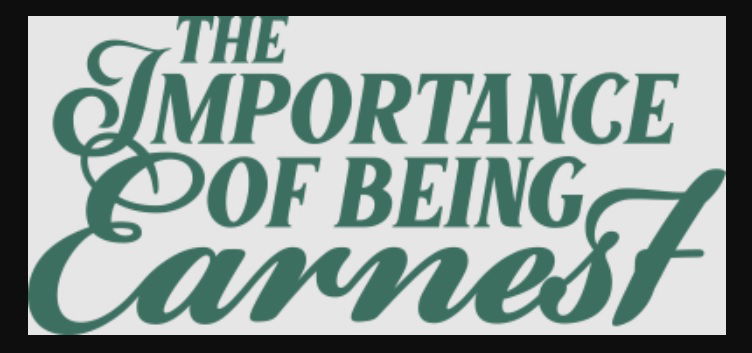 ABOUT THE SHOW
Oscar Wilde's Victorian masterpiece "THE IMPORTANCE OF BEING EARNEST" is about marriage, morality, and mistaken identity sparkling with dazzling wordplay and unlikely situations.
This "trivial comedy for serious people" features two gentlemen, Jack and Algernon, each with a carefully hidden double life that comically leads to confusion and hijinks.
When Algernon discovers Jack has been posing as a man named Ernest to escape from his "excessively boring" life in the country, Algernon promptly travels from his London flat to Jack's country estate to pose as the fictional figure himself!
Confusion and hilarity reign as each man meets and falls in love with a proper young lady and along the way must confront the formidable Lady Bracknell all in the name of romance and revelry.
This delightful and scathingly clever classic will be as beautiful to look at as it is amusing, sure to delight the eyes with its period costumes and gorgeous set.

ABOUT THE MAJESTIC THEATER
Locally-produced professional live theater since 1997. Before it was a live theater, local residents may remember THE MAJESTIC THEATER as a movie house. It has since been renovated and reimagined to bring live performances to the West Springfield area, giving local performance and technical artists the opportunity to thrive. Every season at THE MAJESTIC consists of five productions (including at least one musical) featuring local actors. In addition to the subscription season, the summer includes children's theater, concerts, plays, open mic nights, and improvisational comedy shows. Recently named the best place to see live theater in the Pioneer Valley in the Valley Advocate Readers' Poll, THE MAJESTIC THEATER continues to offer great theater thanks to the support and generosity of its 4200+ subscribers.
THE MAJESTIC THEATER
131 Elm Street
West Springfield, MA 01089
# 413-747-7797