Presents Oscar Wilde's
Written by Oscar Wilde
Directed by Jake Lewis
Cast Includes: Heather Crabbe as "Lane"; David Saint Cloud as "Algernon"; Brian Ruliffson as "Jack"; Catherine H.C. Crow as "Lady Bracknell"; Laura Austin as "Gwendolen"; Margo Thompson as "Miss Prism"; Ginny Hilli as "Cecily"; Jim Douglas as "Chasuble"; Kyle Rano as "Merriman"
Performances to be held at Estate of Mind at Oakhurst Manor, 120 Hill Street, Whitinsville, MA.
Performances:
December 8, 2023 through December 9, 2023
(Contact Box Office for Exact Times)
TICKETS:
https://www.jakespearetc.com/earnest
COVID 19 PROTOCOLS
Contact Venue for Most Updated COVID-19 Safety Protocols and Information.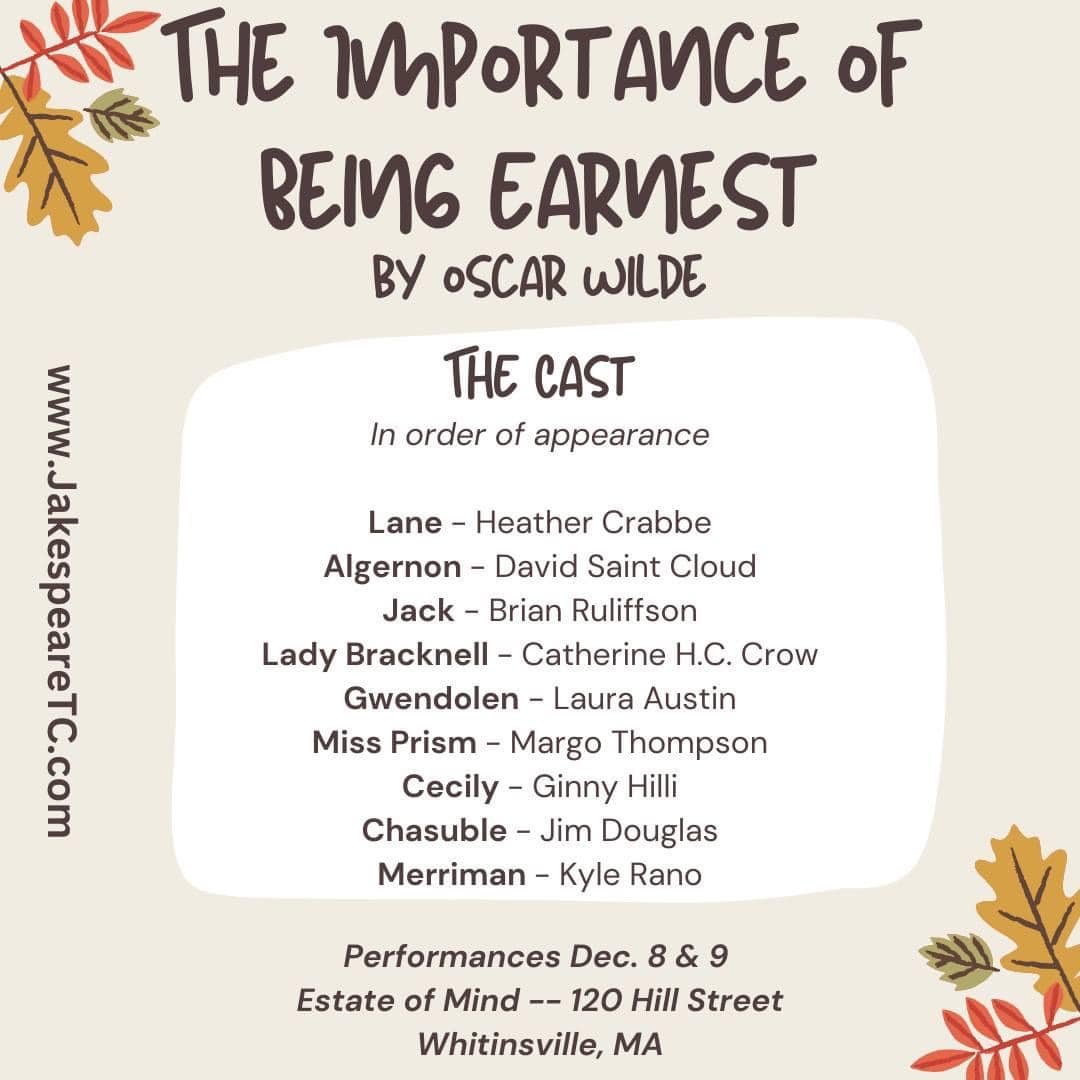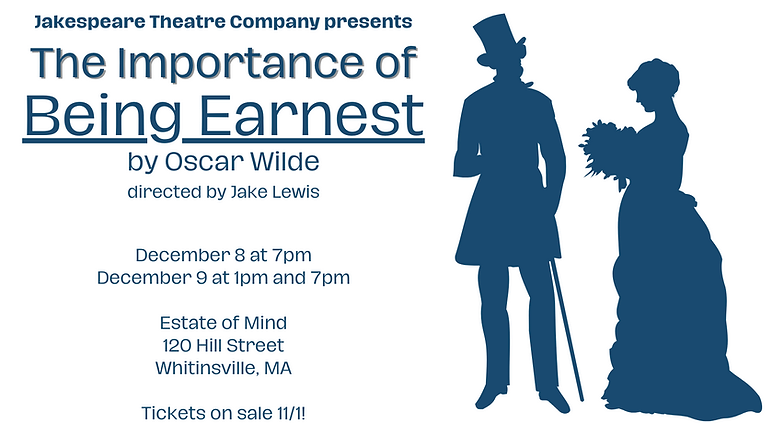 ABOUT THE SHOW
Oscar Wilde's Victorian masterpiece "THE IMPORTANCE OF BEING EARNEST" is about marriage, morality, and mistaken identity sparkling with dazzling wordplay and unlikely situations.
This "trivial comedy for serious people" features two gentlemen, Jack and Algernon, each with a carefully hidden double life that comically leads to confusion and hijinks.
When Algernon discovers Jack has been posing as a man named Ernest to escape from his "excessively boring" life in the country, Algernon promptly travels from his London flat to Jack's country estate to pose as the fictional figure himself!
Confusion and hilarity reign as each man meets and falls in love with a proper young lady and along the way must confront the formidable Lady Bracknell all in the name of romance and revelry.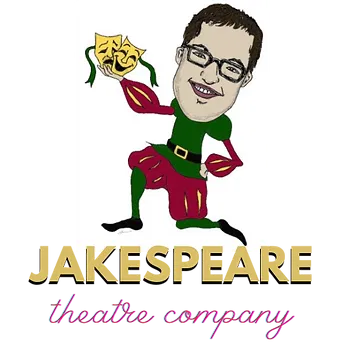 ABOUT JAKESPEARE THEATRE COMPANY (LLC)
In March 2020, Jake Lewis created an entirely virtual theatre company that presented original, classic, and modern theatre to audiences during the global pandemic. By using the Internet and podcasting technology, Lewis was able to embrace the new normal and deliver theatre in an entirely new way. Now, JAKESPEARE THEATRE COMPANY has expanded that original vision and company by offering theatrical productions in all possible shapes and forms: television, live performances, podcasts, classes, and hybrids of all the above. Best of all, JAKESPEARE THEATRE COMPANY gets to one thing that Lewis states he believes is above all else: that theatre should be affordable and accessible to all audiences without compromising quality.
JAKESPEARE THEATRE COMPANY (LLC)
Marlborough, MA
Phone # 508-656-0205