Huntington Theatre Company
Presents Lloyd Suh's
"THE HEART SELLERS"
by Lloyd Suh (The Chinese Lady)
Directed by May Adrales
Calderwood Pavilion / Wimberly Theatre
Performances:
November 21, 2023 through December 23, 2023
(Contact Box Office for Exact Times)
The Huntington Theatre, 264 Huntington Avenue, Boston, MA.
Tickets:
Available online at huntingtontheatre.org, by phone at 617-266-0800 or in person at The Huntington Theatre, 264 Huntington Avenue, Boston.
COVID 19 PROTOCOLS
Contact Venue for Most Updated COVID-19 Safety Protocols and Information.
PURCHASE OR RENEW A 2023-2024 SEASON TICKET PACKAGE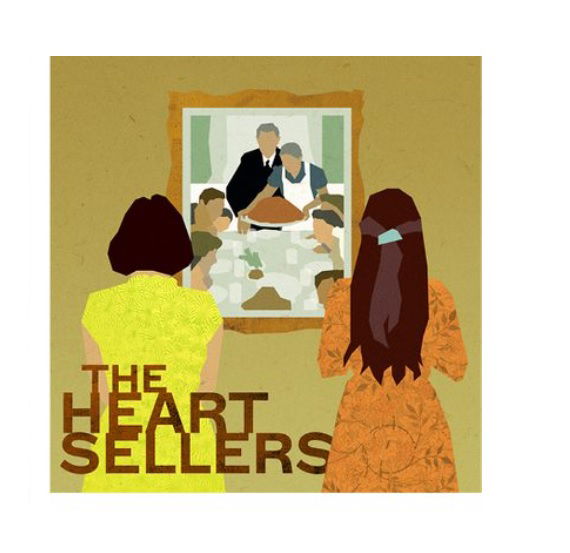 ABOUT THE SHOW
Jane and Luna run into each other in the grocery store on Thanksgiving in 1973 and find they have much in common: each are recent Asian immigrants, a bit homesick and lonely with hardworking absentee husbands, and adjusting to a new country filled with new opportunities.
Over sips of wine and a questionable frozen turkey, they dream of disco dancing, learning to drive, and even a visit to Disneyland, and share their hopes and challenges for making a new home in a new land with grace and dignity.
A funny, moving, and big-hearted new play.
From Artistic Director Loretta Greco: "Lloyd Suh is one of my favorite humans! His intentionality around unpacking complicated slices of untold history in beautiful theatrical ways for the benefit of our children and future generations is wildly inspirational. His plays are honest, heartbreaking, full of curiosity and resilience: a theatrical constellation asking us to look at our past in new ways with an eye towards a brighter future."
From playwright Lloyd Suh: "'THE HEART SELLERS' looks at a pivotal moment in time, when the conditions were created for much of what we're currently grappling with as a nation around our collective history. It's a play of giving thanks, making new friends, and finding home in a new place, so it brings me a special joy to share this with The Huntington community as part of Loretta Greco's first season, as she's been an important part of my artistic life for well over a decade."
Critical acclaim:
"Hilarious and heartwarming! A laugh-aloud love letter to friendship. 'THE HEART SELLERS' is something to treasure!" – Broadway World
"A stunning comedy! Breathtaking." – Milwaukee Journal Sentinel

ABOUT THE HUNTINGTON THEATRE COMPANY:
The Huntington Theatre Company is Boston's leading professional theatre and one of the region's premier cultural assets since its founding in 1982. Recipient of the 2013 Regional Theatre Tony Award, The Huntington brings together superb local and national talent and produces a mix of groundbreaking new works and classics made current to create award-winning productions. The Huntington runs nationally renowned programs in education and new play development and serves the local theatre community through its operation of the Calderwood Pavilion at the BCA. The Huntington has long been an anchor cultural institution of Huntington Avenue, the Avenue of the Arts, and will remain so on a permanent basis with plans to convert the Huntington Avenue Theatre into a first-rate, modern venue with expanded services to audiences, artists, and the community. The Huntington cultivates, celebrates, and champions theatre as an art form.
For more information, visit huntingtontheatre.org.