Theatre Of Northeastern Connecticut, Inc.
at the Bradley Playhouse
Presents
"THE GIRL ON THE TRAIN

"
Based on the bestselling novel by Paula Hawkins and the DreamWorks film
Adapted by Rachel Wagstaff and Duncan Abel
Directed by Josh Raymond
Stage Manager David Anderson
Performances:
February 24, 25 & 26, 2023
March 3, 4 & 5, 2023
(Contact Box Office for Exact Times)
Bradley Playhouse, 30 Front Street (Route 44) in Putnam, CT.
TICKETS
All seats reserved. Reservations may be made with a major credit card online at www.thebradleyplayhouse.org or by calling 860-928-7887.
Presented by arrangement with Concord Theatricals on behalf of Samuel French, Inc.
ABOUT THE SHOW
Based on the bestselling novel by Paula Hawkins and the DreamWorks film, this show follows Rachel Watson who longs for a different life.
Her only escape is the perfect couple she watches through the train window every day, happy and in love.
Or so it appears.
When Rachel learns that the woman she's been secretly watching has suddenly disappeared, she finds herself as a witness and even a suspect in a thrilling mystery in which she will face bigger revelations than she could ever have anticipated.
COVID-19 PROTOCOL
Wearing a mask is optional if you are vaccinated. For the safety of patrons, cast, crew, and volunteers, we do request that a mask be worn by those who are not vaccinated.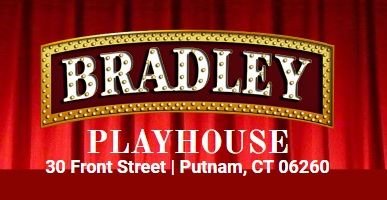 ABOUT THE BRADLEY PLAYHOUSE
The Bradley Playhouse is a 117 year-old vaudeville theatre in the heart of the Putnam antiques and restaurant district in the "Quiet Corner" of Northeastern Connecticut. Since 1991, the Bradley Playhouse has been managed by the volunteers of The Theatre of Northeastern Connecticut, Inc. (TNECT).
ABOUT THEATRE OF NORTHEASTERN CONNECTICUT
TNECT produces eight main season shows per year and a number of special fundraising events for The Bradley Playhouse Restoration Fund. TNECT's mission is to produce and sponsor quality theatre and entertainment for the residents of Northeastern Connecticut and the surrounding areas, to encourage the development of creativity through the support of local artists, and to support education and hands-on experience in the creation, direction, and production of theatre and the performing arts.
The Bradley Playhouse
30 Front Street
P.O. Box 71
Putnam, CT 06260-1942