Exit 7 Players
Will Present
"THE CURIOUS INCIDENT OF
THE DOG IN THE NIGHT- TIME"
Written by Simon Stephens based on the novel by Mark Haddon.
Winner of the 2015 Tony® Award for Best Play.
Performances:
February 11, 12, 18 &19, 2022 at 8:00pm
February 13 & 20, 2022 at 2:00pm
Tickets: Preferred $22.00, Adult $20.00, Senior (62+) $18.00, Student/Child $18.00.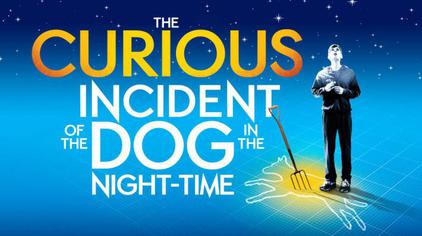 ABOUT THE SHOW
Fifteen-year-old Christopher has an extraordinary brain: He is exceptional at mathematics but ill-equipped to interpret everyday life.
He has never ventured alone beyond the end of his road, he detests being touched, and he distrusts strangers.
Now it is 7 minutes after midnight, and Christopher stands beside his neighbor's dead dog, Wellington, who has been speared with a garden fork.
Finding himself under suspicion, Christopher is determined to solve the mystery of who murdered Wellington, and he carefully records each fact of the crime.
But his detective work, forbidden by his father, takes him on a thrilling journey that upturns his world.
About Tickets
Reserved Ticket Prices: $22 Preferred (first four rows), $20 Adult, $18 Seniors (62+), Students with ID, and Children (12 and under). Prices for special shows and events may be different.
For group sales, (10 or more tickets/$15 each, Preferred seating not included) or wheelchair seating please contact the box office directly at 413.583.4301*. Preferred seating excluded in group discount offer.
For day-of-show tickets (once on-line box office closes) call 413.583.4301* or stop by the office before showtime. Tickets may be available. The box office opens one hour prior to each show.
MEMBER PERK: Any member of Exit 7 Players who has purchased a ticket and presents their membership card to the box office that evening will receive one free item from the concession stand. This applies to members listed on the card only.
SEATING: Please arrive at the theater on time. Latecomers will be seated at the discretion of the house manager.
NEW: Show a valid military ID (active military or veteran) and get one free refreshment at intermission. Parties needing to use the ramp for access to the theater should call the box office at 413.583.4301*.
"This adaptation by the acclaimed playwright Simon Stephens is intensely, innately theatrical; it is also funny and extremely moving…resonates with quality." —Telegraph (London).
"…just terrific…a profoundly moving play about adolescence, fractured families, mathematics, colours and lights…dazzling." —Independent (London).
"A beautiful, eloquent, dazzlingly inventive show about the wonders of life." —Evening Standard (London).

ABOUT EXIT 7 PLAYERS
Exit 7 is a community theater group located in Ludlow, Massachusetts that was founded in the spring of 1984 and began with a production of Agatha Christie's Ten Little Indians. Located on Chestnut Street in the historic auditorium of what was previously the Ludlow High School, the Exit 7 Players have focused on renovating the Chestnut Street Theater while bringing the arts to Ludlow and the surrounding communities.
Exit Seven Players LTD
413-583-4301
37 Chestnut Street, Ludlow, MA 01056