Huntington Theatre Company
Presents Kate Snodgrass'
"THE ART OF BURNING"
Written By Kate Snodgrass
Directed By Melia Bensussen
Calderwood / BCA, 527 Tremont Street, Boston MA 02116
Performances:
January 13, 2023 through February 12, 2023
(Contact Box Office for Exact Times)
Tickets: $25 - $175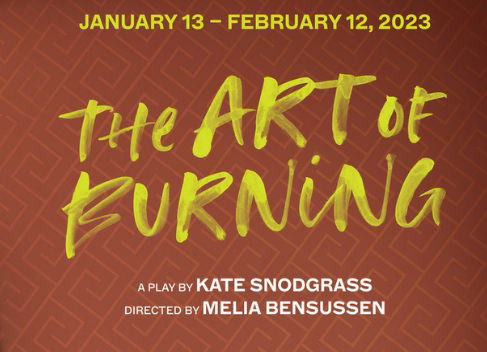 ABOUT THE SHOW
Mid-negotiation, modernist painter Patricia changes the terms of her 'conscious uncoupling' with Jason.
She wants full custody of their 15-year-old daughter Beth.
Jason demands that their daughter decide, but mysteriously Beth didn't show up for school.
Has Patricia hidden her away to protect her, or is there something more sinister afoot?
Crafted with humor and insight by Boston playwright Kate Snodgrass and director Melia Bensussen, "THE ART OF BURNING" explores the love, rage, and responsibility that come with marriage and parenting in America.
COVID 19 PROTOCOLS
COVID Safety Protocols: For the safety and comfort of all who attend our shows, masks must be worn at all times throughout the building unless actively eating or drinking concessions, available for purchase during intermissions.

ABOUT THE HUNTINGTON THEATRE COMPANY:
The Huntington Theatre Company is Boston's leading professional theatre and one of the region's premier cultural assets since its founding in 1982. Recipient of the 2013 Regional Theatre Tony Award, The Huntington brings together superb local and national talent and produces a mix of groundbreaking new works and classics made current to create award-winning productions. The Huntington runs nationally renowned programs in education and new play development and serves the local theatre community through its operation of the Calderwood Pavilion at the BCA. The Huntington has long been an anchor cultural institution of Huntington Avenue, the Avenue of the Arts, and will remain so on a permanent basis with plans to convert the Huntington Avenue Theatre into a first-rate, modern venue with expanded services to audiences, artists, and the community. The Huntington cultivates, celebrates, and champions theatre as an art form.
For more information, visit huntingtontheatre.org.