The Cannon Theatre
Presents
"THE 39 STEPS"
A madcap mystery featuring romance, espionage, mistaken identity, and intrigue set in 1930's England.
Director: Erik P. Kraft
Stage Manager: Laurie Marcinkewicz
Producer: Kathleen O'Connor.
Cast Includes:
Richard Hannay - Kevin Nessman
Compere & others - John Lynch
Mr. Memory & others - Bob Amici
Annabella Schmidt & others - Victoria Bourque
Chief Inspector & others - Matt Foster
Professor & others - Simon Jensen-Fellows
Pamela Edwards & others - Maren Caufield
Performances:
May 13, 14, 20 & 21, 2022 at 7:30pm
May 14, 15, 21 & 22, 2022 at 2:00pm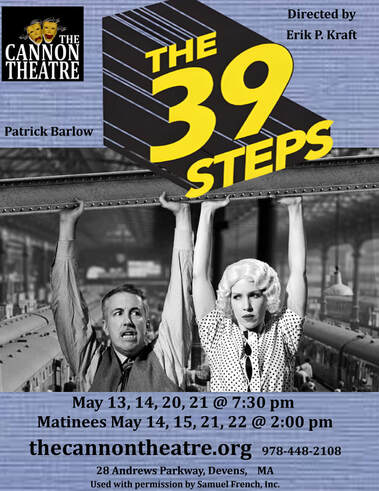 ABOUT THE SHOW
The 39 Steps is a parody adapted from the 1915 novel by John Buchan and the 1935 film by Alfred Hitchcock.
The original concept and production of a four-actor version of the story was by Simon Corble and Nobby Dimon. Patrick Barlow rewrote this adaptation in 2005.
The play's concept calls for the entirety of the 1935 adventure film The 39 Steps to be performed with a cast of only four.
One actor plays the hero, Richard Hannay, an actress (or sometimes actor) plays the three women with whom he has romantic entanglements, and two other actors play every other character in the show: heroes, villains, men, women, children and even the occasional inanimate object.
This often requires lightning-fast quick-changes and occasionally for them to play multiple characters at once.
Thus the film's serious spy story is played mainly for laughs, and the script is full of allusions to (and puns on the titles of) other Alfred Hitchcock films, including Strangers on a Train, Rear Window, Psycho, Vertigo and North by Northwest.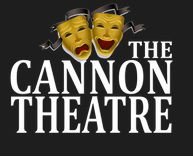 ABOUT THE CANNON THEATRE OF LITTLETON
The Cannon Theatre was founded by Shawn Cannon and Bret Bahe, who shared a dream of creating a community theater – a place for learning, and great plays, a place where people could enjoy the company of others, laugh, and just lose themselves in the joy of artistic expression. This intimate performance space was conceived of, designed, and built from scratch after they discovered and saw the great potential of a unique open space in the old mill building in Littleton. Over the years, the theater incorporated, and then became a non-profit organization, managed so that every precious cent made from each production is carefully fed right back into the creation of the next.

During the Pandemic of 2020, the theater was forced to close, as their overhead was too high, They began searching for a new space during 2021, and found it in the late summer of 2021.

The Cannon Theatre board, which still includes the theater's very active and passionate founders, invites you to join us and experience this welcoming community, whether as an audience member, an actor, backstage crew, or even director. We guarantee you will leave feeling satisfied!
THE CANNON THEATRE OF LITTLETON
28 Andrews Parkway
Devens, MA
978-448-2108
https://www.thecannontheatre.org/