The Cannon Theatre
Presents Robert Harling's
"STEEL MAGNOLIAS"
Written by Robert Harling
Directed by Martha Brooks
Producer and Stage Manager Beth Drummey
Cast Includes: Cathy Koerwer as "M'Lynn; Victoria Bourque as "Shelby"; Pamela Hill as "Ouiser"; Sally Reid as "Truvy"; Carol Vancil as "Caliree"; Lexi Rock as "Annelle"
Performances:
December 8, 2023 through December 10, 2023
(Contact Venue for Exact Dates and Times)
The Cannon Theatre, 28 Andrews Parkway, Devens, MA.
Tickets:
For Tickets Contact the Box Office at # 978-448-2108 or visit www.thecannontheatre.org
COVID 19 PROTOCOLS
Contact Venue for Most Updated COVID-19 Safety Protocols and Information.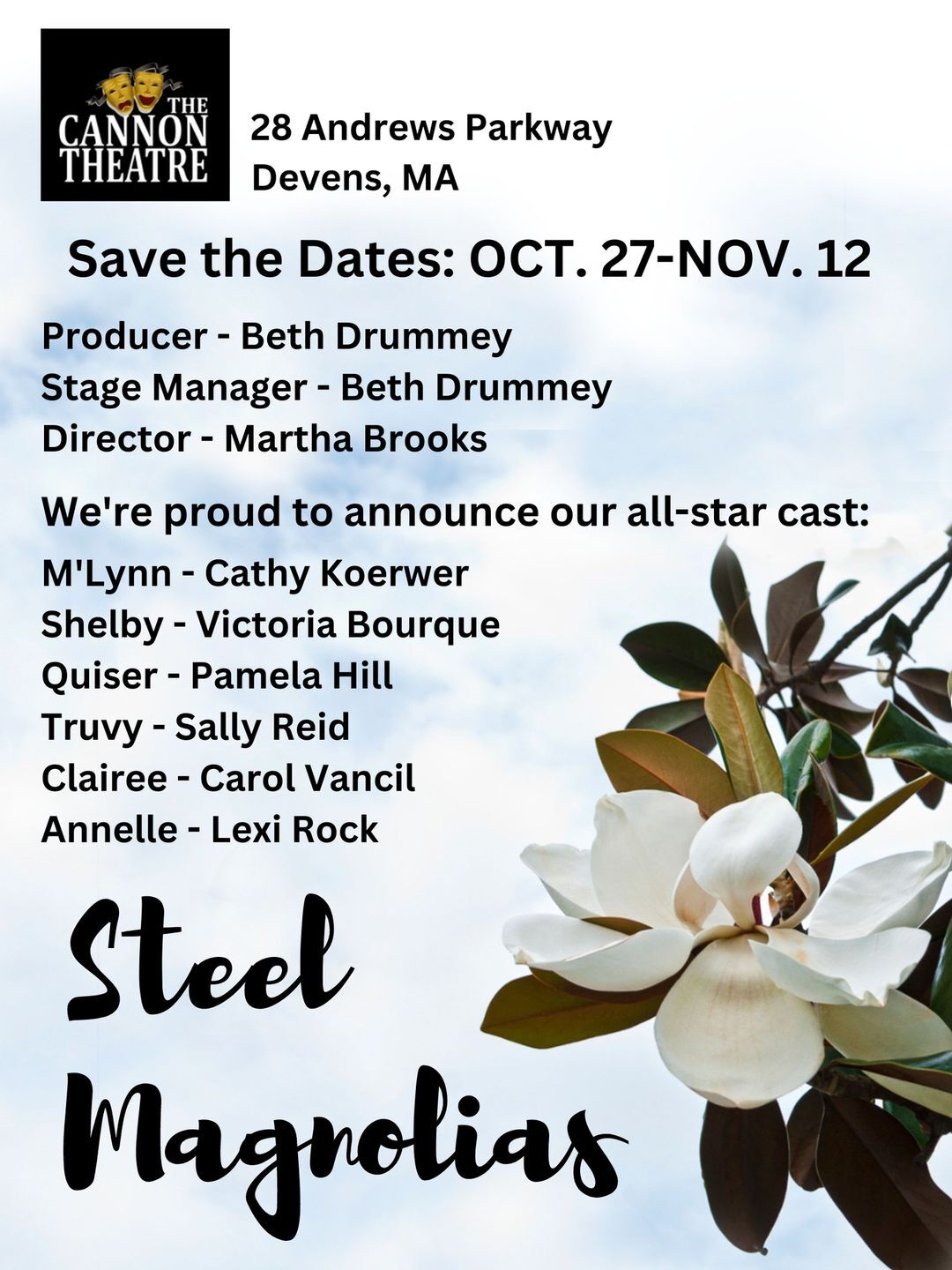 ABOUT THE SHOW
In Robert Harling's "STEEL MAGNOLIAS," Truvy Jones runs a successful beauty salon in Chinquapin, Louisiana, where all the ladies in the neighborhood have a standing Saturday appointment.
Along with her anxious and eager assistant, Annelle, Truvy styles the hair of many of the women about town: wealthy widow and former first lady of Chinquapin, Clairee Belcher, local curmudgeon Ouiser Boudreaux ("I'm not crazy, I've just been in a bad mood for forty years"), intelligent and compassionate career woman M'Lynn, and her daughter Shelby, the prettiest girl in town.
Shelby's engagement is the talk of the town, but the joy and excitement of her wedding quickly turn to concern as she faces a risky pregnancy and a myriad of health complications.
As the women of "STEEL MAGNOLIAS" make their way over life's many hurdles together, they find comfort (and a fair amount of verbal ribbing) in one another.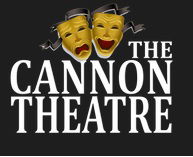 ABOUT THE CANNON THEATRE
The Cannon Theatre was founded by Shawn Cannon and Bret Bahe, who shared a dream of creating a community theater – a place for learning, and great plays, a place where people could enjoy the company of others, laugh, and just lose themselves in the joy of artistic expression. Over the years, the theater incorporated, and then became a non-profit organization, managed so that every precious cent made from each production is carefully fed right back into the creation of the next. During the Pandemic of 2020, the theater was forced to close, as their overhead was too high, They began searching for a new space during 2021, and found it in the late summer of 2021.
The Cannon Theatre board, which still includes the theater's very active and passionate founders, invites you to join us and experience this welcoming community, whether as an audience member, an actor, backstage crew, or even director. We guarantee you will leave feeling satisfied!
THE CANNON THEATRE
28 Andrews Parkway
Devens, MA
978-448-2108