Huntington Theatre Company
Presents John Kolvenbach's
"STAND UP IF YOU'RE HERE TONIGHT"
Written and directed by John Kolvenbach
Featuring Jim Ortlieb
The Huntington Theatre / Maso Studio
Performances:
January 20, 2024 through March 3, 2024
(Contact Box Office for Exact Times)
Winner! LA Drama Critics Circle Award, Best Actor!
Tickets:
Available online at huntingtontheatre.org, by phone at 617-266-0800 or in person at The Huntington Theatre, 264 Huntington Avenue, Boston.
COVID 19 PROTOCOLS
Contact Venue for Most Updated COVID-19 Safety Protocols and Information.
PURCHASE OR RENEW A 2023-2024 SEASON TICKET PACKAGE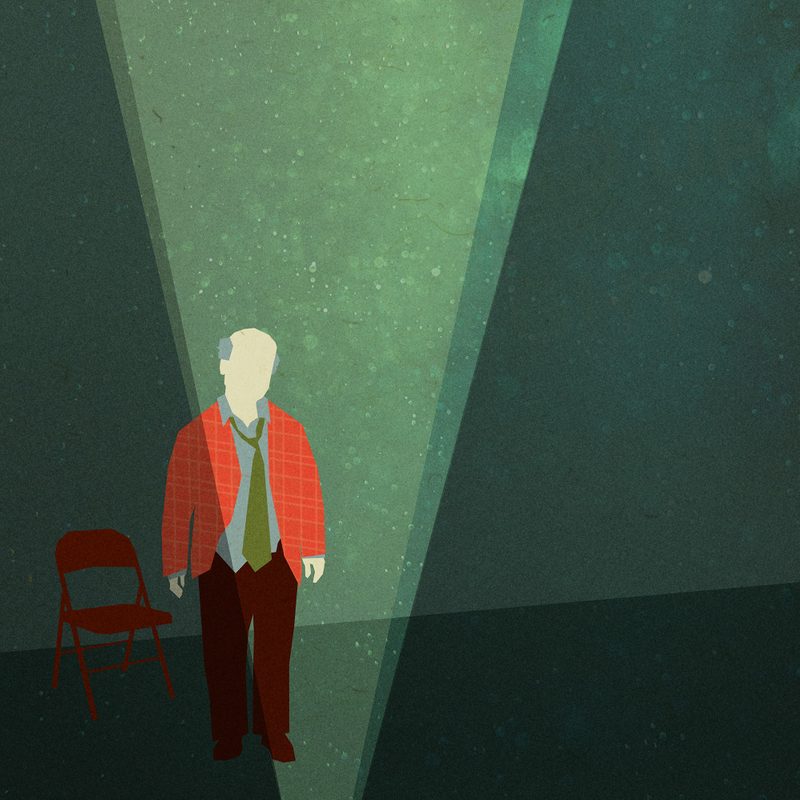 ABOUT THE SHOW
Winner! LA Drama Critics Circle Award, Best Actor!
"You've tried everything. Yoga. Acupuncture. Therapy. You floated in salt water in the pitch black dark. You juiced, you cleansed, you journaled, you cut, you volunteered. You ate only RINDS for three days and nights. You reached out, you looked within. You have tried. And yet here you are." So begins a new play by Olivier Award-nominated playwright John Kolvenbach. Jim Ortlieb delivers a tour-de-force performance as a man desperate for connection, bent by isolation, and deeply in love with the audience itself. After sold out runs in LA, Chicago, and Paris, this thoroughly unique, interactive theatrical experience comes to the intimate 150-seat, and gorgeously renovated Maso Studio!
From Artistic Director Loretta Greco: "You are in for a treat! This incisive, vulnerable, funny, new play by my dear friend John Kolvenbach is the first half of this special intimate evening, and the second opens up to drinks and freeform conversation with the artists and your fellow audience members. This is unlike any experience you've had at The Huntington! In Paris and LA, people stayed for hours, and we hope you'll want to stay and connect as well."
From playwright and director John Kolvenback: "The show is about a guy trying to do the impossible, or the nearly impossible: he wants to achieve a kind of union with the audience, a oneness, to blur the line between the play and the people who are there that night. That's the ambition of the man in the play, but it's also the ambition (harebrained, maybe) of the play itself. We hope for communion."
Critical acclaim: "A stunningly original existential exercise receives a brilliant production. See this fascinating production and stand up to applaud all those involved in it!" – WTTW, Chicago's PBS
"Uproarious, downright brilliant, and full of joyful surprises!" – Provincetown Independent

ABOUT THE HUNTINGTON THEATRE COMPANY:
The Huntington Theatre Company is Boston's leading professional theatre and one of the region's premier cultural assets since its founding in 1982. Recipient of the 2013 Regional Theatre Tony Award, The Huntington brings together superb local and national talent and produces a mix of groundbreaking new works and classics made current to create award-winning productions. The Huntington runs nationally renowned programs in education and new play development and serves the local theatre community through its operation of the Calderwood Pavilion at the BCA. The Huntington has long been an anchor cultural institution of Huntington Avenue, the Avenue of the Arts, and will remain so on a permanent basis with plans to convert the Huntington Avenue Theatre into a first-rate, modern venue with expanded services to audiences, artists, and the community. The Huntington cultivates, celebrates, and champions theatre as an art form.
For more information, visit huntingtontheatre.org.