The Walpole Footlighters
Presents the Musical
"SHE LOVES ME"
Music by Jerry Brock
Lyrics by Sheldon Harnick
Book by Joe Mastroff
Directed and Choreographed by Doug Hodge
Musical Direction by Marilyn Whipple
Cast Includes: Adina Lundquist as "Amalia Balash"; Matthew Scanlon as "Georg Nowack"; Aiden O'neal as "Ilona Ritter"; Salvatore Garcia as "Steven Kodaly"; Ben Gold as "Ladislav Sipos"; Chris Diorio as "Mr. Maraczek"; Braden Foley as "Arpad"; Robert Orzalli as "Waiter / Men's Ensemble"
Ensemble Includes: Kelly Hodge, Kara Knudsen, Kelly McGowan, Zack Page, Stacy Sherman

Walpole Footlighters, 2 Scout Road, East Walpole, MA. 02032
Performances:
October 27, 2023 through November 12, 2023
(Contact Box Office for Exact Times)
TICKETS:
Contact the Box Office at # 508-668-8446 or email boxoffice@footlighters.com
COVID 19 PROTOCOLS
Contact Venue for Most Updated COVID-19 Safety Protocols and Information.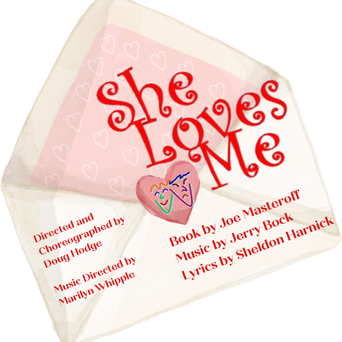 ABOUT THE SHOW
In the musical "SHE LOVES ME" - set in a 1930s European perfumery, we meet shop clerks, Amalia and Georg, who, more often than not, don't see eye to eye.
After both respond to a lonely-hearts advertisement in the newspaper, they now live for the love letters that they exchange, but the identity of their admirers remains unknown.
Join Amalia and Georg to discover the identity of their true loves... and all the twists and turns along the way.

ABOUT THE WALPOLE FOOTLIGHTERS
THE WALPOLE FOOTLIGHTERS began in 1924 when Frank Mansur, principal of Walpole High, called together people known on the local stage for their work in the teachers' play or in shows put on by other organizations.
When a community theater group not only survives, but flourishes for almost 100 years, it's the people who have made the difference.
The group is further supported by a loyal group of subscribers from Walpole - and throughout New England - who make this record possible
THE WALPOLE FOOTLIGHTERS
Playhouse:
2 Scout Road
East Walpole, MA. 02032
Mail:
P.O. Box # 189
Walpole, MA. 02081
Box Office # 508-668-8446