Calliope Productions
Presents
"SCROOGE"
The Christmas Musical!
Book, Music & Lyrics written by Leslie Bricusse
Based on the 1970 holiday film and Charles Dickens "A Christmas Carol"
Directed by David Ludt
Music Director Kris Layton
Performances:
November 30, 2023 at 7:30pm
December 1, 2, 8 & 9, 2023 at 7:30pm
December 3 & 10, 2023 at 2:00pm
Calliope Theatre, 150 Main Street, in Boylston, MA.
Tickets: https://www.ticketstage.com/T/CALLIOPE
Contact the Box Office at 508-869-6887
COVID 19 PROTOCOLS
Contact Venue for Most Updated COVID-19 Safety Protocols and Information.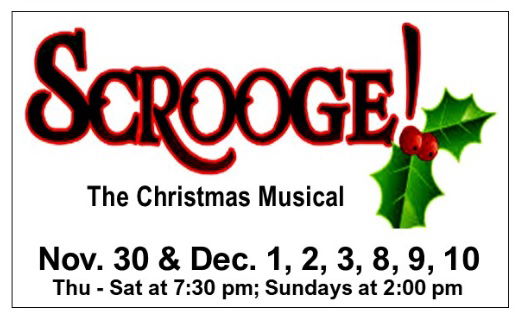 ABOUT THE SHOW
In this timeless musical adaptation of Charles Dickens' "A Christmas Carol," miserly Ebenezer Scrooge undergoes a profound experience of redemption over the course of a Christmas Eve night, after being visited by the ghost of his former partner Jacob Marley and the ghosts of Christmas past, present and future.
In 1970, renowned writer/composer/lyricist Leslie Bricusse adapted the classic Dickens' tale "Christmas Carol" into the hit screen musical "SCROOGE!"
Now a charming stage musical, "SCROOGE!" has enjoyed a hugely successful tour of England and a season at London's Dominion Theatre starring the late Anthony Newley.

ABOUT CALLIOPE PRODUCTIONS
CALLIOPE PRODUCTIONS is a year-round non-profit theatre company founded in 1982 that serves the needs and interests of audiences and performers in the Central Massachusetts region. CALLIOPE PRODUCTIONS presents six main-stage productions each year, and operates performance training workshops for students (ages 9 - 18) and adults. CALLIOPE PRODUCTIONS is a member of the American Association of Community Theatre, the Eastern Massachusetts Association of Community Theatres and the Worcester Cultural Coalition.
CALLIOPE PRODUCTIONS
150 Main Street
Boylston, MA 01505