Braid Productions
Presents
"RUN FOR YOUR WIFE"
By Ray Cooney
Directed by Jeremy Woloski
Produced by special arrangement with Samuel French, Inc.
Greendale People's Church, 25 Francis Street, Worcester, MA 01606
Production Dates:
June 12, 13, 19 & 20, 2022 at 7:30pm
June 14 & 21, 2022 at 2:00pm
Tickets: GENERAL - $20.00; SENIORS - $18.00; YOUTH - $10.00
Pre-purchased Group Rate of $16.00 for parties of 10 or more is available through Brown Paper Tickets Online.
If paying by Check please contact using the form here or leave a message at # 774-243-0260.
Tickets are CASH ONLY at the door.
You may submit a Reservation Request using the form below or by leaving a message at (774) 243-0260

ABOUT THE SHOW
A London cab driver, John Smith, literally has two lives, complete with two different wives, Mary and Barbara.
Somehow, he manages to juggle them both without arousing suspicion.
However, he gets caught up in a mugging and wakes up in a hospital.
He ends up with the wrong wife by his side and is forced to deal with explaining things to both of his wives and the police all at once.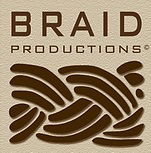 ABOUT BRAID PRODUCTIONS
Braid Productions finds its name in the idea that when three things of value are combined and intertwined they become stronger; the act of combining them can be both functional and beautiful. As the three founding members combine their talents and skills, Braid Productions will take the three founding principles of Community, Creativity and Integrity and weave them together to create a Live Theater Company that will enrich Central Massachusetts. Braid Productions mission is to provide a high-quality theater experience for its audiences and members of its productions in an environment that promotes the value of all individuals. Braid Productions strives to strengthen the art community of Central Massachusetts by being a resource and partner to other organizations.
https://www.braidproductions.com/contact