Theatre Of Northeastern Connecticut, Inc.
at the Bradley Playhouse
Presents
"RODGERS AND HAMMERSTEIN'S

CINDERELLA"
Music by Richard Rodgers
Book and Lyrics by Oscar Hammerstein II
Bradley Playhouse, 30 Front Street (Route 44) in Putnam, CT.
Performances:
August 5 through August 21, 2022
Fridays at 7:30pm; Saturdays at 7:30pm and Sundays at 2:00pm
Please note: FLEX PASS holders need to be signed into the account that purchased the flex pass or CALL the Box Office to PURCHASE TICKETS
TICKETS:
$26 (Adults)$23 (Students/Seniors)$23 (Veterans/ First Responders)
All seats reserved. Reservations may be made with a major credit card online at www.thebradleyplayhouse.org or by calling 860-928-7887.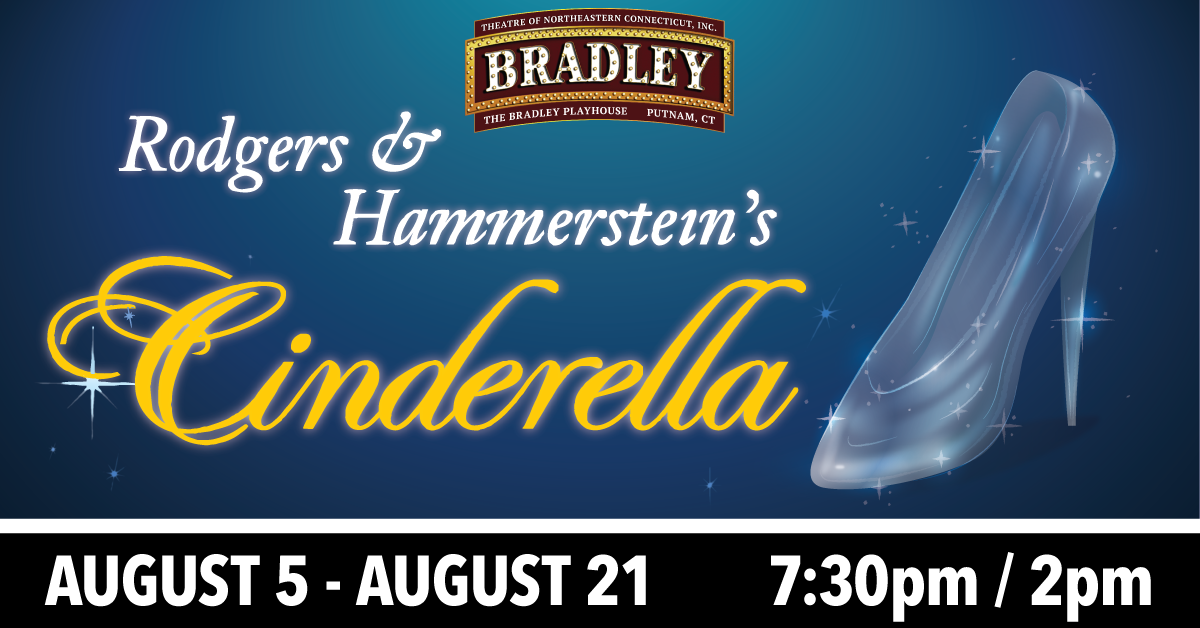 ABOUT THE SHOW
The timeless enchantment of the magical fairy tale is reborn with the Rodgers & Hammerstein hallmarks of originality, charm and elegance.
Originally presented as a television extravaganza, this famous fairy tale has been re-fashioned and set to music by two great masters of the musical.
The characters are given greater depth plus a more human quality, and it is only through Cinderella's innocent faith in a miracle that allows her wish to go to the ball to come true.
Musical highlights include "In My Own Little Corner", "A Lovely Night", "Do I Love You Because You're Beautiful?" and "Impossible".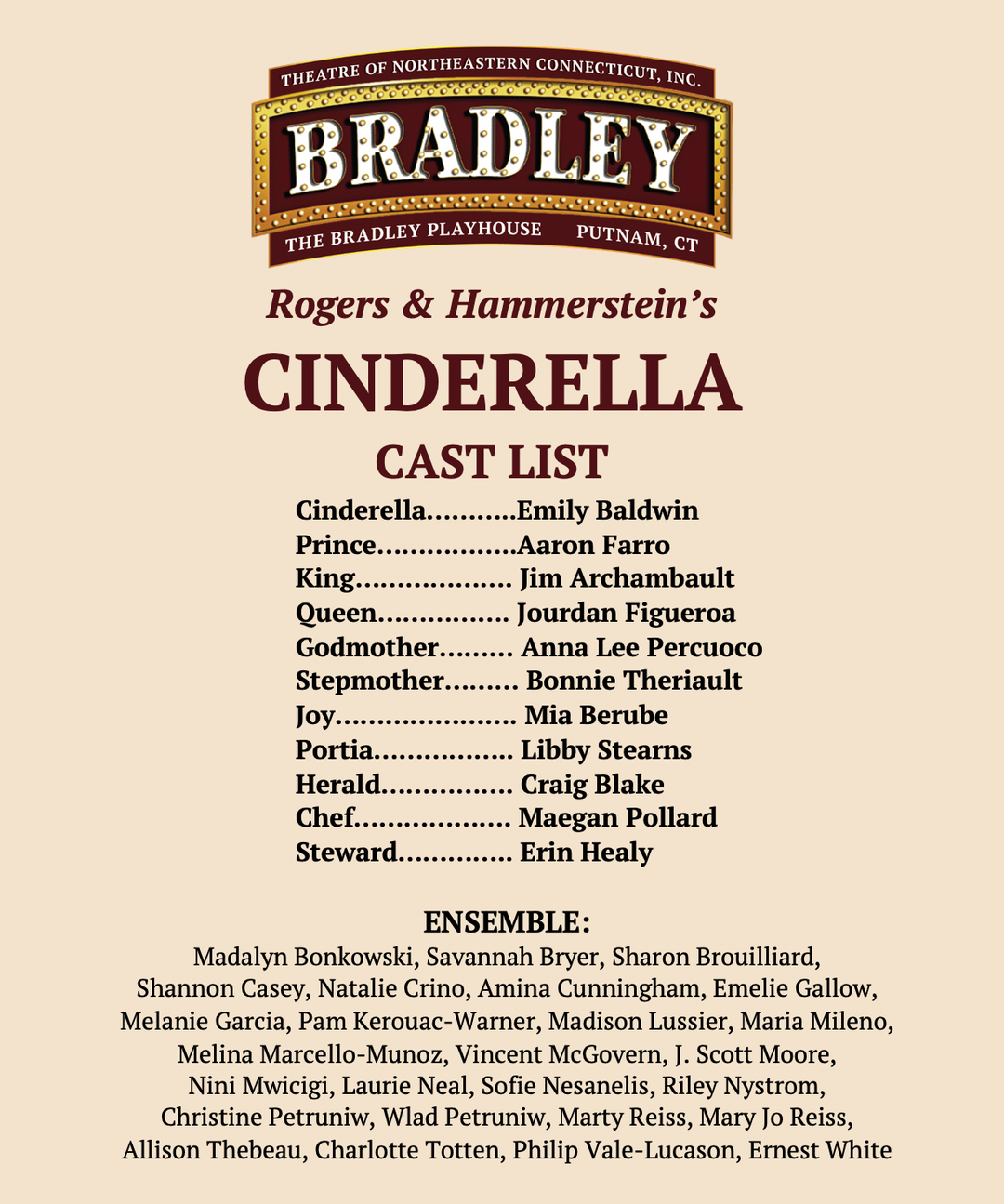 COVID-19 PROTOCOL
Wearing a mask is optional if you are vaccinated. For the safety of patrons, cast, crew, and volunteers, we do request that a mask be worn by those who are not vaccinated.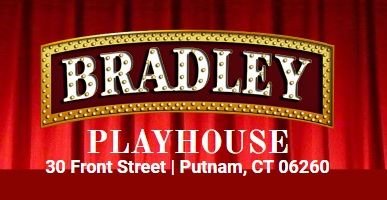 ABOUT THE BRADLEY PLAYHOUSE
The Bradley Playhouse is a 117 year-old vaudeville theatre in the heart of the Putnam antiques and restaurant district in the "Quiet Corner" of Northeastern Connecticut. Since 1991, the Bradley Playhouse has been managed by the volunteers of The Theatre of Northeastern Connecticut, Inc. (TNECT).
ABOUT THEATRE OF NORTHEASTERN CONNECTICUT
TNECT produces eight main season shows per year and a number of special fundraising events for The Bradley Playhouse Restoration Fund. TNECT's mission is to produce and sponsor quality theatre and entertainment for the residents of Northeastern Connecticut and the surrounding areas, to encourage the development of creativity through the support of local artists, and to support education and hands-on experience in the creation, direction, and production of theatre and the performing arts.
The Bradley Playhouse
30 Front Street
PO Box 71
Putnam, CT 06260-1942