Huntington Theatre Company
Presents Joshua Harmon's
"PRAYER FOR THE FRENCH REPUBLIC"
by Joshua Harmon (Bad Jews, Significant Other)
Directed by Huntington Artistic Director Loretta Greco
Performances:
September 7, 2023 through October 8, 2023
(Contact Box Office for Exact Times)
The Huntington Theatre, 264 Huntington Avenue, Boston, MA.
Tickets:
Available online at huntingtontheatre.org, by phone at 617-266-0800 or in person at The Huntington Theatre, 264 Huntington Avenue, Boston.
PURCHASE OR RENEW A 2023-2024 SEASON TICKET PACKAGE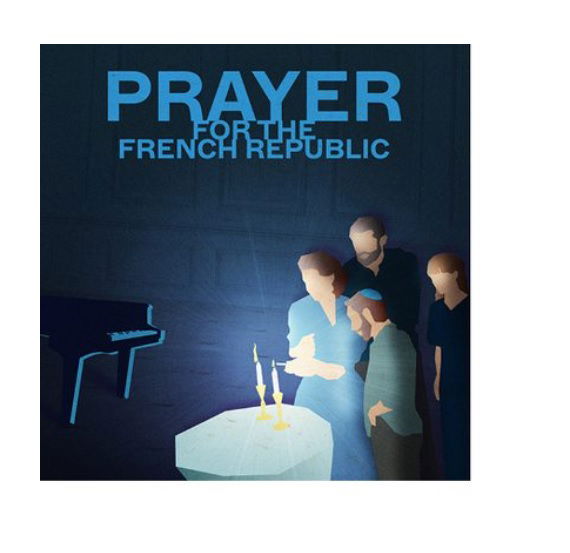 ABOUT THE SHOW
Winner! Three 2022 Drama Desk Awards, including Outstanding PlayWinner!
2022 Outer Critics Circle Award, Outstanding Off Broadway Play!
It's 2016 Paris and the Salomon family has made a warm and wonderful home there since the 1940s.
But when their son comes home beaten up because he was wearing a yarmulke, they are forced to question their safety and sense of belonging in the city they love.
Both wickedly funny and deeply profound, this powerful new play spans five generations of a French Jewish family to explore history, what makes a home, and the effects of an ancient hatred and an enduring hope.
Artistic Director Loretta Greco directs Joshua Harmon's major new American play, having originally produced a workshop of it at the Magic Theatre prior to its New York debut in 2022.
From Artistic Director Loretta Greco: "Joshua Harmon gives me hope for the future of the American theatre. He has an incredible gift for shedding light on the ways in which family, culture, and faith collide and evolve, and I'm thrilled to be introducing him to you this season. His extraordinary new play asks profound questions about what it takes to feel safe when hate persists across borders and generations, and in true Joshua Harmon fashion, manages to find the rich humor and pathos of being human in an imperfect world."
From playwright Joshua Harmon: "I met Loretta Greco almost ten years ago, when she produced Bad Jews at The Magic. I fell under her spell immediately and have stayed there ever since, so it thrills me to no end that she has chosen my play as the first she'll direct at The Huntington in the 23/24 season. I hope this play speaks to audiences from all backgrounds who have felt frightened these last few years about the future, the state of the world, and the state of our country, and yet who remain hopeful that we can all live in peace in the place we call home."
Critical acclaim:
"Thought-provoking, heart-wrenching, and wickedly funny." – The New York Times
"A brave, articulate, moving, and necessary new play. Wrenching, brilliant, and shattering. This fearless play tackles conundrums with a combination of intelligence, balance, and accessibility that few writers of Harmon's generation could pull off." – New York Stage Review
COVID 19 PROTOCOLS
Contact Venue for Most Updated COVID-19 Safety Protocols and Information.

ABOUT THE HUNTINGTON THEATRE COMPANY:
The Huntington Theatre Company is Boston's leading professional theatre and one of the region's premier cultural assets since its founding in 1982. Recipient of the 2013 Regional Theatre Tony Award, The Huntington brings together superb local and national talent and produces a mix of groundbreaking new works and classics made current to create award-winning productions. The Huntington runs nationally renowned programs in education and new play development and serves the local theatre community through its operation of the Calderwood Pavilion at the BCA. The Huntington has long been an anchor cultural institution of Huntington Avenue, the Avenue of the Arts, and will remain so on a permanent basis with plans to convert the Huntington Avenue Theatre into a first-rate, modern venue with expanded services to audiences, artists, and the community. The Huntington cultivates, celebrates, and champions theatre as an art form.
For more information, visit huntingtontheatre.org.