Reagle Music Theatre of Greater Boston
Presents Stephen Schwartz's
"PIPPIN"
Book by Roger O. Hirson
Music and Lyrics by Stephen Schwartz
Directed and Choreographed by Rachel Bertone
Music Direction by Dan Rodriguez
Performances:
August 5, 6, 11 & 13, 2022 at 7:30pm
August 7, 10 & 12, 2022 at 2:00pm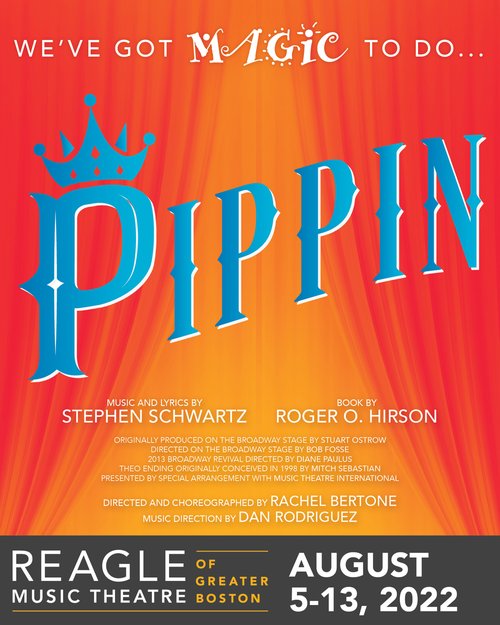 ABOUT THE SHOW
"Join us…" A mysterious performance troupe––led by the Leading Player––tells the story of Pippin, a young prince on his search for passion, adventure, and meaning.
He seeks it in the glories of the battlefield, the temptations of the flesh, and the intrigues of political power.
In the end, though, Pippin finds that happiness lies not in extraordinary endeavors, but rather in the unextraordinary moments that happen every day.
The score (by Wicked and Godspell's Stephen Schwartz) includes "Magic to Do," "Corner of the Sky," "Simple Joys," and "No Time at All."
Presented through special arrangement with Music Theatre International (MTI)
Recommended for ages 13+

ABOUT REAGLE MUSIC THEATRE
Reagle Music Theatre of Greater Boston's mission is to present the highest quality of musical theatre productions by combining talented regional performers with professional performers and technicians, thus providing an unusual learning experience for its regular members and more enjoyable experiences for its audiences. Reagle Music Theatre is committed to using the skills of its company to strengthen and enhance teaching and learning in the Waltham Public Schools by educating youth to the joys of theatre, and by using theatre techniques to enhance learning in other curriculum areas.Our offerings include musicals, concerts, revues, educational programming, New York theatergoing trips, and more.
Reagle Music Theatre of Greater Boston, Inc.
617 Lexington Street
Waltham, MA 02452
Phone # 781-891-5600
www.reaglemusictheatre.org