Presents Jeremy Bloom's
Written by Jeremy Bloom
Directed by Kaci Kneeland
Produced by Robert Hill
Cast Includes: Aiden Hughes as "Peter Pan"; Kylan Tremblay as "Wendy Darling"; James Cannon as "Lost Boy"; Lilly Thomann as "Mermaid"; Isabel Coviello as "The Tiger Lily"; Almira Mertol as "Tinker Bell"; Lindsay Sousa as "Mrs. Darling/Hook"; Chris Wiley as "Mr. Darling/Smee"; Ensemble: Dan Burns, Julia Feeley, Justin Gelinas, Charly Heinrich, Ignatius Kottenstette, Brian Kubicek, Delaney Rezac, Peter Russo, Nikko Taylor, Margo Thompson, Joven Trembley.
All shows are performed in the Parish Hall of the First Church in Sterling, 6 Meetinghouse Hill Road, Sterling, MA 01564
Performances:
January 19 & 20, 2024 at 7:00pm
January 21, 2024 at 2:00pm
TICKETS:
For all questions regarding tickets please send an email to scttickets@gmail.com
https://www.sterlingtheatre.com/tickets
Contact Venue for Most Updated COVID-19 Safety Protocols and Information.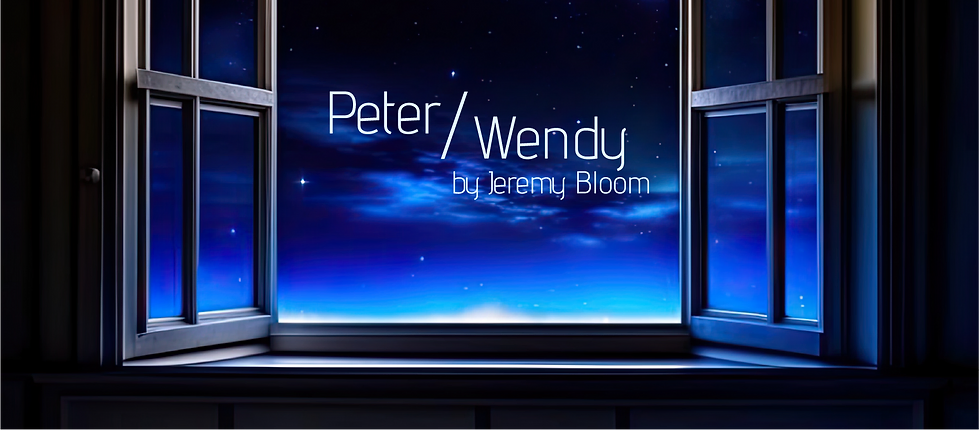 ABOUT THE SHOW
In this lyrical, atmospheric interpretation of "Peter Pan," Jeremy Bloom strips the familiar story down to its emotional essence. Peter lures Wendy away from her nursery to the magical world of Neverland, where she joins his adventures with Tinker Bell, Tiger Lily, and the menacing Captain Hook. A low-tech, inventive adaptation that pays homage to the darker themes of J. M. Barrie's original, "PETER/WENDY" will mesmerize audiences of all ages.

ABOUT STERLING COMMUNITY THEATRE (SCT)
STERLING COMMUNITY THEATRE (SCT) strives to provide an outreach of fellowship and cultural enrichment, centered on family and community, by facilitating high quality theatre arts experiences within the greater Sterling community. SCT seeks to cultivate an appreciation of the performing arts by offering live performances, educating through experience, participating in community activities, and through cooperation with other local performing arts groups and The First Church of Sterling. SCT strives to offer a range of challenging, creative opportunities that inspire and allow people of all ages and backgrounds to participate in productions, whether on stage or behind the scenes. Every year SCT aims to experience growth by expanding participation, encouraging volunteering, and increasing their audience and involvement within the community.
Mailing Address:
P.O. Box # 1332
Sterling, MA 01564
https://www.sterlingtheatre.com/contactus