(Cover Photo: Regatta Players Cast of "Over the River and Through the Woods": Jim Catapano, Stephanie Sarkisian, Christina Pierro, Kelly McPartland, James Lamoureux, and Dan Biggins. Photo Credit: Joanne Smith)
REGATTA PLAYERS
Presents
"Over the River and Through the Woods"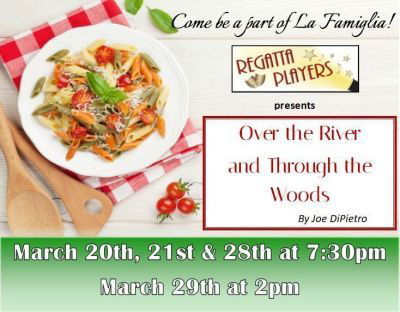 Written by Joe DiPietro, published in 1998. It played Off-Broadway at the John Houseman Theatre for 800 performances over two years.
Director - Ed Lindem
Performances are POSTPONED!
Flanagan Theater in Southgate at Shrewsbury, 30 Julio Drive, Shrewsbury MA

SYNOPSIS:
Nick Cristano may be living the life of a modern young professional in New York City, but his loving grandparents never let him forget where he belongs: in New Jersey, in the bosom of his tenacious, tender-hearted, loud, loving, and well-fed Italian-American grandparents, who live two doors down from each other in Hoboken, and who lavish all of their affection on their last unmarried grandchild.
Faithfully, Nick goes "over the river" to Grandma's house every week for Sunday dinner.
When he is offered an important promotion in Seattle, Washington, Nick threatens to break this routine by a distance of some 2,800 miles!
Frank, Aida, Emma, and Nunzio are heartbroken at the prospect of their beloved grandson raising a family all the way across the country -- or worse, not raising a family at all!
Besides the usual tactics of emotional blackmail, in order to keep him safe at home, these wily elders cook up a matchmaking scheme, inviting lovely nurse Caitlin O'Hare over for Sunday dinner.
Will the prospect of true love keep Nick from moving across the country?
Over the River and Through the Woods is a warm-hearted, boisterously funny, and touching story about intergenerational relationships, deep familial love, and the inevitable little heartbreaks that occur as time passes and children grow.

Thank you to all who came to auditions!

The Cast List is posted on the Over the River page
For more information visit Over the River and Through the Woods page

For ticket reservations, please visit our tickets page or call 508-925-0583