Square One Players is inviting you to come be a part of La Famiglia!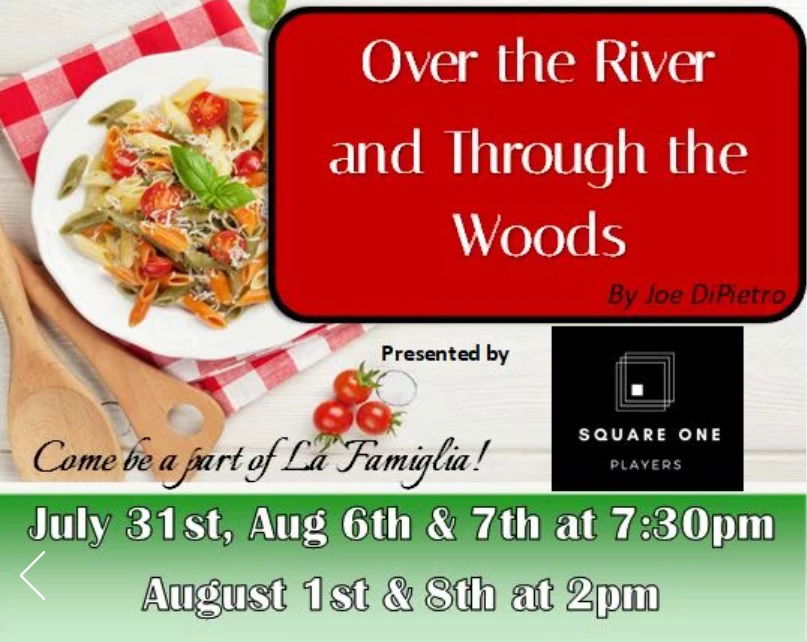 Square One Players is presenting a summer production of Joe DiPietro's "Over the River and Through the Woods" in July/August and tickets are available to reserve now!
Directed by Ed Lindem. Production Manager Joanne Smith. Stage Manager Tara Wykes. Asst. Production Manager Tara Alano. Costumes by Foley Herrmann. Prop Mistress Krissi Forgues.
Cast Includes:
Frank – Dan Biggins
Aida – Christina Pierro
Nick – James Lamoureux
Nunzio – Jim Catapano
Emma – Stephanie Sarkisian
Caitlin O'Hare – April Swanson
About the play:
Nick Cristano may be living the life of a modern young professional in New York City, but his loving grandparents never let him forget where he belongs: in New Jersey, in the bosom of his tenacious, tender-hearted, loud, loving, and well-fed Italian-American grandparents, who live two doors down from each other in Hoboken, and who lavish all of their affection on their last unmarried grandchild.
Faithfully, Nick goes "over the river" to Grandma's house every week for Sunday dinner.
When he is offered an important promotion in Seattle, Washington, Nick threatens to break this routine by a distance of some 2,800 miles!
Frank, Aida, Emma, and Nunzio are heartbroken at the prospect of their beloved grandson raising a family all the way across the country -- or worse, not raising a family at all!
Besides the usual tactics of emotional blackmail, in order to keep him safe at home, these wily elders cook up a matchmaking scheme, inviting lovely nurse Caitlin O'Hare over for Sunday dinner.
Will the prospect of true love keep Nick from moving across the country?
"Over the River and Through the Woods" is a warm-hearted, boisterously funny, and touching story about intergenerational relationships, deep familial love, and the inevitable little heartbreaks that occur as time passes and children grow.
Opening performance is Saturday July 31th, 2021. Attendees of this performance are invited to an Opening Night Celebration prior to the performance. It all begins at 6:00pm and features a complimentary Wine and Cheese hour. The performance begins at 7:30pm.
Additional performances are on Sunday August 1st at 2pm, Friday August 6th at 7:30pm, Saturday August 7th at 7:30pm and Sunday August 8th at 2:00pm.
Ticket prices are $20 for General Admission and $17 for Students/Seniors. All performances take place at Flanagan Theater in Southgate at Shrewsbury, 30 Julio Drive, Shrewsbury, MA. Reserve tickets now by visiting www.squareoneplayers.com.
Tickets can also be reserved by calling 508-669-7750.