Calliope Productions
In Association With
Pilgrim Soul Productions
Presents
"OUTSIDE MULLINGAR"
Written by John Patrick Shanley
Directed by Matthew J. Carr
Performance Dates:
March 9, 10, 11, 17 & 18, 2023 at 7:30pm
March 12 & 19, 2023 at 2:00pm
Calliope Theatre, 150 Main Street, in Boylston, MA.
Tickets: https://www.ticketstage.com/bin/f.wk?ts.performance.gen
Tickets $20 for regular admission, and $17 for students and seniors.
Contact the Box Office at 508-869-6887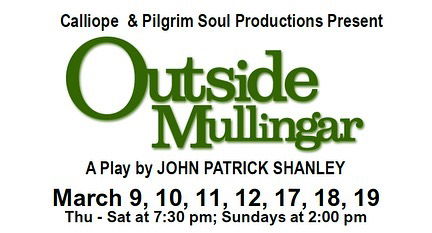 ABOUT THE SHOW
Anthony Rielly and Rosemary Muldoon have grown up next to each other on two farms in rural Ireland.
Rosemary fell in love with Anthony at the age of six, and is convinced that he will eventually come to her.
Anthony had his heart broken as a young man, and hasn't dared open it to another woman since. Forty years later, the two of them are still living next to each other, instead of together.
With a small land feud happening between the two families, it seems unlikely that a romance will ever happen.
Rosemary's determination, however, eventually brings the two of the together, and two unlikely souls eventually find happiness.

ABOUT CALLIOPE PRODUCTIONS
Calliope Productions

is a year-round non-profit theatre company founded in 1982 that serves the needs and interests of audiences and performers in the Central Massachusetts region. Calliope Productions presents six main-stage productions each year, and operates performance training workshops for students (ages 9 - 18) and adults.

Calliope Productions

is a member of the American Association of Community Theatre, the Eastern Massachusetts Association of Community Theatres, and the Worcester Cultural Coalition.
Calliope Productions
150 Main Street
Boylston, MA 01505
508-869-6887