Calliope Productions
Presents
"NIGHT WATCH"
A Suspense Thriller By Lucille Fletcher
Performances:
March 10, 11, 12, 18, 19, 2022 at 7:30pm
March 13 & 20, 2022 at 2:00pm
Tickets are $20 for regular admission, and $17 for students and seniors.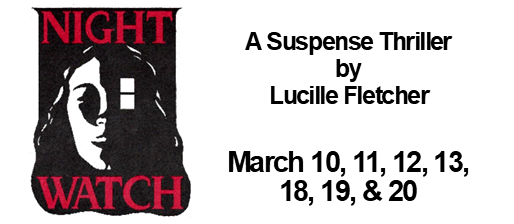 ABOUT THE SHOW
Unable to sleep at night, Elaine Wheeler restlessly paces the living-room of her Manhattan townhouse, troubled by unsettling memories and vague fears.
Suddenly, she sees a dead body in the window of the building next door, and screams.
Her husband investigates, only to discover that the alleged dead body has mysteriously disappeared.
Thus begins an ordeal of terror and suspense, as Elaine Wheeler tries to prove to her husband, her best friend, a psychiatrist, and to herself as well, that she is not losing her mind.
Calliope is pleased to present this production of NIGHT WATCH, a gripping suspense drama by Lucille Fletcher as the opening play for our 2022 season.




COVID-19 PROTOCOL
IMPORTANT: In keeping with Calliope's current Covid-19 protocol, all performers and staff are fully vaccinated, and all audience members will be required to wear masks and present proof of vaccination or negative PCR test results.
For more information or to reserve or purchase tickets, please contact the Calliope box office at 508-869-6887.We look forward to seeing you at the theatre!



ABOUT CALLIOPE PRODUCTIONS
Calliope Productions is a year-round non-profit theatre company founded in 1982 that serves the needs and interests of audiences and performers in the Central Massachusetts region. Calliope Productions presents six main-stage productions each year, and operates performance training workshops for students (ages 9 - 18) and adults. Calliope Productions is a member of the American Association of Community Theatre, the Eastern Massachusetts Association of Community Theatres, and the Worcester Cultural Coalition.
Calliope Productions
150 Main Street
Boylston, MA 01505
508-869-6887