Wilbury Theatre Group
Presents
"NATASHA, PIERRE, and the
GREAT COMET of 1812"
"A witty, inventive enchantment from rousing start to mournful finish." - The New York Times
Music, Lyrics, and Book by Dave Malloy
Adapted from War and Peace by Leo Tolstoy
Directed by Josh Short
Cast Includes: Kayla Shimizu as Natasha Rodney Witherspoon* as Pierre Madeleine Barker* as Sonya Anna Basile as Dolokhov Charlotte Kinder as Marya Teddy Lytle as Balaga Gunner Manchester* as Anatole Jason Quinn as Bolkonsky Anna Slate as Helene Shaffany Terrel as Mary / Andrei Christine Treglia as Ensemble Sophie Jackson as Ensemble Ian Doran as Ensemble Dylan Bowden as Ensemble
Additional Creative Team: Music Supervision by Milly Massey; Music Coordinator Susan Hodgin; Choreography by Ali Kenner Brodsky; Costume Design by Meg Donnelly; Sound + Light Design by Andy Russ; Scenic Design by Keri King, Max Ponticelli, and Monica Shinn; Intimacy Direction by Susie Schutt; Assistant Directed by Jeffrey Ginsberg; Stage Management by Allison Marchetti*; Front of House Management by Christine Treglia; Volunteer Management by Renee Bessette
Performances:
May 26 through June 19, 2022
(Contact Venue for Exact Dates and Times)
Tickets are Pay-What-You-Can.
For tickets and more information about the production and Wilbury Theatre Group, visit https://www.thewilburygroup.org/natasha-pierre-and-the-great-comet-of-1812.html
PRESS RELEASE:
Wilbury Theatre Group presents Natasha, Pierre & The Great Comet of 1812; an electropop opera based on a scandalous slice of Leo Tolstoy's "War and Peace," from the celebrated and award-winning composer Dave Malloy (Beowulf – A Thousand Years of Baggage, Three Pianos and Ghost Quartet).
Tickets are Pay-What-You-Can available at thewilburygroup.org.
A portion of all ticket sales from "Natasha, Pierre, and the Great Comet of 1812" will be donated to support ongoing relief efforts in Ukraine.

(PHOTO: Rodney Witherspoon as "Pierre," Gunner Manchester as "Anatole" and Kayla Shimizu as "Natasha" in the Wilbury Theatre Group production of "Natasha, Pierre & The Great Comet of 1812" playing May 26 through June 19, 2022 - Photo by Erin X. Smithers)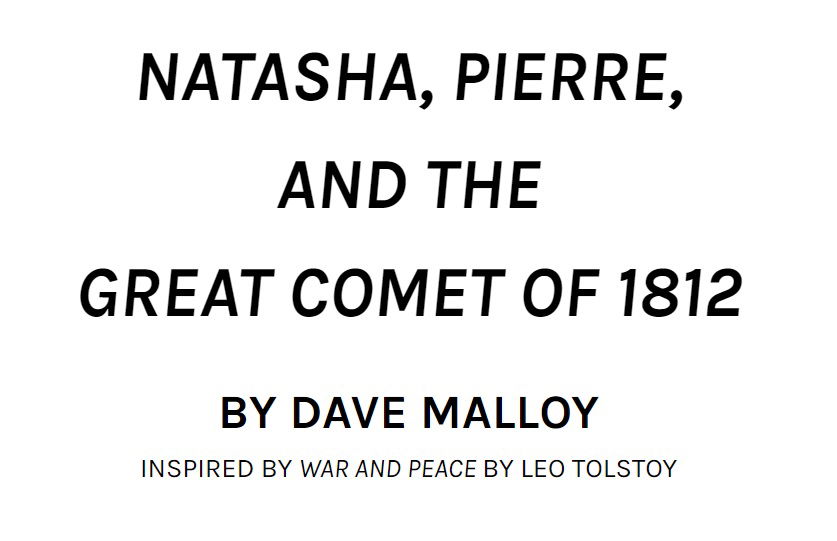 ABOUT THE SHOW
Inspired by a 70-page slice of War and Peace, this "vibrant, thrillingly imagined new musical" (New York Times) brings us just inches from Leo Tolstoy's brash young lovers as they light up Moscow in a "heaven-sent fireball" (New York Times) of romance and passion.
Natasha is a beautiful ingénue visiting Moscow while she waits for her beloved fiancée Andrey to return from the war. In a moment of indiscretion, she is seduced by the dashing (but already married) Anatole and her position in society is ruined.
Her only hope lies with Pierre, the lonely outsider whose love and compassion for Natasha may be the key to her redemption… and to the renewal of his own soul.
The Great Comet boasts a groundbreaking score that mixes rock, pop, soul, folk and electronic dance music with classic Broadway.
Following a critically-exalted premiere at Ars Nova in New York, a subsequent Off-Broadway transfer, and an acclaimed run on Broadway, this Tony Award-winning musical expands the possibilities for the genre with its daring score and bold storytelling.
"It's been a long two years since Wilbury Theatre Group has produced a musical," said Josh Short, Wilbury's Artistic Director, "and to return to the form with this musical, one that pushes the boundaries of theatre in such mindblowing ways, in our new space at WaterFire Arts Center and with the incredibly talented cast and creative team that we've assembled - feels like a gift. We couldn't be more excited to bring this story of love, redemption, and hope to life, and we can't wait to share it with our audiences."
COVID-19 PROTOCOLS
Performances are held indoors at the Wilbury Group's performance space.
Pursuant to the Wilbury Group's Health and Safety Precautions, until further notice all attendees must either show proof of full vaccination against COVID-19 (at least 14 days have passed since the final dose), or proof of a negative COVID-19 PCR test taken in the prior 72-hours, or proof of a negative COVID-19 antigen test taken in the prior 6-hours. Regardless of vaccination status, all attendees must also wear masks over their nose and mouth at all times while inside the venue.

ABOUT WILBURY THEATRE GROUP
Founded in 2010, The Wilbury Theatre Group produces plays by artists on the cutting-edge of theatre and reimagined classics from the canon. We pride ourselves on our pursuit of excellence in acting and design, a less-is-more aesthetic, and a commitment to creating an engaging audience experience with every production. From our earliest days the Wilbury Group has maintained a commitment to offering students and audiences from throughout New England affordable access to our programs through our outreach, education, and new work development programs. A promising and important cultural organization in Providence, we are proud to serve our diverse and ever-evolving community.
The Wilbury Theatre Group Operates Under A Collective Bargaining Agreement With Actors' Equity Association, The Union of Professional Actors and Stage Managers in the United States.
thewilburygroup.org