The Gateway Players
Presents Tim Kelly's
"MY SON IS CRAZY, BUT PROMISING"
Written by Tim Kelly
Directed by Mikey Dearn
Produced by Lynn Boucher
Stage Manager Gwen O'Brien
Fellowship Hall of Elm Street Congregational Church, 61 Elm Street in Southbridge, MA. Entrance is on Park Street (around corner).
Presented by permission through special arrangement with Concord Theatricals.
Performances:
October 6, 7, 13, 14 & 15, 2023
(Contact Box Office for Exact Times)
Tickets:
Tickets are $15 for adults and $13 for seniors and youth under 18.
Online credit card ticket sales are available at: https://gateway-players.ticketleap.com/my-son-is-crazy-but-promising

For more information call 508-764-4531.
COVID 19 PROTOCOLS
Contact Venue for Most Updated COVID-19 Safety Protocols and Information.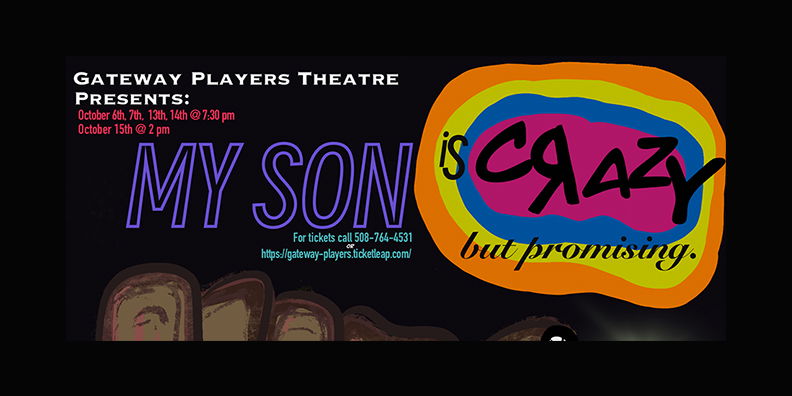 ABOUT THE SHOW
In Tim Kelly's comedy, "MY SON IS CRAZY, BUT PROMISING," Bud Granger is an eccentric Hollywood screenwriter who wants to get out of life in the fast lane so he buys a termite pile of an old lodge in the middle of an Arizona desert as it is near a fabled buried treasure.
He thinks he will strike it rich, but unfortunately for Bud the lodge is full of nutty characters such as Cora Ames (an elderly lady who claims she was abducted by space aliens), Gert Witherspoon (a crusty, shot gun slinging hotel manager), Dimitri Jones (the world's worst Russian spy), and The Whitneys (a honeymooning couple who mistake the lodge for a 5 star resort).
More trouble arises when Bud's mother unexpectedly arrives and there is a mix up involving the dead body of a notorious mobster putting into motion a rollercoaster ride of laughs..

ABOUT GATEWAY PLAYERS OF SOUTHBRIDGE
Gateway Players Theatre, Inc. is an all-volunteer community theater providing quality live theatre performances and workshops to Southbridge, Sturbridge, and Charlton, Massachusetts and surrounding areas. Gateway Players Theatre, Inc. started in 1975, when a group of interested community members decided that Southbridge needed a theater group to bring live productions to the area. First using local schools and borrowed rehearsal and storage space, Gateway then moved into its current home in 1978, when Ruth Wells (of the American Optical Company Wells family) donated her home on Main Street as a cultural center in Southbridge. Gateway offers a full season of productions, usually performed at Elm Street Congregational Church, 61 Elm Street, Southbridge, MA, as well as workshops for youths and adults. Auditions are open to all, and new members are always welcome.
Gateway Players Theatre, Inc.
PO Box 171
Southbridge, MA 01550
508-764-4531